What is the best nude lipstick for dark skin? Get insight on the perfect nude lipstick for your dark skin complexion. In the article, various colors and shades of top rated brands that you can never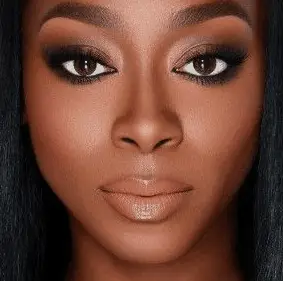 Best nude lipstick for dark skin can make lips for black women look naturally fabulous. This post educates on how to choose the best nude colors and shades for your dark skin tone complexion.
It is difficult in finding out the perfect shade of nude lipstick that will complement your skin tones in giving you an excellent divine pout. Nude has kept evolving since long time ago and currently there are variety of shades ranging from nude peach, beige nude, matte nude to chocolate nude lipstick shades.
Here we shall give you tips on how to wear your nude lipstick that have been employed by some of the celebrities. There are some Hollywood stars you might have thought of before going for your window shopping on the best nude lipstick for dark skin and black women.
Think of Rihanna, Beyoncé, Halle Berry, Queen Latifah, Nia Long, Gabrielle Union, Kelly Rowland and Alek Wek among other popular beauties. With many trials you have not stepped the spotlight in your nude lips as most of these celebrities get it without any hustle. Discover the trick in this article as to why?
Best Nude Lipstick for Dark Skin
Nude lipstick for Light to Tan Dark Skin
Think of Beyoncé, Rihanna and Nicole Kidman. Here are top rated brands you can never go wrong with:
Bobbi Brown Beige
MAC Lipstick in Fresh Brew
MAC Lisptick in VelvetTeddy
MAC Lipstick in Half N' Half
NYX Extra Creamy Round Lipstick – Tea Rose
Best Nude Lipstick for Dark Caramel Skin
Here are top best brands to try if your complexion resemble that of Queen Latifah or Halle Berry.
Bobbi Brown Uber Beige
Revlon Super Lustrous Creme Lipstick – Rose Velvet
MAC Touch
Milani Color Statement Lipstick – Nude Cream
Top Best Nude Lipstick for Dark Skin
Think of Gabrielle Union and if you qualify her skin complexion go for the following best nude lipstick for dark skin.
Bobbi Brown Chocolate Lip Color
Bobbi Brown Cocoa Lip Color
Revlon Super Lustrous Lipstick – Flesh Tone
Revlon Colorburst Lipstick – Hazelnut
Nude lipstick shades for Deep skin tone
Try to imagine of Kelly Rowland, Jeneil Williams and Alek Wek. Choose the following nude lipstick picks if you belong in this category of black women.
BB Hot Cocoa or Chocolate
NYX Chambord
Mac Lipstick in Hug Me
MAC Lipstick in Coconutty
Best Nude Lipstick Color for Dark Skin
Did you know that neutral lipstick colors like nude are now rocking on the runways and red carpet just like red lipstick color? Nude is a simple color that can still ooze a sexy appearance among black women. Your dark pigmented lips ought to be complemented with the best nude lipstick color for dark skin for you to flatter.
To avoid looking washed out or appear like your lips are chapped, learn how to choose the right nude for your skin tones. You will also have to know how to apply your nude lipstick for a subtle long lasting color appearance. Here you are going to know every bit of all these know-how ideas.
How to choose the best Nude Lipstick Color for Dark Skin and Black Women
Wrist Test: begin by determining the correct nude lipstick shade for your skin pigment. Swipe the lipstick on underside of your wrist and observe the swatch. The best color should be one or two shades darker than your skin. Darker skin black women will ever be flattering in nude lipstick colors with bronze tints.
Go peachy: It is of no doubt that peachy nude lipsticks brightens up the black skin undertones. Peach tints are far much better as compared to beige and grey based nude lipstick colors. The whole idea is that peach nude is a warm hue that aids in neutralizing out the dark lip pigments to give you the perfect pout.
Top Up: A sheer peach gloss can make a statement on top of your nude lipstick. The best lip gloss to use should be of the same shade as your natural lip color. People with intensive dark lip pigment should begin by applying a concealer that will help in cooling down the natural dark hue.
Some of the best nude peach lipstick you can try are: MAC Velvet Teddy, MAC Shy Girl Lipstick (peachy nude) and YSL Rouge Pur Couture in Taupe Rahael among others. Remember to exfoliate your lips to get rid of dead dry skin and chapped lips. Apply a lip balm to moisturize before application of your selected best nude lipstick for dark skin.
Nude Lipstick for Black Women
Here are the best brands of nude lipstick that works for any black woman regardless of the skin undertones.
Smashbox Photo Finish Lipstick in Flawless (Amazon, $22.49)
Dior Rouge Dior Lip Color in Angelique Beige (Sephora,$34)
L'Oreal J Lo's Nude Barely Greige (Boots,$14USD)
Revlon Colorburst Lipstick in Hazelnut (Walmart, $6.48)
Maybelline ColorSensational in Bean There (ULTA, $7.49)
However, for matte nude lipstick, try to avoid lusters, glitters and nude with too much sheen. Don't be in a hurry to select a lipstick that you may not end up using after spending heavily. Try on drugstore cheap nude lipsticks especially for the beginners.