If you're looking for the simplest, cheapest and best way to get that cleansed and nourished skin in no time, you definitely have to consider some of the best facial steamers for home.  With the added benefit of turning your home into a mini-spa, the method of facial steaming is a popular choice and one that you can do without any hassles.
Facial Steamers Benefits
It provides several advantages such as:
Cleansing the skin
Promotes collagen and elastin production
Hydrates the skin
Promotes blood circulation
Gets rid of acne-causing bacteria
Encourages the skin to absorb beauty products more effectively
Has been known to aid with sinus issues and congestions
It's affordable and an easy process
Facial Steamer DIY
There are three main techniques that you can try at home to get the best benefits from this process.
Bowl of hot water – You can steam over a big bowl of hot water with a towel over your head to keep the steam focused on your face,
Hot Towel – Placing a hot towel on your face for a few minutes done by soaking the towel in hot water then ringing it out
Home Facial steamer – You can get yourself a home facial steamer device, which has the most effective and powerful effect of all three methods and can be adjusted to your liking.
We have done the hard work for you in finding 6 of the best ones on the market that you can use to tackle all of the above areas.
Best Facial Steamer For Blackheads
1. Dr. Dennis Gross Pro Facial Steamer
This professional face steamer for your home, combines all the good and none of the bad. Get rid of blackheads, dull skin, clogged pores and more, with just one sitting of this delicate yet powerful adaptation of a spa experience.
With a professional touch to by well-known Dr. Gross (health and beauty expert) that provides a hot mist directly to the much-needed areas on your face and upper neck regions.
The exchange of the nano ionic particles with the water that you pour into the device turns big water droplets into smaller ones that easier to infiltrate under the skin.
Provides up to 10x more effective treatment in penetrating the skins multiple layers, while activating the hydrophilic factors to provide the skin with a well-hydrating and moisturising outcome, leaving your skin soft to the touch.
It is easy to use and is both BPA free and heat resistant so you don't burn yourself, thus providing enough steam to cover all your face and neck areas in one seating.
The time it takes for the steam to complete one cycle is 18-minutes. Clean your face using a mild facial cleanser, steam your face for about 10-minutes, wash your face again with clean water and apply any end-product such as serum or moisturiser in the end.
You will feel and see the difference straight away. Turn on the device and steam for up to nine minutes. For dry, dehydrated skin, use for 8-12 minutes.  Combination skin usage will be for 12-15 minutes. For oily skin, use for 15-20 minutes.
If you suffer from sinus problems, this steamer can also be used as an inhaler or diffuser with your favourite essential oils such as Eucalyptus which helps soothe the nasal passages to help you breathe better.
2. WUAZ SPA Facial Steamer Blackhead Cleaner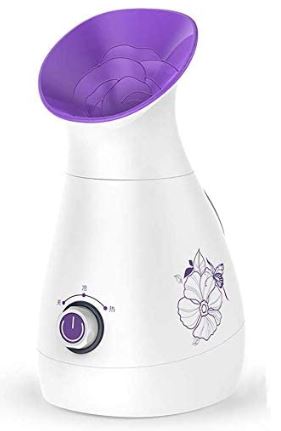 This device not only has two options to choose from for a complete spa experience but also is small enough to place on your table and use it. It is a 2 in 1 mini-steamer for both your hair and your face. If you have brittle or damaged hair, this steamer is perfect to sit under with some enhancing products such as hair masks or deep-treatment in it, or as it is on its own too.
The second device allows for facial steaming as well, to help in hydrating dry skin, and promoting blood circulation as well as removing any dirt deep underneath the layers of the skin and leaving you feeling fresh all around. The negative ions help to promote skin cell turnover and is suitable for all skin types including sensitive or delicate skin.
It has an in-built O3 bactericidal anti-inflammatory ion spray that's inside the fuselage giving it a bonus of acting as an anti-bacterial treatment that can help prevent any possible infection or skin diseases helping to reduce skin-inflammation, which will make your skin healthier and look more rejuvenated too.
It is a stable, light-weight and compact device that you can use anywhere in your home or take with you on your vacation.
Best Facial Steamers for Acne
3. Homecy Oxygen Injection Spray Facial Steamer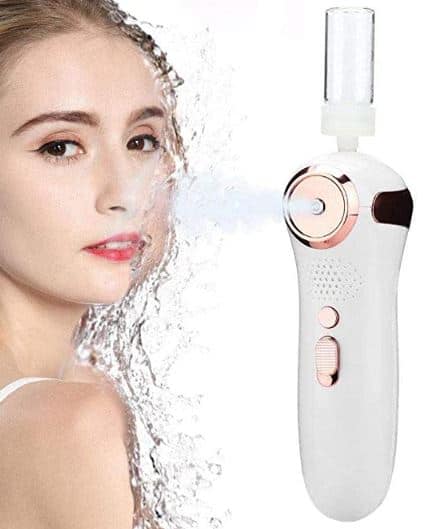 This Nano-meter fine water mist has a high-pressure air pump that makes the water molecules more dense and easier to be absorbed into any skin type. Commonly used to remove dirt from pores and sebum. This instrument helps with any facial beauty regime such as acne-removal, face-lifting, improving dark circles, double chin and eye bags.
The pressure injects into the skin and promotes cellular turn-over and increased blood circulation as well as facial metabolism. It is both portable and light-weight so you can carry it with you anywhere. Promotes skin blood circulation, eliminates toxins, mainly acts on the T area of ​​the face
It can be recharged on the go as it has a built-in battery, and all you need is a USB cable and can last for up to 20 minutes at a time, enough for two good steam sessions. It in-built safety ability, turns off the device when the water has finished. Allowing you to let it cool down before refilling it up again.
Some of the benefits of this device is: it is used to reshape facial contours, improve the absorption of creams and serums, helps to remove haemorrhoids and in the long run makes skin much firmer and reduces wrinkles and fine lines on the surface of the skin on face and neck.
It has a large mouth water tank which makes it convenient to refill and clean it on the inside Suitable for all skin types.
4. Panasonic Spa-Quality Nano-Ionic Facial Steamer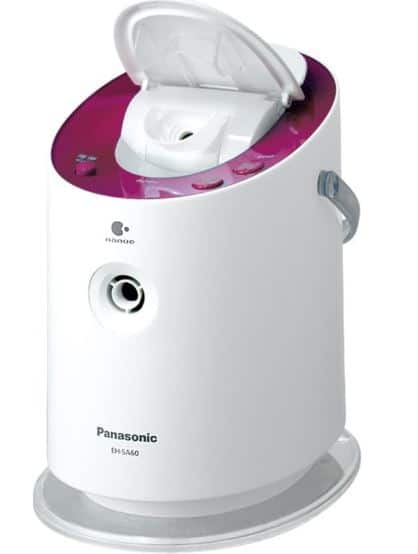 Given the current climate, some of us are trying to get rid of a lot of our habits and introduce new ones that work from home. One of these is the frequent visit to the Spa and getting facials done regularly. Designed with sleek technology, this non-ionic Facial Steamer delivers a mist that both purifies and hydrates your complexion in just 6-minutes flat.
Investing in this baby will assure you a huge return of investment not just for your pocket (by not spending on those facials every month) but will also be a huge investment on the quality of your skin on your face and neck regions.  You are guaranteed to get a lot more out of this than any other method of DIY method of facial steaming.
This is a one-time purchase for you in upgrading your home lifestyle and turning it into a mini-spa for you and your friends. Let them bring theirs to your home and have a spa-themed-party, why not?  It comes with the rafters with high-tech features like ionic and ultra-sound technology. And is designed to give you the same steaming experience you'd have during a facial at any spa or skin clinic.
It is a simple piece of equipment, all you need to do is fill the reservoir in the back of the device with water (tap or filtered will do), plug it into the socket and press the start button. Aim it no less than 20cm from your face and it is advisable to steam no more than 2 to 3 times a week. It starts with gentle steam but then builds up to a slightly stronger force that's just right to open those pores and deliver a magnificent experience into wonderland!
 5. WUAZ Hot Mist Steam Nano Ionic Facial Steamer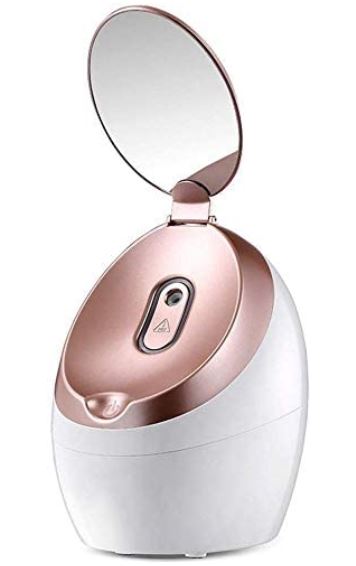 This super-strong device looks cute but packs a punch when it comes to pampering yourself at home. This new type of facial steamer for the home falls under the new nano-ionic steam category of devices, which turns clean water into a mist to help you with your facial routine comfortably.
It melts away dead-skin cell, removes all the last traces of make-up, opens your pores and helps prepare the skin for any face masks or creams to be applied after the steam session, helping those products to penetrate deep into your skin and get working with their rejuvenating effects.
It's technology, allows a buzzing sound to warn you when there is no water in it in case it has been used up during your session, at which point you need to turn it off, let it cool down first and then re-fill it with either filtered water or tap water. The capacity for water in just under 100ml and the products weights only 930 g.
6. MROSW Fruit Vegetable Facial Steamer Household Skin SPA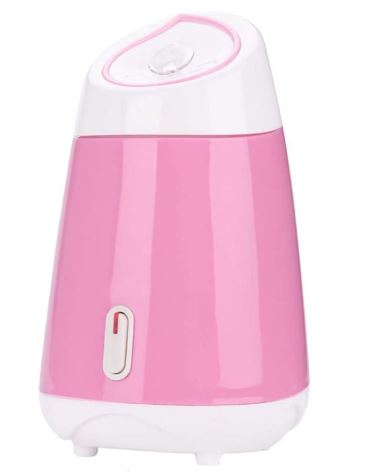 If you're looking for an option to get your skin younger and healthier, look no further than this 120ml large volume facial steamer that will help eliminate any outside pollutants deep inside your skins surface, thereby eradicating any reasons for dull or tired-looking skin.
With this steamer, you can be assured your skin will be left moisturised and toned perfectly. With its sleek design, it makes sure it produces just the right amount of steam to penetrate your face without having to reach over or adjust anything.
Made with PTC Ceramic element material, and has an anti-over heating security adjustment to it, which also turns off once the water inside has finished. Which is your cue to turn it off, unplug it and wait till it has cooled down before refilling it again.
Once you have cleansed your skin, you can add water to the device and adjust it for a thorough 10-minute facial steaming experience you will live to enjoy. The best part is you can enjoy this luxurious treatment in the comfort of your own four walls and it doesn't even break the bank. To make the most of it, add your favourite fruits or vegetable into it and enjoy the powerful effects of the natural ingredients, which is beneficial to skin care.
Drumrolls for Best Facial Steamers for Home
Based on our above research and real user reviews, our no1 recommendation would be Dr. Dennis Gross Pro Facial Steamer which provides you the ultimate spa experience at home. Our alternative recommendation would be the WUAZ SPA Facial Steamer Blackhead Cleaner if you have a tight budget currently.