What is the best dark blonde hair dye? Get more insight on dark blonde hair dye and temporary blonde hair dye. Read to explore on best brands, shades and how to dye dark hair blonde.
Dark Blonde Hair Dye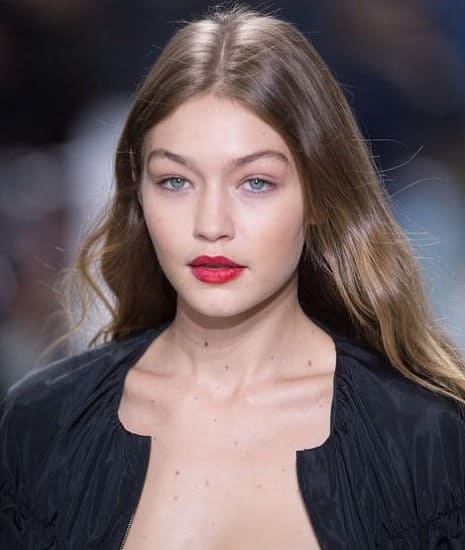 Blonde is one of the most cherished hair color among many men and women. You can pull this hair color regardless of your natural hair color. Those who are born blonde find it flexible in enjoying almost all the nuances of blonde hair color. For the natural dark brown or black hair, going dark blonde can be a bit tricky process.
Dark blonde hair dye can be used to lift your hair if you don't opt to go to a salon. For your brown, dark or black hair to appear natural in blonde you ought to lighten it before going dark blonde. When a dye is applied to unbleached dark or black hair, there are high chances of not attaining your desired color.
These type of hair according to study is said to contain more red pigments. They are the ones that make your blonde appear reddish. There are exclusive hair coloring technologies that begin by removing or reducing these pigments before hair coloring is done.
The most common and untrusted way of ensuring your hair does not appear orangey or reddish is bleaching. Untrusted in the sense that you cannot be sure of the outcome. Bleaching is a hair damaging process and doesn't be surprised to end up with fried. The chemical elements make your hair dry to extent of breaking and even desiccating.
It is highly recommended that you do hair lightening in a salon by a professional colorist. This is the only place you can also be sure of attaining the right tone of your dark blonde hair color. Many people complain of the outcome looking different from the image on the box. The colorist knows how to tone down the dark blonde hair dye to give you exactly what you want to have.
Best Dark Blonde Hair Dye – Brands
Excellence 7 natural dark blonde by L'Oreal Paris
Just for Men Shampoo-In Hair Color, Dark Blond/Lightest Brown H-15, 1 application
Clairol's Nice N' Easy Born Blonde
Feria's Multifaceted Shimmering Color 73 Golden Sunset
Shades of Dark Blonde Hair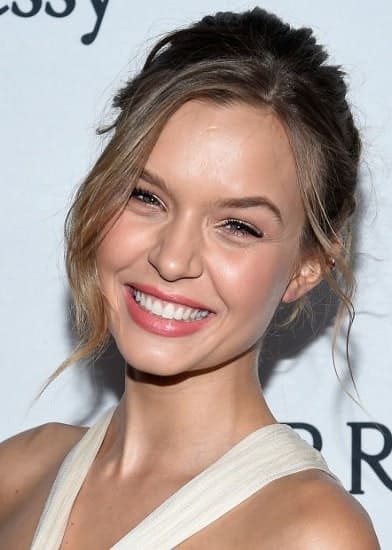 Blonde hair is fabulous and it exists in various nuances that suit different people basing of various features. Few women are born blonde but that does not mean that we have few blonde women. They are numerous and they invest their time and resources in pulling off such an appearance.
It is not that easy to decide which shade of blonde hair is perfect for you. There are factors you need to consider in selecting the blonde shade that your hear desire. Blonde shades range from darkest to pale. One of the shade will only make you stand out if you consider your skin tone and eyes color.
Your natural hair color will also determine if you will look natural or artificial in your new hair color. To select a suitable blonde hair shade you should not go outside the three color hues of your natural hair. To avoid looking washed out, find out what skin tone are you. Are you warm or cold?
In short look at the color of your veins at the wrist or underarm. If they appear green then you are warm skin tone, conversely, if they are blue tinged then you are cool skin tone complexion. There are specific shades of dark blonde hair color that suits warm skin and those for cool skin.
Dark Ash Blonde Hair Color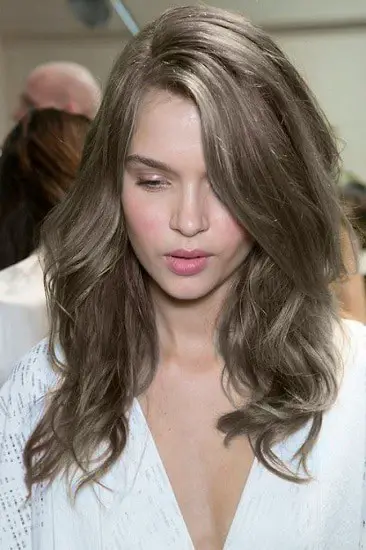 This shade is perfect for those who have cool skin tones. The color also makes light skin women with light hair to look stunning. Olive skin tone can also pull a surprise in this shade of dark blonde hair. Testing this hair color on streaks or highlights can give an idea of how it looks.
Going dark ash blonde can be done at the salon or easily at home using box hair dye. The complete kit contains all requirements and reagents for your complete coloring process. Remember to follow instructions carefully while applying it on your own. For this process, some of the best brands you can go for is the L'Oreal Dream Blondes Hair Color – Dark Ash Blonde 7A.
Moisturize with the provided conditioner for a healthy soft and vibrant appearance of your hair. You will also require to shampoo your hair but avoid some products that are made from compounds that can cause hair fading. Sulfates and phosphates are good at that. Go for a shampoo like Redken Blonde Glam Shampoo
Your hair ash blonde may fade when you are not ready to recolor and the best thing to do is rinse using a correcting shampoo. Among the best shampoo product, you can go for is Clairol Shimmer Lights Original Conditioning Shampoo. It is perfect in removing the brassiness hence rejuvenating your blonde hair to shiny and glowing appearance.
Medium Ash Blonde Hair Color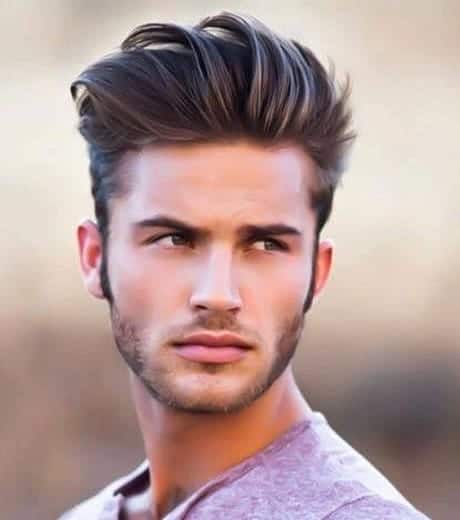 This among the shades of dark blonde hair color that perfectly covers grey hair. There are best brands of products for pulling off this color. Clairol is a semi-permanent dye that excellent for this and it is said to last long regardless of washing your hair. This ammonia-free product has no bad smell and is its cost is pocket-friendly at any drug store, Walmart or Amazon. L'Oreal Preference can also be an alternative.
How to Dye Dark Hair Blonde
Before you think of dying your hair blonde, it is better to know that dark hair cannot be lightened with a hair dye. Also, a dyed dark hair cannot be lightened with a blonde hair dye. In such a case, you need a color remover to strip off the current dye then you can go on applying your dark blonde dye.
Once you have applied the color remover your hair needs more time to reform. One to two weeks is enough just for you to realize that your hair is light enough for the dye. It is true that your hair will be in such a bad condition during the entire one or two weeks period but be patient for better long lasting and attractive natural outcome.
The two weeks have ended and you the hair is not light enough? This depends on the nature of your hair. At such a circumstance, you should not go on applying your dark blonde hair color but rather bleach it. The process should not be as intensive as the original bleaching but should take a few minutes to be lightened.
Use an appropriate bleach and peroxide. The 30% or 40% volume developer peroxide can be used. Carefully follow the instructions and begin your application from the ends to the mid-lengths of the hair as you keep off the roots. The application should begin from the darkest to the lightest parts of your hair respectively and this will give you a uniform tone after the coloring process.
Rinse your hair and let it dry completely as you prepare to color. For some types of hair, a yellow or orange tinge may be seen. This can be best covered with ash blonde hair color shade. Get a nice toner and apply to cancel the orangey tones.
Watch the below video to dye your hair blonde at home
Tips on Going Dark Blonde Hair
Short hair requires less amount of dye as compared to thick and lengthy hair that requires more.
Strand test provides you with ideas on how the actual process goes hence recommendable.
Hair Dyes are chemicals and allergy test is the only way to be certain of the effect of the product on your body.
Professional hair coloring at the salon results to minimal hair damaging hence the best way to go.
Hair dye is highly capable of staining and use gloves and a piece of towel on your shoulders when carrying out the application.
Conditioning is the best way to restore the moisture content of your hair lost during the bleaching process.
Carefully read the directions and don't overdo as per the time recommended.
A petroleum jelly can be applied at the skin around your hair to avoid burning effect.
Temporary Blonde Hair Dye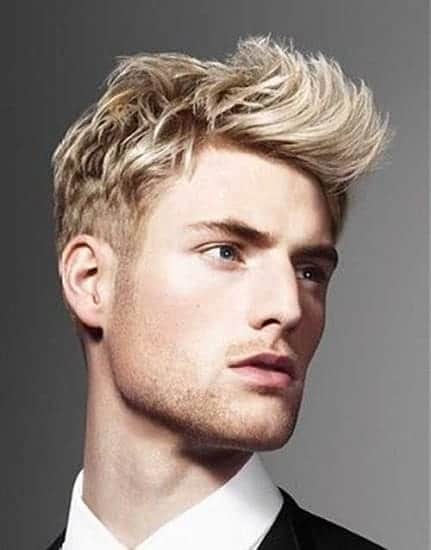 You can change your appearance whenever you like using temporary blonde hair dye. Whether for fun or for a night out this is the best way to accentuate your hair for very short lasting effects. The only problem is that temporary blonde hair dye may seem tricky to completely wash out of your hair once you want to get it off.
The best temporary should wash off once you shampoo your hair. There are hair types that are more porous than the other and it is a good idea to understand your hair. The semi-permanent hair dye is likely to lift the more porous type of hair hence becoming permanent.
Color remover product can be used to strip off this dye to enable you to take a different hair appearance. It is rare to find a temporal blonde hair dye for your natural blonde. Therefore it is such unfortunate if you try some of the products you will end up looking fake and so unnatural.
Dark or brown dyed hair will require to be bleached before application of a temporary blonde hair dye. Lighter color cannot be used in covering deep hair color. Warm tones will also be used to so that the yellow-orange tone can be canceled off. Your bleaching can be done professionally for minimal hair damage.
Temporary hair dyes can stain your clothes if it rains on your hair. Always cover your head to avoid the dye from running down your clothes and skin. You will have to avoid washing your hair until when the dye off. A suitable shampoo will be required for complete removal of the dye from your hair. You will still need to apply a conditioner for your hair to look soft, healthy and shiny.
Best Temporary Blonde Hair Dye – Brands
Temporary Spray In Hair Color (Blonde)
Casting Crème Gloss by L'Oreal Paris (blonde)
Fanci-Full Temporary Hair Color – 56 Bashful Blonde
Beautiful Collection Semi-Permanent Haircolor by Clairol.
Effects of Temporary Blonde Hair Dye
The dye will only cast on the outer surface of your hair and it hardly penetrates your hair to lift the color as does in semi-permanent. The temporal dye does not require serious bleaching agent or ammonia substances hence making the process relatively gentle compared to the permanent hair coloring.
Temporary hair dye is also capable of making your glow shiny especially when a warm vibrant hue is used. For your think hair, the effect of this type of dye will seem more intense as compared to those with thick and long hairs. Deep glowing colors like blonde honey are ever glossy and attractive for temporal hair coloring.
Facts about Temporary Blonde Hair Dye
For long and thick hair you will need at least two applications for intensive appearance
Environmental conditions like sun, rain, and seawater may have a negative impact on your hair.
You ought to apply hair care products for your hair to remain healthy and soft.
Class 1 hair color can get out simply in multiples of shampoo rinsing. Class 2, on the other hand, is a strong temporal hair color that contains peroxide and can stay in your hair for a longer period of time.
Temporary Blonde Hair Dye for Brunette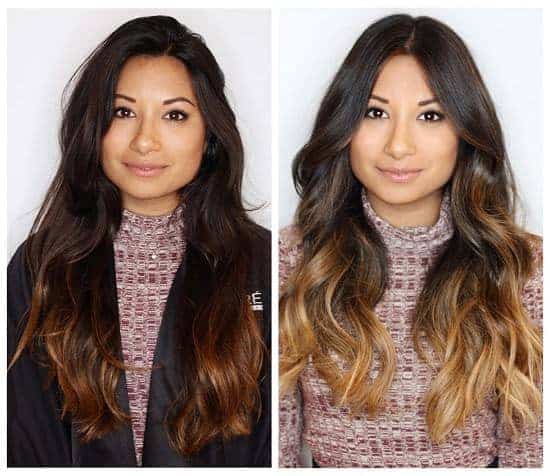 Dyeing hair lighter using a temporary hair dye is one of the trickiest things. It is really not easy to go from brunette to blonde without a color lift. There could be some box dye for you but the tone or shade will completely be different from your expectations. Personally, I would suggest wig for you or you visit a professional colorist to give you color spray. This will require you to style your hair and you will not be required to comb since the spray will get off your hair.
Lightening is the only way you can use in the process of covering your brunette hair blonde. If it is dyed then you will also be required to use a color stripper and a mild peroxide. Beware that your brunette is still the fabulous and pulling off a semi-permanent or temporary blonde hair dye you may end up with orange hair that may cost you much to take it back to its original color.
Recent Content