For anybody with long and curly hair, choosing the best flat iron is not the easiest task. It's not because of the entangled and the delicate curls but you also need something that won't damage the already damaged hair further.
There are way too many flat irons in the market with a long list of features that getting confused is something no one will blame you for. Whether you have curly, straight, short, natural, or treated hair, you need the best styling devices.
If you love your hair, which I bet everyone does, you don't want to make mistakes that can result in hair damage but need something that not only make the hair lovely but restore the damage as well.
If you are rushing for time, our top pick is the Hai Classic Convertible Professional Flat Iron. The device offers excellent performance and heating perfect for damaged and thin hair. It's durable enough to last you long and very attractive to hook even the person with the poorest taste.
Flat iron hair straightener is your best friend for damaged hair, but not all of them can work. The devices come with a variety of features to make hair straightening easy and perfect. Some even come with advanced straightening technology providing more than you're looking for. But since choosing the best flat iron for damaged hair is a problem to many people, we're going to help you out with our comprehensive review and buyers' guide.
Best Flat Irons for Damaged Hair Buying Guide
When you decide to buy yourself a flat iron, you probably have what you need in terms of functionality, cost, features, size and weight. But one thing to know about flat irons is that they can damage or restore your hair. In this case, we're looking for hair restoration irons and that means you need specific qualities for that. So, what are those things you need to consider when buying a flat iron for damaged hair? This buyer's guide has it all.
Understand Your Hair Type
Whether you have damaged or healthy hair, your hair type plays a vital role in ensuring you get the best flat iron. People have different hair types including coarse, curly, fine hair, thick, long, and short hair. When you understand the type of hair you have and know how to manage it, it will help you make an informed choice when buying flat iron.
Consider Material/Plate Technology
The flat iron is made from different materials such as titanium, tourmaline, and ceramic. You need a plating technology mild enough to prevent damages and one with infrared heat makes an excellent choice. The technology is made in a way that it gently heats the hair going slowly to the shaft without causing any damages.
Irons with ionic technology are an excellent choice for restoring damaged hair because they produce negative ions that neutralize positive ions from damaged hair causing the restoration effect. The ions also hydrate the locks keeping the hair moisturized perfect for protection from heat burns.
Titanium plate irons are also excellent when it comes to restoring damaged hair because they provide consistent heat levels. Titanium plates are known to have a very smooth finish that glides through the hair without causing any glitches or snagging perfect for damaged hair.
A tourmaline plate is also an excellent choice for damaged hair as they emit infrared energy that goes deep inside the hair to provide the needed strength and revitalize the scalp.
Temperature Settings
Are you aware that flat iron comes with different temperature settings? Well, not all temperatures go for all hair types. If you have damaged hair, you might want a specific temperature setting that won't cause any further damage but see to it that you restore the damage.
Temperature settings range from 170 degrees Fahrenheit to 450 degrees. Some of these flat irons come with a fixed temperature setting while others give you the liberty to adjust the temperature to your liking. If you ask me, I'll suggest you choose one with an adjustable setting so that you can regulate the heat to the right amount depending on the level of damage and your hair type.
For fine hair, you already know that a temperature setting as high as 450 degrees is bound to cause damages. If you have that coarse hair, 170 degrees might get you working for hours before you can attain the results. Well, the adjustable temperature remains your only option so you can adjust the heat level as you wish.
Single Pass Technology
The single pass technology is another thing you want to consider when styling your damaged hair. You don't need to pass over the flat iron so many times before you can see the desired results.
Passing the heat several times on your hair causes further thinning which can quickly damage your hair. Getting a flat iron that gives results in a single pass will surely minimize damages and save you time as you won't have to go through the hair several times to achieve the desired results.
10 Best Flat Irons for Damage Hair Reviews
NITION Professional Salon Hair Straightener
Nition Professional Salon Hair Straighter is an excellent type of flat iron available in the market. It is the best device to use when you need to straighten your already damaged hair without causing any further damage. The flat iron is made of sturdy materials such as Titanium, Tourmaline, and Argan oil that not only makes straightening work damage free but also guarantees long-lasting use.
It's relatively easy to use NITION professional salon hair Straightener because it can operate without any adjustable buttons. This flat iron has upgraded 2-IN-1 3D hair styling tool for both curling and straightening hair within just 60 minutes.
And if you're traveling, the iron gets you covered perfectly thanks to its advanced portability features. The amazing hair styling device is sold with a portable bag that makes it easy to carry from one place to another perfect for a frequent traveller.
The product comes with affordable prices so you don't worry about the size of your pocket barring you from getting one. There is absolutely nothing stopping you from getting this device if you want to restore the shine, strength, and beauty of your natural hair.
Special Features
Features a hanging hook
Pouch bag
Heat resistance glove
Salon comb attachment
Pros
Good for Temperature Control
Have good heat resistance quality
Lightweight for easy portability
Made of sturdy material thus serve for long
Cons
The equipment is prone to mechanical hitch
AmoVee Touchscreen Flat Irion
AmoVee Touchscreen Flat Iron is a perfect type of flat iron you can go for if you want a decent hair quality. AmoVee Touchscreen Flat Iron features the robust materials of Ceramic or Tourmaline ensuring durability and perfect hair restoration. The material ensures quick heating thus achieving the curled hair within the shortest time possible.
What stands out from this particular flat iron is that it is made with adjustable temperature with easy to read the screen for best control. The adjustable temperature allows your hair to get only required heat ideal for the straightening process any kind of hair without damage. This means if you have soft hair, you can reduce the heat and increase the temperature for coarse hair.
The device is perfect for both home and professional use thanks to its ease of use. The hair straightener is also lightweight enough allowing you to have an easy time operating it and also ideal for traveling as it's highly portable.
Special Features
Beautiful touchscreen design
Comes with 3D floating plates
Adjustable temperature control buttons
Pros
It is an affordable
It provides fast and reliable services
Durable
Easy to use
Cons
It has required proper maintenance
It may not have a warranty cover
KIPOZI Professional Titanium Flat Iron Hair Straightener
KIPOZI Professional Titanium Flat Iron Hair Straightener is one of the best hair styling devices in the market offering a tremendous experience. Although it works to give you the best services, to get the device, you may have to dig a little deeper into your pocket to afford. But for something with excellent features and guarantees top-class performance, paying a hefty price is not something you're going to think twice about.
This top-class hair straightener provides you with unmatched performance. When focusing mainly on temperature adjustment, the device comes with adjustable buttons that go up to 170F/459F so you can customize it to your preferred setting according to your hair type.
KIPOZI Professional Titanium Flat Iron is designed from sturdy Titanium material that guarantees extended-lasting quality and perfect for its purpose of restoring damaged hair. You're going to use this device for as long as you want to thanks to its durability.
Special features
The lightweight of about 1.16 pounds
Feature adjustable temperature control
Heat resistance
Drying power
Pros
Good for heat resistance
Comes with pocket-friendly price
Portability
Easy to use
Cons
Requires high maintenance
It may take longer to straighten hair
Remington 8510 Anti Frizz Therapy Hair Straightener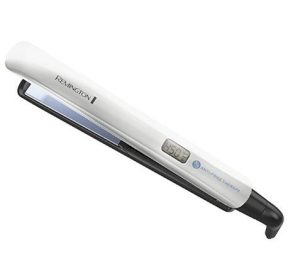 This type of hair Straightener has all the strength and durability that's sure to provide value for your money. The Ceramic plates offer long term services as you may compare to any other material choice. Having this device in your salon or home beauty cabinet assures you that you will meet all your expected hair straightness without damaging your beautiful strands.
Moreover, the device features Remington Anti-Frizz Therapy. This is number one hair straightener that provides degree test of about 450 and above. This feature plays a wonderful job of making it more reliable and efficient.
Remington 8510 Anti Frizz Therapy Hair Straightener is made of robust a Ceramic material that ensures high performance throughout the hair smoothing process. The type of material choice also gives the guarantee of lasting an extended period of time. Well, just like the name, the straightener gives you a therapy kind of performance so you're going to enjoy everything as you do your hair.
Special Features
Ceramic Floating Plates
It has micro-conditioners
Weighs 1 pound
Pros
Easy to use
It has excellent temperature control
Comes with affordable price
lightweight
Cons
FURIDEN Ceramic Flat Iron Hair Straightener
FURIDEN Ceramic Flat Iron Hair Straightener is one of the long-serving hair straighteners you can get your hands on.  The device is made from the sturdy Ceramic material that guarantees long-term performance. This also gives you the confidence in using the device over shaggy hair texture.
The incredible Hair Straightener features rotate gear decently installed to give precise temperature adjustment up to the required angle. This is more advantageous as you can use the preferred temperature level best for your hair.
If you want quick straightening and perfect results within a short time, you can never go wrong with this one. It also comes with a fantastic warranty period so you can use it with complete peace of mind. If you buy it for professional use, you're assured of a surge in your client's number thanks to the reliable service the device is going to provide.
Special Features
Lightweight at only 1.5 pounds
Available in multiple colors
Comes with a decent carrying case
Temperature adjustable buttons
Pros
Comfortable to use
Good temperature controller
Easy to use
It ensures the flexibility of use
Cons
Using the device for long may endanger the quality of your hair.
MONDAVA Professional Ceramic Tourmaline
Ask those who've used it and you'll agree that MONDAVA Professional Ceramic Tourmaline is one of the best flat iron for straitening damaged hair. The first thing that's going to get you in love with this device is the beauty characterized by perfect color choices. The flat iron is clearly a masterpiece when it comes to beauty and performance.
MONDAVA Professional Ceramic Tourmaline is designed with passive heat resistance materials that ensure it eliminate all the heat during the hair straightening. The superb Ceramic Tourmaline material also gives it the durability it needs to ensure you get value for your money. The material is also lightweight enough to give you an easy time when using and also ensure you can easily travel with it.
Special features
Comes with a Travel Pouch
Packing includes a salon Styling Comb
Adjustable temperature buttons
Excellent portability features
Pros
Easy to use
Good at temperature regulation
Flexible to travel with
Cons
It has a high speed heating effect
TYMO 1 Titanium Hair Straightener
TYMO 1 Titanium Hair Straightener is here for anybody with damaged hair that needs a device that will slide through the delicate strands without causing any further damage.  The device is made of excellent sturdy material that makes it last for an extended period. The hairstyling flat iron offers nothing but durability, reliability and excellent performance.
At glance, TYMO 1 Titanium Hair Straightener displays a romantic chocolate look. The aesthetics make this device hard to resist for anyone who wants beauty and performance all in one.
The hair straightener features longer 3D floating plates that give about 25% speed for hair curling or straightening. Also, 3D floating plates helps to adjust the tension hence eliminating snagging to ensure it provides smooth glide, straight curling or even a beautiful wavy hair look.
It is available in affordable price meaning you will not have to dig deep into your pocket to find something that performs well and lasts longer. Order your flat iron today and find yourself a perfect device that will go slow on your damaged hair and get it looking beautiful and strong once again.
Special Features
Made of digital Touch Panel
Superb Titanium 3D floating plates
Weighs 1.6 pounds net
Comes with cute chocolate color
Pros
Durability quality
It has excellent heat regulator
It offers a comfortable use
Affordable device
Cons
Too much of use can lead to mechanical hitch
High maintenance needed
FURIDEN Professional Hair Straightener Titanium Flat Iron for Hair
Furiden Professional Hair Straightener gets its way in the top list of the best flat iron for damaged hair for all the best reasons. The device is made of very lightweight materials that make it best use over a long time. The Titanium material used to manufacture the device ensures the long-serving process and ease on your damaged hair.
This incredible device features FURIDEN invisible screens that make y to stay tuned to see the desired temperature range.  Since different people have different hair texture, the choice of a flat iron straightener with FURIDEN screens makes the user regulate the device to the best temperature recommended his hair. You will never go wrong with this flat iron on performance, aesthetics, and durability.
Special Features
Comes with a carrying pouch
Weighs 1.3 pounds net
Available in multiple attractive colors
Pro
Easy to use
Good temperature control
Flexible for travelling
Perfect of ensuring excellent warmth
Cons
Long time use causes hair damage
It shows an irreversible function
CHI G2 Ceramic and Titanium 11/4 Straightening Hairstyling Iron
You can never go wrong with this flat iron hair straightener device as it's considered top class thanks to its reliability, durability, and performance.
This amazing flat iron hair straightener has a fast heating speed of 40 seconds. This doesn't only help to deliver excellent performance but is best to use within the shortest time possible. You're going to save a lot when it comes to power as the faster heating time also means saving on power.  The device is reliable to be used even use even in a wide range of hair types.
The flat iron device comes with a limited two-year warranty, this is important as it guarantees replacement in case of a mechanical hitch. The excellent warranty terms ensure you have complete peace of mind when using it. CHI G2 Ceramic and Titanium 11/4 is one of the best flat irons for damaged hair available in the market.
Special Features
25 Titanium and Ceramic infused plates
Adjustable temperature buttons
Carrying case
Bought with Guard Thermal protection spray
Pros
Comes with a warranty terms
Has a high-speed heating
Very flexible to use
Portable
Cons
It is doesn't explain the exact period for straightening your hair
Long term of use may give your hair a bad look.
HAI Classic Convertible Professional Flat Iron
When shopping for the best flat iron for hair straightening, stop to look at HAI Classic Convertible Professional Flat Iron. Well, the flat iron is all you can look for as it provides unbeatable value for your money with its wonderful performance and the capability to serve you for a long time.
The incredible flat iron hair straightener is made with unique a material that doesn't only ensure a precise heating process but also versatile best for precise hair curling and straightening. The flat iron has an adjustable temperature plate that will provide precise straightening process at your own temperature choice.
HAI Classic Convertible Professional Flat Iron comes with super materials that provide excellent longevity of use. The performance is another level, the protection for your hair is all you can ask for, and the durability is something you'll come to appreciate years after using it to your satisfaction.
Special features
Comes with a carrying case
Weighs 1.3 pounds net
Available in your favorite colors
Packing include a salon Styling Comb
Pros
Portable property for easier travel
Easy to use
Value for money
Cons
Long time use may result in hair thinning.
The use of the device has an addition of chemicals which may damage your hair.
Verdict on Best Flat Iron
Straightening your damaged hair is made easier with these incredible flat irons in the market. You don't have to walk around with your hair looking unkempt and ugly just because you think exposing it too extra heating will escalate the damage even more. On the contrary, most of these devices feature additional materials made with your hair restoration and strengthening in mind.
Take a look at Hai Classic Convertible Professional Flat Iron for instance.  We highly recommend this product for anybody that wants to restore their damaged hair and maintain the beauty, strength and shine. You can also view others and choose according to your taste, type of hair, and budget. Happy hunting!
Recent Content