What is the best hair color for dark skin women? Get more insights on perfect hair color for dark skin African Americans. The post also explores more on hair color ideas for dark skin toned and black women celebrities.
Hair Color Ideas for Dark Skin Women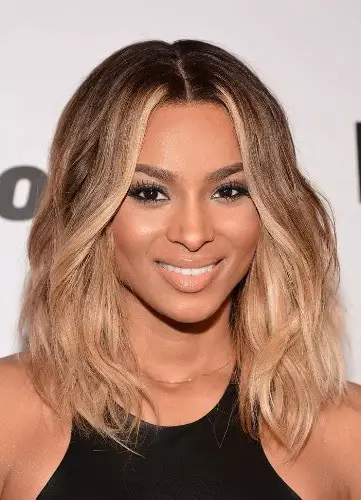 Are you a dark skin girl? African American or black? Here are good ideas on the perfect shades and colors of hair you need to complement your dark skin complexion. Your hair color alone is enough to make you outstanding and make a statement. To make your appearance the most classic as what you see on the red carpet, the following hair colors and styles are all you need to add radiance to that warm or cool skin undertones of your dark complexion.
Blonde Hair Color Shades for Dark Skin Women
Most dark skin women have dark natural hair. This is the best hair that can look flattering without any color treatment. Giving it a regular conditioning after rinsing with the right shampoo makes it healthy and sparkle to a bright shiny glow. Bluish-black gloss not only makes it darker but also make your face bright and young.
Blonde with no doubt is good in making your dark tones appear bright and cool. Go for dark browns to form the perfect complement with your skin. A mixture of dirty blonde with brown hair forms nice streaks to accent your face. For highlighting you need dark blonde that softens your darker skin hue.
Warm blondes are still an alternative since they add radiance to your face. Some of the best shades for warm blonde are caramel and honey blondes. Let a professional stylist carry out your hair coloring process. The best hair color for dark skin women should be chosen selectively and a chemical hair treatment should be done to lighten.
Brunette for Dark Skin Women
This is an amazing color especially for those who have black natural hair color. Playing within light and dark hues gives you a stunning look. If you have a natural brunette, just emphasize it to any shade within the three shades of your natural. Some of the brunette hair color for dark skin women include auburn browns, ash browns, mocha, and golden brown.
Dark brown skin looks perfect in brown hair color. If you ask celebrities such as Gabrielle Union, she can testify this to you. For a vibrant dark skin go for black-brown hues like honey brown. You can look so amazing when you complement your looks with a nice lip color and for this case, pink lipstick for dark skin women or nude can work.
Black or Dark Hair Color for African Americans and Dark Skin
Besides having black natural hair, you can make it shinier to look attractive. Black skin women have either brown-black hair or blue-black natural hair. To make it look thick and shiny, give it a blue-black gloss. The jet-black dye can give your dark hair a shiny glow. Black or dark hair requires low levels of maintenance for you to step to the spotlight.
Red Hair Color for Dark Skin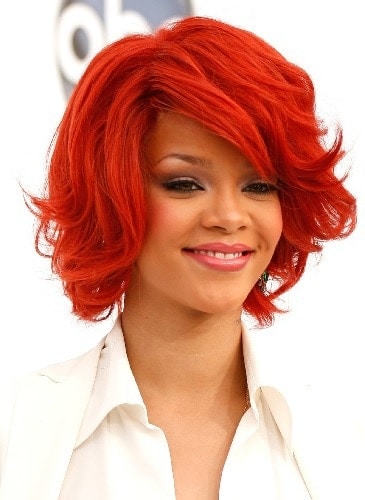 Dark skin women can still pull off red hair comfortably. This complexion is said to have deep hues of red in the natural hair. To look stunning you have to select a suitable red hair shade among the varieties ranging from bright to dark shades. Think about cinnamon, Auburn, Burgundy, and gold.
Bright Auburn Hair for Dark Skin Complexion
You don't have to scratch your head hard thinking of which Auburn when bright auburn can make you flattering. Auburn for dark skin women also gives you a nice soft dark finish. Golden blonde tones in Auburn make it attain the highest score in adding radiance to your undertones hence a brighter facial look.
Cinnamon Hair Color for Black People
The cinnamon bun is suitable for igniting your dark skin tones. This red dark hue is eye-catching and wearing it can easily convert you to a tourist attraction thing. The shade seems to have combined brown, red and burgundy and that a is three in one thing which makes you stunning.
Bright red Hair Hues for African Americans
Bright red looks fabulous on dark skin women. Pulling this dazzling shade not only make you flamboyant but also fashionable. The perfect contrast is attained between your dark complexion and the warm tones in this big red. Despite attracting double attention, bright red makes you grab the spotlight and shows how confident you are.
Nice Hair Colors for Dark Skin African Americans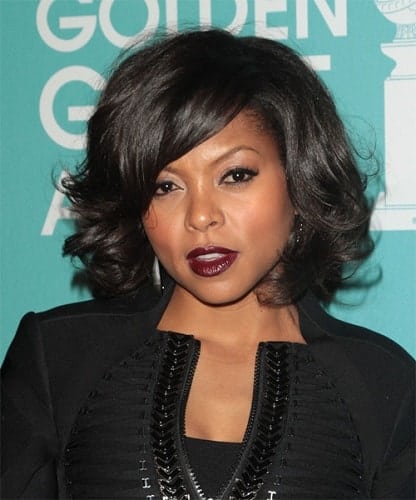 Majority of African American have dark black or dark brown hair naturally. According to professional hairdressers, this type of hair requires professional handling in any attempt to carry out the coloring process. Lightening it to more than 5 levels easily leads to damages. The other way to go about this is looking at the skin tone.
To determine the nature of your skin undertones whether cool or warm, simply twist your arm and observe the color of the veins under your wrist. If they are green-yellow then you have a warm skin undertone respectively.
If the veins are purplish to blue-tinged then you have a cool skin tone. This is also the best way to test for the best lipstick for dark skin. You also have to complement your undertones with the right lipstick shade for you to look more beautiful, otherwise, you do it wrong and end up looking sallow or washed out.
Hair color for Dark Skin Black Women with Warm Tones
Other than your skin tone, your natural hair is always a perfect complement for your skin complexion. The best hair color can be reached at by selecting a shade within the three shades of your natural hair.
According to the myth of hair coloring, dark hair women always want to go light and true to the converse. If you really have to change your appearance, then the following hair colors will make you flatter. Chestnuts and cinnamon shades have the feature to brighten your undertones with some red or pink hence calming down the golden yellow hues defining your undertones.
Hair color for Dark Skin Girls with Cool Tones
Go for warm highlights to add radiance to your hair dimension. The dark skin needs to be brightened to some level and bright highlights can add warmth to your dark or brown hair. Mink-based color will be ideal in defining your skin undertones.
Avoid colors that don't match your skin to save yourself the issue of looking artificial. Trying colors you are not sure with is better done on short hair. High standards of maintaining should also be a priority least of which you will look awkward and old. Hair color for dark skin women ought to be professionally carried out for minimum hair loss and damages.
Hair Dye Colors for Dark Skin Women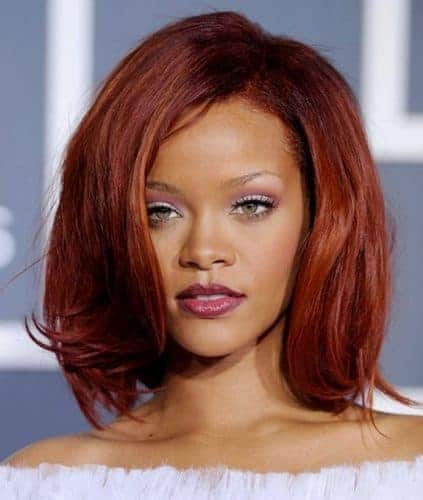 Hair coloring has consequences and is prepared to face them in whichever manner it may happen. Addition of chemicals to your hair in the name of dying is associated with loads of problems. Expect outcomes like dryness, hair breakages, and hair loss respectively. The matter is even pathetic when it comes to chemically treated hair.
There are various dye agents that may be used in the treatment of your hair to affect the color change. Permanent hair dye penetrates your cuticle to make changes in the hair pigment area. The process involves the application of hydrogen peroxide that aids in the opening of the cuticle for the permanent hair dye to penetrate effectively.
Semi-permanent on the other hand does not make such penetration but it is accompanied by chemical treatment. This type of hair dye is temporal and is subject to regular renewal. Both types of dye affect your hair by reacting with the keratin structure. That is why the hair may end up dry or damaged and broken.
Therefore African Americans are at risk of hair damage or hair loss if they use hair relaxers or dyes in the coloring of the hair processes especially carried on own or at home. To avoid such problems, you can go for weaves and wigs which are produced in all sorts of colors of your like. They can also be used to test the color you are aspiring before you go for real coloring when satisfied with the looks on the wigs and weaves.
Burgundy Hair Color on Dark Skin
Violet + Brown + red = Burgundy. This equation satisfies the dark skin quest for confidence. Burgundy is a light bright color that illuminates your undertones to make you look gorgeous. If you have brown or dark brown hair, this is the most straightforward way to go.
Light Hair Color for Dark Skin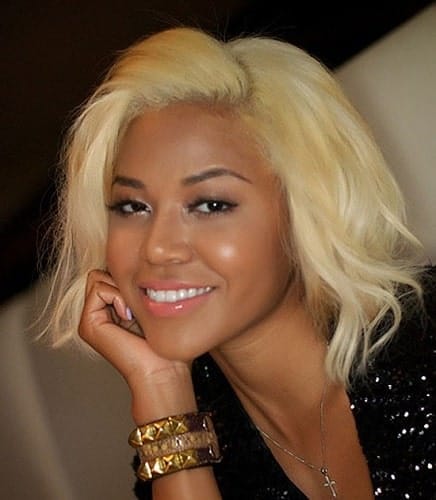 As long as you are able to pull a contrasting color for your complexion, it hardly matters whether lighter or darker. There are some shades of light hair color that will flatter you most as compared to darker ones. It also depends on your skin undertones. There are those that get well accentuated with light while others with dark such as dirty blonde.
Dirty blonde, when combined with light blonde streaks, can look beautiful on your dark complexion especially when your skin is brownish. Subtle gold or honey highlights adds radiance to your dark hue hence making you vibrant. What you need is also thorough maintenance, i.e. moisturizing or conditioning regularly.
Do right makeup to balance on how you look. There are many types of lipsticks you can go for in pulling off the perfect pout. Nude lipstick for dark skin and red lipstick colors for black complexion are likely to be the perfect complements for you.
Recent Content