What is the best hair color for blue eyes? Get more insight on the best hair color for fair skin with blue eyes such as brunette, red and dark hair.
Hair Colors That Go with Blue Eyes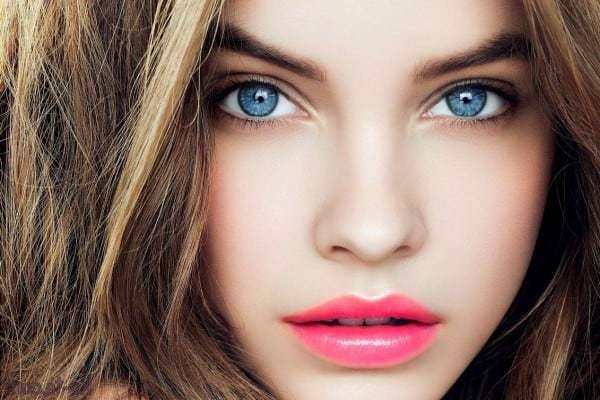 There are plenty of hair colors that go with blue eyes. The only trick is considering other features like skin tone and your natural hair color. Maintenance levels also determine your choice of color for your hair. But at the end of the day, all you need is a change in your hairstyle to make you feel gorgeous and confident.
I really understand that you neither want your hair to get damaged or make you look sallow. Therefore you have to be much selecting on landing on your favorite hue when it comes to hair color and your best lipstick for fair skin.
When you look at the color wheel you notice colors contrasting. Your love of colors should abide by this arrangement of colors on the wheel and their respective complements.
Best Hair Color for Fair Skin and Blue Eyes
You need to get a perfect hair color complement for your blue eyes. One of the major factor in making such decisions is how your eyes will look at the end of the process. Accenting your blue eyes to pop and appear natural is not an easy task. You need to consider your skin tones and it will become relatively easy in deciding on your best hues to contrast your blues eyes and fair skin tone.
Begin by examining the color of your veins under your wrist on natural light. If they are green then know that you are warm skin tone woman and if they appear to have a blue tinge it automatically implies that your skin tone is cool.
This is will now provide the blueprints for your right matching hair and eyes color. It is also recommendable that you select the color shade within the three shades of your natural hair color. This will make you look natural besides making your eyes pop.
Best Hair Color for Fair Skin – Blue Eyes with Warm Tones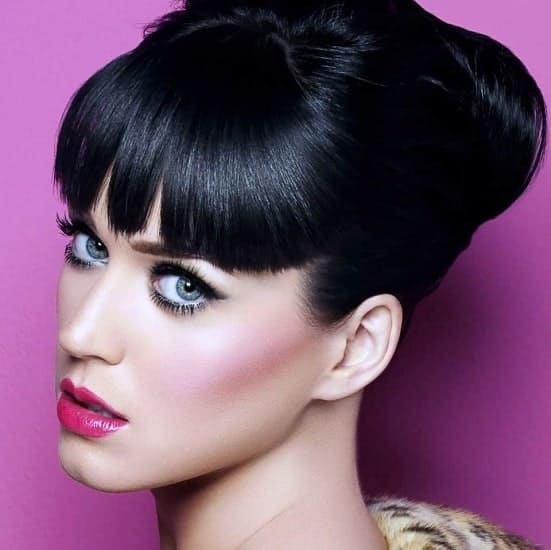 Here are some of the best options you can try without going wrong: Blonde, brown and red hues are the most suitable shades within which you should play. It works perfectly regardless of your naturally blonde, dark or red.
This hair types always have a golden sheen that shines in the presence of light. Warm colors are perfect for you and they brighten off your yellow undertones. Golden blonde, honey golden brown, and copper are the best alternative colors to make your hair look flattering.
For your love of red hair color, you can go for golden red or strawberry blonde to add warmth. Ash tones should completely be avoided. They are likely to make you look washed and faded. Too dark hair color may not work for you unless you are naturally dark.
Best Hair Color for Fair Skin – Blue Eyes with Cool Tones
To accent well your cool fair skin with the blue eye, some of the hair colors suitable for you include the following. Ash brown, platinum blonde or ash blonde. They are the perfect complements not only to your eyes color but also to the pink or purple skin undertones defining your fair skin complexion. For highlights, you can go for warm blonde that will add radiance to your face.
For red colors, you can still look stunning in specific shades. Go for the bluish red like mauve to make your features outstanding. There are red hues that cannot look good on your head with this type of eyes. Avoid mahogany red, copper or golden red blonde. Warm colors are not for you as well, except when you are highlighting.
Best Hair Color for Blue Eyes – Dark or Black Natural Hair
Your natural bluish-black or dark hair is the best compliment for the blue eyes. The natural warmth created by the numerous tones in your hair makes it suitable for enhancing your undertones. Personally, I would prefer to keep good maintenance of such hair without going for the color treatment process.
To change your black is not the best of the options but if you have a feeling to do so you have to maintain within your three shades of natural hair color. Bluish-black gloss can give it a glow as well as a healthy appearance. Jet black, aubergine, and mahogany can also accentuate your hair perfectly well.
Best Brunette Hair Color for Blue Eyes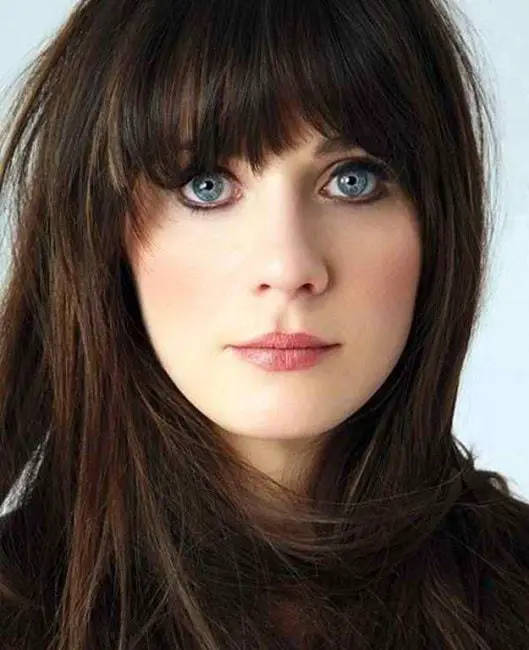 Brown hair has become fashionable and the countless variations such as caramel, nougat or hazelnut can make you flattering with your blue eyes popping as well. Apart from this, there are perfect reasons as for why most women are preferring brown hair and they include the following:
Brown hair requires low levels of maintenance. At-home coloring can be made without any fear.
It becomes hard for someone to notice any breakages and damages in brown hair due to its reflective nature.
Brown hair makes you look natural and that is why little is done to make you flattering.
Brown hair works well with many different eyes colors. Whether green, blue, brown or hazel eyes, brown will always make them pop.
To go brunette, and look better there are few tips to put into consideration. Always play at the extremes. That means you should go for either dark or light brunette. Medium tones are not suitable in making you look stunning. For short or layered hair, making ends of your deep monotone brunette lighter makes you perfect than ever. The lowlights or highlights can frame your face when done on the haircut.
While coloring at-home, the common mistake women make is the application of too warm hair dye that makes hair to end in orange appearance. This can be corrected by mixing a brown dye with a neutral brown one in half-half proportion. The combo can now give you the most fantastic outcome.
While handling black or dark hair a professional stylist's help should be taken. Also for brown who want to go beyond chocolate, attaining dark can involve complicated procedures that may result in your hair damaging. Therefore it can become relatively easy when carried out in a salon with an experienced hairdresser.
Remember to maintain well your brunette to prevent it from fading, that will make you look old and awkward. Example of the best products you will require for taking care of your brunette include the following:
Matrix Biolage Earth Tones Natural Brown Color Refreshing Conditioner
Oscar Blandi Crema Soothing Hair Balm
Aveda Black Malva Color Conditioner
Pantene Pro-V Brunette Expressions Daily Color Enhancing Shampoo
Best Hair Color for Blue Grey Eyes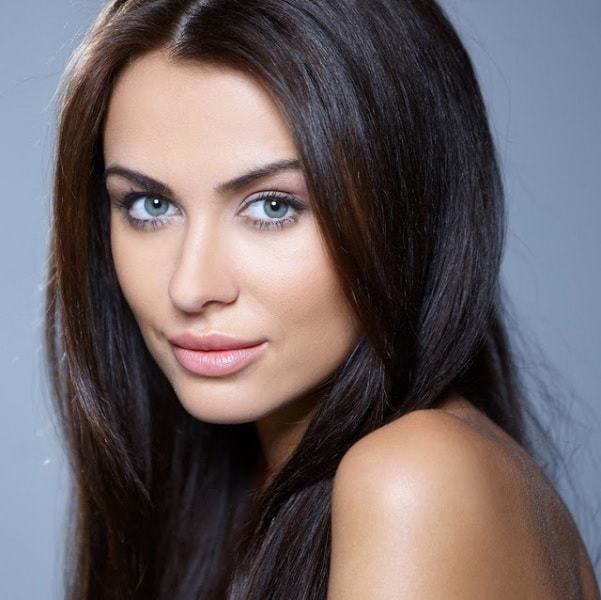 Blue eyes girls can pull off blonde to look stunning. Light brown or dark blonde all can make you appear natural. Light blonde shade gives satisfying outcomes. Making changes on how your eyebrows and eye makeup are other alternatives for making your blue eyes pop. I once did brown eye-liner and black mascara and everyone shocked with my gorgeous appearance.
More options include dark brown or black hair especially if these are part of your natural hair. Going from blonde to brown or black is not a good idea for pale or fair skin women. Your skin tones should also rule on what to suit you perfectly without having to appear washed out.
Hair Color for Blue Eyes and Fair Skin
For the cool skin tone, base shades of brown, black and ash blonde are nice. You can add the radiance by highlighting with honey or wheat. For blondes, your hair must be light naturally or as a child you were blonde. This is to emphasize the golden rule of the thumb. Chocolate brown can be contrasting for your blue eyes. Alternatively, you can try black locks.
Blue eyes and fair skin with warm are fabulous in warm hues that makes the undertones clear. Among what to include in your 'yes' list is dark golden brown, golden blonde, chestnut, and auburn. If you feel like adding highlights the best can be red streaks or cinnamon respectively.
Best options for warm skin include strawberry blondes or Bright red. These hues are bright enough to add radiance to your face besides making your eyes pop. Your fair skin is also flattering in light brunette, copper or honey. The glow can be sparkled by red highlights for more attention.
Best Red Hair Color for Blue Eyes

Red not only communicate your confidence but also make you attractive. Going for the right shade as the best hair color for blue eyes has to do with selective choices that should be carefully done. For your pale skin, brighter red shout loudest. This does not rule out deep red shades like auburn.
For natural brunette hair color for blue eyes, going either deep or bright is still working for red hair color. As long as your hair shines and your eyes pop then red shades are the best. Changing from black to flaming red may not be a good option. It is rather better if you know how to make your dark or black more glossy and glamorous.
Therefore, this post discusses all you ought to know on the best hair color for blue eyes. To make us serve you with more rich information, shout your comment.
Recent Content