What is the best lip exfoliator? Get more insights on the best homemade lip exfoliator, best natural lip exfoliator, best drugstore lip exfoliator and best men's lip exfoliator suitable for the renewing of dry, flaky and chapped lips.
There are various factors that can lead to dry chapped lips. Harsh weather conditions such as cold, overexposure to sunlight are among what causes flaky lips. Smoking and use of substances such as coffee and tea can also contribute to this annoying condition of the lips.
Exfoliation however is the best way on how to get soft lips since it helps in the removal of dead skin from the lips. As much as there are best drug store lip exfoliators, homemade lip exfoliators are considered natural and gentle in attainment of soft lips overnight.
Best Homemade Lip Exfoliator
It is very essential to know how to exfoliate lips. At least once or twice a week is enough to get you young healthy looking lips. As said natural lip exfoliant is commonly used among many people including men. Here are some of the best homemade lip exfoliator that are effective for immediate results.
Sugar + Honey + Olive
Naturally sugar is an abrasive and it is the best at home ingredient suitable for lip exfoliation. When sugar is mixed with natural honey and olive oil, the paste not only removes the dead skin from the chapped lips but also heals and moisturizes at the same time. This is however the top best lip exfoliator you can never go wrong with.
Honey is medicinal in nature and is used in curing of many diseases. This feature makes it suitable in promoting healing of flaky lips. It is also a natural moisturizer hence keeping your lips hydrated all day and night long. Olive is a type of edible oil and it is added to the mixture to help in creating a protective barrier. Oil however ensures your lips are protected from excessive sunlight, cold and other factors that leads to dry and chapped lips.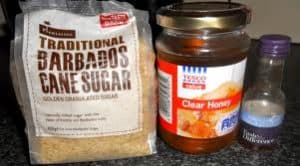 Homemade Sugar Lip Scrub – Recipe
Here is a simple recipe on how to prepare and use sugar lip scrub. As said above you need sugar, honey and olive oil. Brown sugar is more natural hence preferable though you can even use white sugar. The best time to prepare and apply is before getting to bed. The lips will have ample time to heal overnight.
Mix together some sugar and olive oil until you get a thick paste. You should end up with more sugar then oil. But remember, you will only need a little. As much to cover your lips.
Add equal amount of honey and stir to the mixture to form a paste.
Grab your tooth brush and scrape up the mixture.
Gently brush your lips in tiny circular motions for about 2 minutes. (Like brushing your teeth but on your lips)
Leave on the substance for about 3-5 minutes.
Cup your hands and fill them with warm water and rinse your lips until all the paste is gone.
Tap your lips with a towel to dry.
You can choose to apply chapstick if you are in need.
Apply lip balm for further hydration effect.
This is a simple procedure to follow and remember to repeat the same for once or twice a week. In a period of one or two months your lips will have completely changed to look really soft and young.
Best Natural Lip Exfoliator
Naturally, lips contain a thin layer of skin and is one of the body organ covered with a delicate skin. Application of manufactured products on the lips can easily contribute to peeling off the skin. Therefore natural products have been attested by many users as gentle and safe when it comes to lip care.
Since removal of dead skin has to be done regularly for the renewal of lips appearance, there are some best lip exfoliators you can never go wrong with since they are naturally obtained and made. As discussed above, there are various best natural lip exfoliators which are effective in providing you smooth and soft lips.
As said a mixture of sugar, honey and olive oil forms one of the best homemade lip exfoliator. There are also other best natural lip exfoliators that are not only effective but also safe to use. They include the following:
Baking Soda + Water
When baking soda is mixed with some little amount of water, it forms a paste that is suitable for removing dead skin. Baking soda is also a natural abrasive while water is used in dissolving and sticking the molecules together. You can use a toothbrush to scrub the lips together with your baking soda or you can apply using your finger as you make gentle circular motions.
You will be required to apply some Vaseline or a lip balm after the scrubbing using this best homemade lip exfoliator. Alternatively you can apply some olive oil or coconut oil after the exfoliation.  Do not lick your lips after removing the dead skin. If you really feel the urge to do so then apply some chapstick and your lips will feel soft.
Lemon +Castor Oil + Glycerin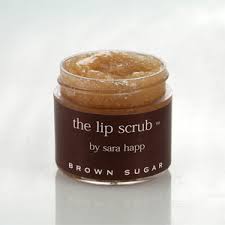 This is yet another natural lip exfoliant you can always go right with. Lemon is known for healing most skin blemishes such as black spots on the lips, freckles, pimples and many more. Therefore the same healing property is applicable for curing chapped lips. Glycerin is a natural moisturizer and helps in not only hydrating the lips, but also keeping them smooth and soft. Castor oil on the other hand is best used as a protective barrier.
The same methodology on how to exfoliate lips with sugar is also used as long as you have prepared your paste. Mix the three ingredients in equivalent amount of one teaspoon full each in a bowl and stir to mix. You can apply the paste directly using a finger or using a toothbrush as long as you know how to exfoliate lips with a toothbrush.
Rose Petals +Fresh Raw Milk
Obtain some Rose petals and soak them in raw milk for some few minutes. Proceed to stir the mixture until a paste is formed. Before you sleep at night, apply the paste on your lips gently with your finger. Make circular motions for 3 minutes and you stop. After the 5th minute you can rinse with warm water and dab dry using a towel.
Finalize by application of some Vaseline or lip balm for moisturizing before getting to bed. Your lips will be soft and kissable the following day with a nice color effect. Repeat using this best lip exfoliator for two times a week and for a period of one month there will be a total difference of your lips appearance.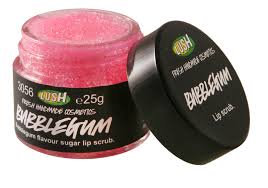 Best Lip Exfoliator Reviews
You need to know how to treat peeling lips especially during winter. This is the time you have to frequently apply your lip balm, otherwise licking will be the order of the day. But how do you make your lips stay shiny, soft and moisturized all day long? As said, the only trick is to exfoliate to remove the dry dead skin using your best lip exfoliator. When this is followed by your favorite lipstick then you are done.
Besides the best natural lip exfoliator, there are also best lip scrub on the marked. When you look at the reviews, they are made from natural ingredients hence safe to use. Choosing your best lip scrub can be tricky and here are a number of factors you have to consider while selection your exfoliant product.
Study some of the best lip exfoliator reviews to ensure that the formula is gentle and fragrance free. i.e. it mist not contain fragrant oils.
The lip scrub must be effective in the removal of dead skin. The rating and testimony by the users can give you a hint on this.
The product must be free from chemical irritants such as menthol and camphor. These substances can cause more chapping and damaging of the lips.
Best Drugstore Lip Exfoliator
Here are top rated drugstore lip exfoliators you can try:
Bliss Fabulips Sugar Lip Scrub: Made from a mixture of sugar, almond and walnut shell shavings gently buffs. Added with light strawberry-cherry fragrance for scent. It has sufficient butter to exfoliant ration making it the best moisturizer beside the least abrasive nature.
The Lip Scrub by Sara Happ in Sparkling Peach: Contain sugar granules blended with jojoba and grape seed oils. For perfect smell and protection, this best drugstore lip exfoliator has a peach-scented petroleum.
Fresh Sugar Lip Polish: Is commonly used by celebrities due to its nature of both smoothing and hydrating dry chapped lips. Scented and it is free from synthetic chemicals.
Philosophy Kiss Me: Made from natural products such as edible oils, sugar and bee wax. It moisturizes and exfoliate at the same time. Gentle on lips due to butter and small sugar granules used. For smell, peppermint is used and the scent is cool and amazing on the lips.
Lush Bubble Gum Lip Scrub: This is a bubble gum favored lip scrub made from sugar combined with organic jojoba oil. It moisturizes and protects the lips effectively.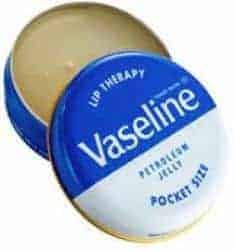 Good Lip Exfoliator for Men
Just like women, men also suffer from dry chapped lips due to exposure to environmental irritants and use of substances. Licking and biting lips is a sign of rough, cracking lips. You need to take good care of them or else you are risking an infection and permanent lip damage. Here are various tips of ensuring that your lips are smooth and soft.
Take sufficient amount of water to keep your body hydrated especially during winter.
Exfoliate lips with a toothbrush in a gentle circular motion for 2 minutes and apply lip balm.
While going outside apply a sunscreen lip balm with no fragrances and synthetic chemicals like menthol.
Apply some Vaseline on your lips before getting to bed. Alternatively you can use olive oil, petroleum jelly or baby oil.
Therefore in case you follow the above discussed guidelines in using your best lip exfoliator and you realize persistent in chapped lips symptoms, you need a professional examination and care since it can be a sign of a serious underlying medical condition that requires treatment.
Recent Content