What is the best lip scrub recipe? Get more insights on the best DIY lip scrub, drugstore, and the best lip scrub for dark lips. Also more on causes of dry chapped lips and various ways to prevent them.
Dry and chapped lips are a common problem among most men and women. Various causes and environmental factors are to blame for this lip condition. Generally, flaky lips are not associated with serious medical conditions except for a few cases. Here are some of the causes for dry chapped lips:
Cold spells such as winter and environmental conditions.
Too much exposure to sunlight and UV rays.
Lack of enough water in the body or dehydration.
Abuse of substances such as smoking and caffeine intake.
Diseases and conditions that cause body dehydration.
Use of harsh lip care products and makeup.
Harsh cosmetic products such as soap, cream, and lotions.
Therefore, exfoliation is the best way to renew your lips since it helps in not only removing the dead skin cells from the lips but also helps in healing the chapped lips. It is recommended to scrub your lips at least once a week using your best lip scrub. However, there are various types of lip exfoliators of which some are not only effective but also gentle and natural on the lips.
Best Lip Scrub Recipe
When selecting your favorite lip scrub, it is essential to find out the ingredients used in the making. Traditionally sugar, in combination with honey and edible oil is said to be the best homemade lip exfoliator. Natural lip scrubs are becoming popular due to their safety and effectiveness as well.
While making sugar lip scrub, either brown or white sugar is used in combination with other ingredients. Sugar is the major element in most lip exfoliators due to its natural abrasive feature. When combined with honey, the resultant paste also promotes healing and moisturizing of the chapped lips.
To prevent further effects from environmental conditions, edible oil is added. Preferably almond oil, olive oil, or sunflower oil is used. Oil forms a protective barrier and maintaining the moisture capacity of the lips. Here is a simple recipe for the preparation of your best natural lip exfoliator.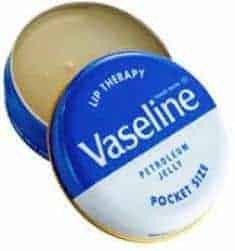 Ingredients
1 teaspoon natural honey
Small cup
1 teaspoon olive oil, sweet almond oil or sunflower oil
2 teaspoons granulated white sugar
1 to 2 drops essential oil (optional)
Lemon juice (optional)
Cotton balls
Moisturizer or lip balm
Sugar Lip Scrub – Preparation Procedures and Application Instructions
Place the 1 teaspoon full of natural honey in a small sterile cup. Gently warm the honey in for five seconds in your microwave.
Add 1 teaspoon full of olive oil, or almond or sunflower oil
Add 2 teaspoons full of granulated brown or white sugar and stir to mix.
You can add a drop of lemon juice if you feel like it to create a soothing effect.
If you desire you can also add a few drops of essential oil such as spearmint or lemon-flavored oil for a soothing scent.
With clean hands apply the paste using a finger in a circular motion for 2 minutes
Wipe the sugar scrub off the lips using the clean cotton ball and rinse with warm water.
Finalize by application of your best lip moisturizer or balm
Repeat the same for 2 times a week and your lips will be silky soft after one to two months.
Store your excess homemade lip exfoliator in a closed container and keep it in the fridge for future use.
Best Homemade Lip Scrub – DIY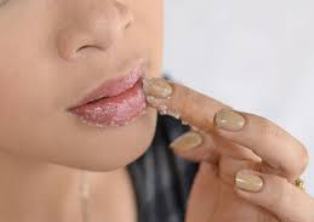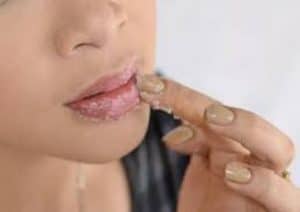 A mixture of sugar, honey, and olive or almond oil is highly effective, gentle, and natural on lips hence considered the best homemade lip scrub. It works for all skin types hence applicable for all skin tone complexions including black, dark brown, and fair. There are also other homemade lip scrubs that you can try and they include the following:
Baking Soda + Water
When baking soda is mixed with some little amount of water, it forms a paste that is suitable for removing dead skin. Baking soda is also a natural abrasive while water is used in dissolving and sticking the molecules together. You can use a toothbrush to scrub the lips together with your baking soda or you can apply using your finger as you make gentle circular motions.
You will be required to apply some Vaseline or a lip balm after the scrubbing using this best homemade lip exfoliator. Alternatively, you can apply some olive oil or coconut oil after the exfoliation.  Do not lick your lips after removing the dead skin. If you really feel the urge to do so then apply some chapstick and your lips will feel soft.
Lemon +Castor Oil + Glycerin
This is yet another natural lip exfoliant you can always go right with. Lemon is known for healing most skin blemishes such as black spots on the lips, freckles, pimples, and many more. Therefore the same healing property is applicable for curing chapped lips. Glycerin is a natural moisturizer and helps in not only hydrating the lips but also keeping them smooth and soft. Castor oil on the other hand is best used as a protective barrier.
The same methodology on how to exfoliate lips with sugar is also used as long as you have prepared your paste. Mix the three ingredients in an equivalent amount of one teaspoon full each in a bowl and stir to mix. You can apply the paste directly using a finger or using a toothbrush as long as you know how to exfoliate lips with a toothbrush.
Rose Petals +Fresh Raw Milk
Obtain some Rose petals and soak them in raw milk for a few minutes. Proceed to stir the mixture until a paste is formed. Before you sleep at night, apply the paste on your lips gently with your finger. Make circular motions for 3 minutes and you stop. After the 5th minute, you can rinse with warm water and dab dry using a towel.
Finalize by application of some Vaseline or lip balm for moisturizing before getting to bed. Your lips will be soft and kissable the following day with a nice color effect. Repeat using this best lip exfoliator for two times a week and for a period of one month, there will be a total difference in your lips appearance.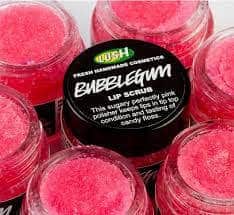 Best Drugstore Lip Scrub
Here are top-rated drugstore lip exfoliators you can try:
All Natural, Vegan Coconut Lip Scrub: A 100% natural lip exfoliator for dry lips made with real coconuts. It is vegan & cruelty-free, unscented, and also fragrance-free lip polish. This is also a no paraben, artificial preservatives, or synthetic chemicals product. It has naturally moisturized with avocado oil, jojoba oil, and sweet almond oil for lip repair.
Clean vegan lip scrub that gently exfoliates. Instantly reveal soft smooth lips. No more flaky dry lips with this dead skin lip scrubs exfoliator. Suitable for all skin types.
Gentle exfoliation to remove dead skin from the lips, suited for peeling, dry lips and dark lips. Best plumping lip scrub for sensitive lips and skin.
The lip scrub for dark lips from smoking - great for black lips treatment, lip brightening for smokers. Lip scrub for men and women. Perfect lip primer for lip stick, lip mattes and lip oil
Absolutely no fragrance, parabens, artificial preservatives or synthetic chemicals. No leaching chemicals into the oceans. Plastic Neutral packaging exfoliating lip scrub.
For a complete lip peeling lip treatment - best used with Handmade Heroes lip care kit - hydrating lip mask and lip overnight lip balm as lip exfoliator scrub and moisturizer lip care products.
* As an Amazon Associate I earn from qualifying purchases.
Sara happ Let's Glow Lip Scrub & Shine Kit:  Indulge in this limited edition two-step lip treatment that exfoliates and nourishes lips with Brown Sugar Lip Scrub & The Lip Slip Gloss. Remove dry, flaky lips with the Brown Sugar Lip Scrub, a timeless classic that leaves lips ridiculously soft and supple
2-STEPS TO PERFECT LIPS: Indulge in this limited edition two-step lip treatment that exfoliates and nourishes lips with our best-selling Brown Sugar Lip Scrub & The Lip Slip Gloss.
EXFOLIATE & HYDRATE: Remove dry, flaky lips with the Brown Sugar Lip Scrub, a timeless classic that leaves lips ridiculously soft and supple. Easy to apply and travel-friendly, The Lip Slip Gloss nourishes and hydrates lips for a luxuriously smooth and glossy finish – giving your lips the perfect shine.
BROWN SUGAR LIP SCRUB (0.5 oz): Simple and sweet, brown sugar is a timeless classic.Eliminates dry, flaky skin, immediately leaving lips soft and supple. Follow with The Lip Slip One Luxe Lip Balm or first apply our Plump & Prime for flawless lips.
THE LIP SLIP ONE LUXE GLOSS (0.5 oz): With the high-shine finish of a lip gloss and the nourishing results of the #1 bestselling Lip Slip, this rich lip gloss is so much more than meets the eye.
HOW TO: First, massage Lip Scrub onto clean, dry lips using a firm, circular motion. Wipe away with a tissue. After exfoliating with The Lip Scrub, smooth The Lip Slip Gloss onto lips. Slather it on at anytime to hydrate, heal, and shine.
* As an Amazon Associate I earn from qualifying purchases.
Fresh Sugar Lip Polish: This is commonly used by celebrities due to its nature of both smoothing and hydrating dry chapped lips. Scented and it is free from synthetic chemicals.
Fresh
Skincare
Fresh - Sugar - Lip Care
Sugar Lip Polish
18g
* As an Amazon Associate I earn from qualifying purchases.
Philosophy Kiss Me: Made from natural products such as edible oils, sugar, and bee wax. It moisturizes and exfoliates at the same time. Gentle on the lips due to butter and small sugar granules used. For smell, peppermint is used and the scent is cool and amazing on the lips.
Philosophy - Kiss Me Tonight Intense Lip Therapy - 9g/0.3oz.
Unit count: 0.3
Number of items: 1
Package Weight: 0.009 kilograms
* As an Amazon Associate I earn from qualifying purchases.
Best Lip Scrub for Dark Lips
There are some types of lip scrubs that work effectively for specific lip types. Most of the above-discussed lip exfoliants are remarkable for all types of lips including, plump, thin, dark, light, and fair. Taking good care of your lips is one way of preventing them from chapping. Here are tips on how to ensure your lips are smooth, soft, and young:
Take a sufficient amount of water to keep your body hydrated especially during winter.
Exfoliate lips with a toothbrush in a gentle circular motion for 2 minutes and apply lip balm.
While going outside apply a sunscreen lip balm with no fragrances and synthetic chemicals like menthol.
Apply some Vaseline on your lips before getting to bed. Alternatively, you can use olive oil, petroleum jelly or baby oil.
Best Lip Scrub Reviews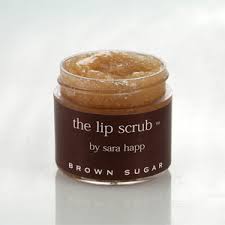 As said, many different types of lip care products are available in the market. We are talking about lipsticks, lip balm, lip scrubs, and lip moisturizers among others. It however becomes tricky in selecting an effective lip scrub. We recommend that you study the reviews to obtain some information about what you want to buy. While choosing your lip scrub here are factors to consider.
Study some of the best lip exfoliator reviews to ensure that the formula is gentle and fragrance-free. I.e. it mists not contain fragrant oils.
The lip scrub must be effective in the removal of dead skin. The rating and testimony by the users can give you a hint on this.
The product must be free from chemical irritants such as menthol and camphor. These substances can cause more chapping and damage to the lips.
Sunscreen lip exfoliants must be rated above SPF 15 effective for the broad protection spectrum.
In conclusion, therefore, chronic and persistent dry and chapped lips can be a sign of a serious medical condition. When you use some of the best lip scrubs and you realize no change, consult your doctor for further examination and treatment.