The article talks about nose caring that also includes the best nose hair trimmer. Read to learn more on various tips for using the hair trimmer.
The main purpose for the growth of hair in the nose is to prevent dust, bacteria and germs floating in the air from entering the nose. Nose hair growth is regulated to grow to a certain height by the body mechanism.
Why Nose Hair grows as Men become older? When men reach thirty years of age and above, thick black hairs start to grow in their noses and they extend through the nostrils. These hairs will be seen to increase as the years also increase. Studies show that this kind of nose hair increase as a result of an increase in the levels of Dihytestosterone hormone (DHT) that also cause the male pattern baldness.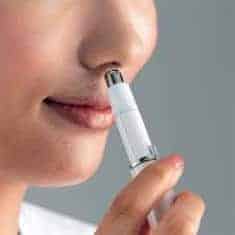 It is at a time difficult to control this situation and the only solution is to admit this nose hair like any other hair on other parts of the body. Therefore trimming and cleaning will be the best mechanism to handle this.
| Photo | Title | More info |
| --- | --- | --- |
| | Wahl Wet/Dry Dual Head Trimmer #5545-506 | More info |
| | Panasonic ER430K Nose, Ear and Facial Hair Trimmer Wet/Dry with Vacuum Cleaning System | More info |
| | MANGROOMER PRO Essential Nose and Ear Hair Trimmer | More info |
| | Philips Norelco Nose Trimmer 5000, For Nose, Ears, Eyebrows, Black and Silver, NT5600/42 | More info |
* As an Amazon Associate I earn from qualifying purchases.
How to Remove Nose Hair by Trimming?
Despite this, nose hair needs to be kept trimmed and well-groomed. Nose hair trimmer or scissors are the most common devices to trim the hair. Facial hair scissors are designed to have a rounded tip that they cannot cause injury to the facial parts, they can best be used to chop off the protruding nose hair. Electric facial hair trimmer can also be used in the trimming of both nose and ear hair.
There are a variety of these devices available at the counter. Efficiency, cost, and effectiveness are the most important characteristics that define nice Nose hair trimmer. Example of the best manufacturers of efficient nose hair trimmer is the Philips Norelco, Tweezerman, Mangroomer, Panasonic Nose Hair Trimmer, and the Motokata Nose Hair Trimmer.
Sharp pointed scissors tweezers should not be used in the removal of nose hairs. Sharp pointed scissors can cause injury inside the nasal cavity resulting in bleeding and inflammation. The pointing sharp side can slide accidentally and prick to cut the delicate inside part of the nose. Tweezers o the other hand cause pain and the occurrence of small lesions. Infections can finally follow resulting in unexpected medical complications
Tips on How to Use Nose Hair Trimmer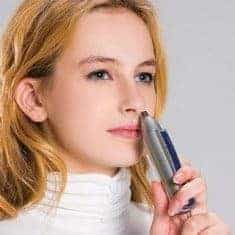 Ensure you are in a Well-lit private place or room before the trimming
Clean the nose Prior nose hair trimming to remove dirt and dust, It also helps in separating the hairs.
If you are too sensitive to slight pain, then place some ice cube right at the top just adjacent to the nostrils.
Trim the lower hairs and ensure that only visible ones are removed. You are not permitted to remove all the hairs since they protect other organs like the lungs from receiving germs, bacteria, and dust.
While using a pair of scissors, some pain may be experienced but this should not hamper you from this exercise.
Once done with trimming, rinse the nose with warm water to clear away any pieces of cut hair.
Tips on How to care for your Nose
Nose hair trimming is one of the best ways of caring for your nose. Apart from looking nice, it is hygienic. Well-functioning of the nose is brought about by proper hygiene. The essence of this is to prevent infections, allergies, and cold symptoms. The nose is the only organ that purifies and warm the air that enters the lungs. It also has a sense of smell. The tips below will help you in ensuring good care for your nose.
Maintain proper humidity levels in your home; this will minimize cold symptoms
Avoid letting dust accumulate in your home; this will not only cause respiratory diseases but also affecting the nose's sense of smell.
Maintain a daily nasal cleansing routine. Children are not excluded.
Use gentle non-irritating products that are specially made for nasal hygiene.
Avoid cigarette smoke; this not only risks lung cancer but also clogs the nose with smoke tar.
Clean the nose more frequently when you have a respiratory infection or allergies; this will help in easing out of the condition and quick recovery will be realized.
Consult a physician in case of a complicated nose condition including abnormal nose hair sprout.
Top Rated Best Target Nose Hair Trimmers – Reviews
Here are the top best target nose hair trimmers you can never go wrong with.
Wahl 5545-506 Dual Head Wet/Dry Personal Trimmer
"Another budget choice, the Wahl has been getting a lot of positive customer feedback. Its dual-head design successfully removes unwanted hair comfortably. It is easy to use and maintain and won't be damaged by water, so cleaning is easy.
Dual heads include rotary head and reciprocating head.
Professional quality steeel cutting blades.
Removes unwanted hair without nicking or pulling.
* As an Amazon Associate I earn from qualifying purchases.
Panasonic Nose and Ear Hair Trimmer
"Good grooming can be done quickly and any time with this Panasonic Nose and Ear Hair Trimmer. Keep your nose and ear hair neatly trimmed with ease. The cordless design lets you use it anywhere. Rubberized side grips make it easy to hold the unit steady during hair removal.
The hair styling product is applicable for all hair types of both ear and nose. It is cordless hence effective in mobility. This battery-powered device comes with a protective cover and it is recommended to wipe it clean using a damp cloth for durability.
Vacuum system that whisks away hair clippings
Use wet or dry and head is washable for easy maintenance and is fully immersible
Eronomic design makes it easy to hold and position
Dual-Edge hypo-allergenic 60-degree blade cuts cleanly without pulling
Operates on 1 "aa" battery (not included) for 90-minute operation, includes travel pouch and protective cover
* As an Amazon Associate I earn from qualifying purchases.
MANGROOMER Essential Nose and Ear Hair Trimmer
"Get rid of the hair in your nose and ears with the MANGROOMER essential hair trimmer. Its curved dual-edge, hypoallergenic stainless steel blades offer a close trim without causing ingrown hairs. This electric nose and ear hair trimmer can be used either on wet or dry skin. Its rubberized non-slip grip provides enhanced control and comfort. This personal hair trimmer can be cleaned by just rinsing with water. Its protective cap lets you store it safely."
This is a one-piece device for trimming nose and ear hair applicable for fine and coarse hair. It is cordless and fitted with a rubber grip. This is a mobile cordless device made of plastic and steel. It is battery-powered and recommended for Alkaline AA type of a battery. Ensure you wipe it clean before and after use.
Innovative Cutting-Edge Design enables extremely close results without ingrown hairs
Hypo-Allergenic Stainless Steel Blades and can be used Wet or Dry
HydraSpin Cleaning System flushes out shavings and debris, leaving blades clean for the next use
New Side Air Vents allow for quick drying inside the unit
Soft, Non-Slip Rubberized Grip allows for maximum control, durability, and comfort
* As an Amazon Associate I earn from qualifying purchases.
Philips Norelco Nose Trimmer 5000 For Nose, Ears and Eyebrows NT5600/42
"The Philips Norelco NT5600/42  Precision Nose and Ear Trimmer Plus uses revolutionary patented precision trimming technology that guarantees no pulling, as well as effortless nose and ear hair trimming. It can also be used on eyebrows.
• Unique Tube Shave technology makes trimming safe, fast, and easy
• Includes two eyebrow trimming and shaping attachment combs to trim and style the eyebrows.
• The trimming head is bent backward for easy reach and maximum control.
• Water-resistant for easy cleaning
• Two eyebrow trimming combs included
Groom your unwanted facial hair, while protecting your sensitive skin with the Philips Norelco Nose Trimmer 5000
The Protective Guard System protects sensitive skin by providing a barrier between skin and blades
Dual-sided steel blades efficiently cut unwanted hair without pulling
Trimmer and the combs are water resistant, rinse it with water it after each use
Lithium ion AA battery for long lasting performance plus 2-year warranty
* As an Amazon Associate I earn from qualifying purchases.
Ear and Nose Hair Trimmer Clipper – 2020 Professional Painless Eyebrow and Facial Hair Trimmer for Men and Women
This device made of high-quality stainless steel and is cordless which can effectively and comfortably remove unwanted hair from your nose and ears. This nose hair trimmer features a dual-edge spinning blades system with a protective cover with an inner 360° rotating design, which precisely removes the hair without painful and unpleasant pulling. It is comfortable and easy to use.  It is also waterproof and washable, easily deal with residual by soak cleaning, even you take a shower.