Who said that dark skin black women cannot pull a pout in red lip color? This must have been a mistaken statement. The only secrete is on how to wear your best red lipstick for dark skin regardless
What is the best red lipstick for dark skin? Get more insight on the best red lip shades and color for black women. There is also more on the perfect shade of red lipstick for your dark skin complexion and tips on how to wear matte lipstick for a flattering instant glamour.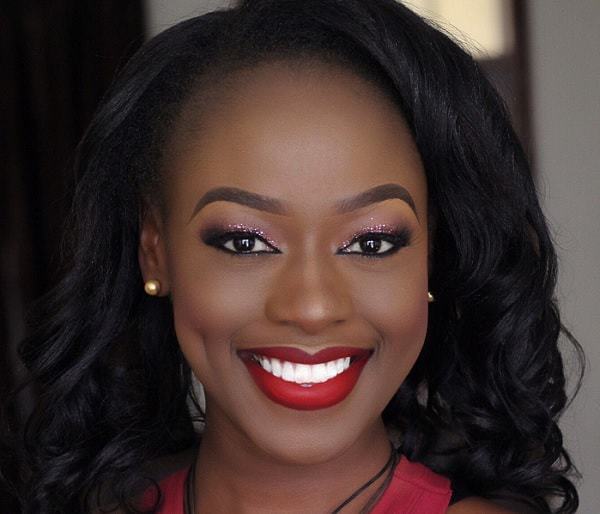 Dark skin tone women can pull off the perfect red pout by wearing a suitable red lip color that complements the golden or brown undertones in the dark skin. Red lips color not only spells glamour but also oozes sexy appearance.
Black women find it difficult in determining which red is suitable. To be candid, any dark skin lip can speak volumes in any shade of red. This doesn't matter whether your lips are little or plump, the trick is only to know how to give your skin undertones the right thing they deserve.
Learn how you can blend lip liner and red lip color in a meticulous way to end up with a glam gold stunning look. This has nothing to do with the kind of formula and shade you are wearing but only how you have selected the best red lipstick for dark skin.
Dark Skin Celebrities with Red Lipstick Color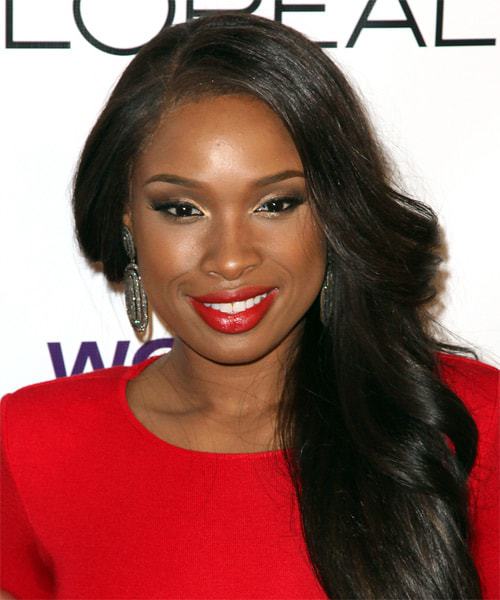 There are many Hollywood stars sporting a red pout. They not only rock the shows but also step the spotlight by pimping the cover pages of many publications. Among them include; Tracee Ellis Ross, Kerry Washington, Rosario Dawson, Taraji Hensen, Jennifer Hudson, and Zoe Saldana among others.
Think of these celebrities and one thing you should know is that, red lipstick is not for these famous women only. "It's a timeless classic and suits everyone," [Jamie Coombes, Dior's National Makeup Artist]. The same was echoed by Benjamin Rousseau, Lancôme's National Make Up Artist, who also said that "For me, red lips convey confidence and sophistication."
How to Wear Red Lipstick with Dark Skin
With no doubt, red lips are crimson pout and eponymous with style and trendy fashion. This lip color is the sassy classic on any woman of any age. The difference in appearance comes from different application techniques. Knowing how to wear red lipstick for your dark skin complexion is one way of attaining the quintessential sexy appearance. Consider the following tips:
Red lipstick color exists in various shades which accent various skin complexions in different tones. For warm skin tones, go for orange-red since it has more yellow to complement the yellow golden skin undertones.
There are blue based red which are suitable for cool skin women. This shade calms down the purple skin undertones to give you a flattering look.
Your lips ought to be clean and well exfoliated before application of the red color. Apply a lip balm a night to the red lipstick application to make it get absorbed and moisturize your lips.
Apply a lip liner in the similar shade to your lip color. Allow the lip liner to dry before application of the red lip color to prevent the diluting effect.
A brush should be used in the application for the color to make it adhere to your lips and stay put.
A foundation can be used if you want your lips to appear fuller or intensively red. Use a brush to apply it around the lips.
To make the red lip color even to your lips, dab lightly using a soft cotton cloth or a tissue.
To finalize the process, apply either a clear or red lip gloss for a shiny appearance.
Your teeth ought to be brightened since red color with the orangey base will intensify the discoloration of your teeth. Blue based red lipstick provides white teeth effect.
Red Lipstick for Black Women
If unfortunately, you have never liked red lipstick, then the problem is not the lip color but your wrong selection of the shade for your skin tones. The best red lipstick for dark skin women should complement the skin undertones in order to avoid looking washed out or awkward.
You can also read the best pink lipstick for dark skin.
Red lipstick on Dark Skin Women with Olive to Dark Skin Tones
Deeper red shades ooze sexy looking appearance among medium to dark skin tones. The deeper red hues should have brown or orangey bases. Here are top rated brands for red lipstick for olive to dark skin tone that you can never go wrong with.
CHANEL ROUGE ALLURE Luminous Satin Lip Colour in Excessive
Dior Addict Lipstick in Red Carpet.
Mac Lipstick in Riri Woo
MAC Lipstick in Ruby Woo
Dolce & Gabbana Classic Cream Lipstick in Devil
Julie Hewett Lip Pencil in Sin Noir
Red lipstick on Dark Skin Women with Warm Dark Skin Tones
This type of skin tone is characterized by golden and brown undertones. To pull off the dramatic appearance, pinkish red lip colors are what to choose. Shiny red hues are fabulous in making your lips pop especially for dark skin tones. Sallow skin needs to be added warmth and orange toned lipsticks in red is suitable for that.
Here are some of the top best brands of red lipstick picks you can try.
Bobbi Brown Lip Color in Blackberry
Yves Saint Laurent Rouge Pur Couture Lipstick in 17
Tom Ford Lip Colour in Cherry Lush
No7 Poppy King Lipstick in Glamour
Sinner 90 Percent Pigment in Scarlet Red Sinner, Lipstick Queen
Best Red Lipstick for Dark Skin
The following are properties and features of a good red lipstick for the dark skin women.
Should be shiny and make the skin undertones to sparkle and glow. This not only makes your eyes pop but also your teeth to appear white.
The red lipstick color should easily complement with your simple makeup. Make your brows to appear bold, apply little mascara and eyeliner to perfect your red pout.
Red should be a flexible lip color for professional appearance as well as party scenes.
Red should attract double attention an advantageous feature for women who want to know

how to attract men

The red lip color should always make a statement regardless of the formula. Both gloss, matte and cream should more or less have the same effect.
Here are the top best brands.
MAC LIPSTICK:  Prices: From $16.00

Ruby Woo
Viva Glam
Rambler's Red
Dare You

HANEL LIPSTICK: Prices: From $30.00

Pirate Satin Finish Lipstick
Rouge Velvet La Fascinante
Matt No 38

BOBBI BROWN LIPSTICK: Prices: From $25.00

Red
Old Hollywood
Burnt Red
Valentine

NARS LIPSTICK: Prices: From $25.00

Jungle Red
Orange Red
Mascate Matt Lipstick
Cruella Matt Lip Pencil

NYX LIPSTICK: Prices: From $15

Round Lipstick(Snow White)

REVLON LIPSTICK: Prices: From $5
Drugstore Red Lipstick for Dark Skin
Many women have realized that red is among the staples to update their appearance. Long wearing brands are ideal in ensuring red lips all day long without drying or wearing off. All the rouge are at a pocket-friendly price ranging from $10 to $ 20.
The texture and durability are checked and tested. The fantastic packaging is enough to give you an authentication to access the product. Here are among best drugstore red lipstick for dark skin.
Boots No7 Stay Perfect Lipstick in Love Red( Blue Based)
CoverGirl Lip Perfection Lipstick in Flame(pinkish-red)
Revlon Just Bitten Kissable Lip Balm Stain in Romantic
NYX Cosmetics Matte Lipstick in Perfect Red
L'Oréal Infallible Le Rouge Lipstick in Ravishing Red
Maybelline SuperStay 14-Hour Lipstick in Ravishing Rouge
NYX Jumbo Lip Pencil in Hot Red
Revlon Super Lustrous Lip Color in Cherry Blossom
Best Shade of Red Lipstick for Dark Skin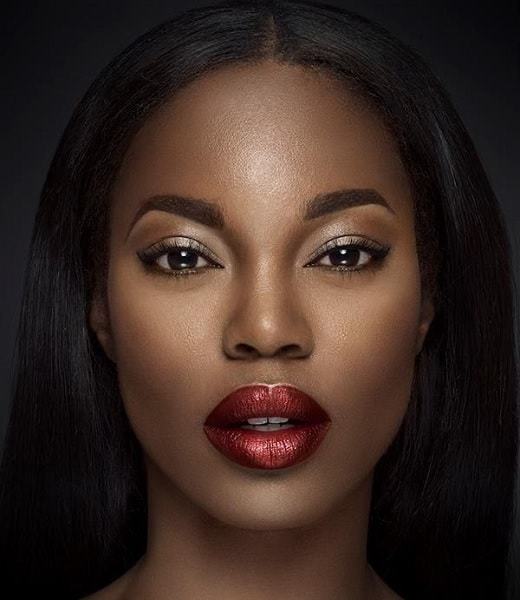 Red is usually in various shades ranging from light red to deep red lipstick for dark skin. Among the most popular shades include scarlet, violet, orangey, brick, and pinkish red. The shades have different effects on various dark skin tones like olive, tawny, caramel and almond.
Olive skin tone matches well with both warm and cool red shades. The same applies to tawny skin tones. Caramel, on the other hand, goes with warm red hues only. Almont is nice in warm reds but can still do cool reds under exceptional cases.
Among the best shades of red lipstick for dark skin include; Urban Decays Gash in creamy blue with purple undertones, Iman Red, a semi-matte, Illamasqua liable matte with orange undertones and Mac ruby woo, a matte red with blue undertones.
Matte Red Lipstick for Dark Skin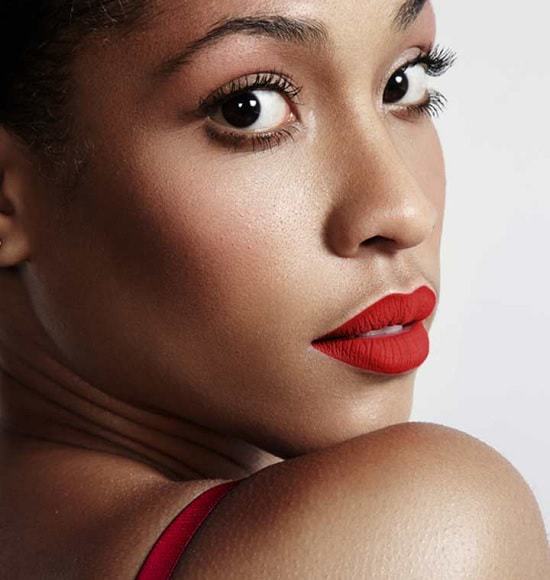 MAC – Retro Matte – Ruby Woo
This the most popular matte lipstick for dark skin women. Everyone including top celebrities finds it ideal due to its quality, durability, and texture. This product is safe since the ingredients in making used are said to be natural. The price is also pocket-friendly and can be accessed from most of the drugstores or purchased online from Amazon or eBay.
It is multidimensional and can be applied to any skin tone. Wear this lip color with the minimal makeup. There should be little eyeliner and mascara for the most excellent pout. Ruby Woo is fabulous for daily wear.
In conclusion, you can air your views on perfect red lipstick for dark skin by submitting your comment.