What is couple sleeping positions? Get more insight into the comfortable couple sleeping positions and meanings respectively. Reading this article will enable you to find popular and best couple sleeping positions for married couples.
Couple Sleeping Positions Meaning
According to the researchers, sleeping positions reveals more about you and your personality when it comes to personality and traits. It's not all about crawling to bed and sinking to sleep, there is more about that. "Just like our waking posture and position can influence our emotions – for example, if you are leaning forward and clenching your fists, you are most likely to feel angry – our sleeping position is thought to influence our emotions or represent our personality." [Dr. Mark Kohler from the University of South Australia's Center for Sleep Research]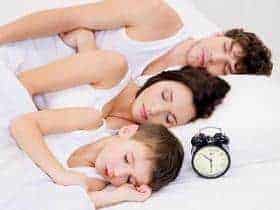 Couple sleeping position according to the psychologist can help identify whether the relationship is moving on well or it is undergoing some strains. "Some observational studies show that sleep positions indicate a silent body language. But it's more intuitive and since we don't often discuss our sleep positions with other people, little can be said with certainty" [Nick Petrovic, a psychologist with Sydney's Mind Profile Psychology Clinic]
Couples practice some sleeping habits right from the time they get engaged. When it comes to a point when their sleeping styles changes then it signifies that something in the relationship is definitely changing. It could either be they are becoming boring or they are becoming more intimate. The couple will always realize this and a concern will be made.
Comfortable Sleeping Positions for Couples
The Liberty Position.
The couple sleeps while facing away from each other. The backs are not touched together. This sleeping position was wrongly mistaken to show separation but that was a fault. According to research, it means that the couples are intimately connected and they are independent enough such this sleeping this way is not an issue. This is one of the best couple sleeping position that has been practice by many couples especially those who are married for a long period of time.
Cherish Position
This sleep style is similar to the liberal position except that the couple's backs are touched together. The personality and trait meaning of this is that the two are in deep and new intimacy. They are relaxed and happy with each other. This sleeping position is most common in new relationships and newly married couples.
Spooning Male or Female Position
The male or female spoon the other and it shows deep love and sexuality one has for the other. Spooning while hands tight on your partner talks of how you are ready to protect. This sleep posture is a common tradition just after immediate crawling the bed. The couple may take some moment and then assume another more comfortable position. This thing is common and popular at the relationship onset.
The Knot Sleep position.
The couple face each other with legs intertwined to look like a knot. They can sleep that way for a moment and make a more comfortable posture once they become asleep. The position shows that they genuinely love one another and the feelings are deep.
Best Couple Sleeping Positions
The most common couple sleeping postures include the following:
The Honeymoon Hug
This is known as the most romantic couple sleeping position. As the name suggests it is common for newly wedded couples who are enjoying their honeymoon. The partners face each other either freely are intertwined. They feel like they need one another always and they are not enough of each other.
Cuddly-Wuddly
The man sleeps on his back while facing up while the female is resting her head on his chest. The man places the arms around her to show protection. This posture is termed intimate and it reveals the closeness and the togetherness. The tradition can take a while before deep sleeping where a more comfortable position can be made.
Pillow Fluffy
This is similar to cuddly wuddly posture except that the woman lay facing up as the man rest his head on her. She acts as a pillow and the man will enjoy the comfort. This shows deep intimacy between the two. It is popular and common among new couples according to the study.
Popular Couple Sleeping Positions
These are sleep styles that are practiced by most people due to their comfort besides providing the best understanding and intimacy among the couples. They are regarded popular couple sleeping positions due to the effectiveness and traditional nature. There are many types of sleep postures but only a few are selected to be the best and comfortable ones.
These sleeping positions have the following features. Makes the couple feel relaxed with the settled mind. They feel no doubt of each other hence no tension and anxiety. The couples are free to see and access each other through touching or by contact. They are comfortable and flexible to be changed to another sleep position.
Married Couple Sleeping Positions
Married couples always have a sense of trust other than intimacy among them. They deeply know how much they intimately love one another. Married couple sleeping positions can vary depending on how long the couple is married. The most important aspect is whether they honor one another.
Couple sleeping positions is regarded as a body language and can imply what deeply lay inside our mind and souls. The perfect married couple has feelings for one another and they will sleep in any comfortable and best intimacy sleep position. Personally, it will not be a good idea for married couples to sleep separately. This will query the kind of closeness you have. Most happy couples raise a happy family and they share everything with no compromise.
Therefore a couple of sleeping positions should not be something to be ignored by anyone who has a motive of enhancing a good intimate relationship. Being happy begins by understanding someone close to you. Many relationships have broken due to lack of proper communication among the parties. Sleep positions is a type of body language and should be accordingly used and responded to.
Recent Content