Is egg yolk good for hair? Get more insights on how to use egg yolk for hair treatments such as regrowth, thickening, and removal of dandruff, and making of a skin and face mask.
Egg Yolk for Hair – Growth, Loss, Thickening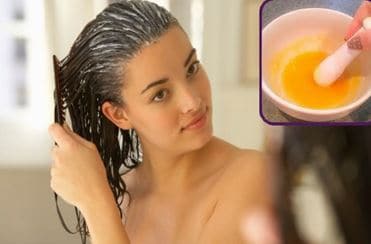 Among the best home remedies for hair growth, egg yolk has been proven effective. Egg yolk hair treatments help in promoting good hair growth, prevention of damage, receding hairline and premature bald patches.
Just like onion juice for hair growth, this natural ingredient is also a guaranteed way of getting shiny, strong, and healthy hair. Besides using eggs in your kitchen recipes, you can also make it to get that beautiful hair you always dream of.
Benefits of Egg Yolk for Hair
Egg yolk has been scientifically proven to contain large amounts of proteins and amino acids. Similarly, a human hair is made up of proteins and amino acids. When these types of nutrients are deficient in the body, your hair will be the most affected.
That means you will begin to experience hair loss, receding hairline, baldness patches, hair fall, and thinning hair as the deficiency symptoms.
Egg yolk for hair also stimulates hair growth due to the presence of vitamins A. This is the known element that triggers the production of sebum in the hair to promote hair thickening, prevention of dandruff, and promoting a healthy scalp.
The presence of vitamin E in the egg yolk makes it perfect for protecting the hair against UV radiations from the sun which are also responsible for most hair damages. For the good texture and luster of your hair egg yolk hair provides sufficient vitamin D for that.
This natural home remedy for hair growth also contains little amounts of other important mineral elements for hair growth such as biotin and protein lecithin which helps in rejuvenating hair roots and follicles hence a strong and healthy hair appearance.
How to Use Egg Yolk for Hair?
Egg yolk hair mask has been utilized in many hair treatments. There are various ways in which you can use egg yolk for hair treatment. Here are simple recipes for preparing your egg yolk for hair regrowth.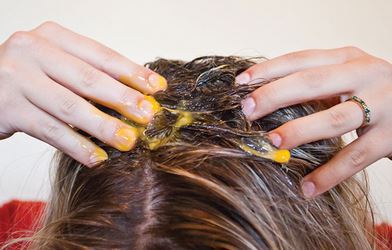 How to Moisturize Your Hair with Egg Yolk
Ingredients:
Egg yolk
3 tablespoons honey
3 tablespoons olive oil
Yogurt (optional)
Procedures:
Determine the quantity of egg yolk based on your hair length and thickness.
Thoroughly beat the egg yolk.
Mix honey and olive oil with the egg yolk, as well as the optional yogurt.
Apply the egg yolk for hair mixture onto your scalp and hair, massaging it in.
Leave the mixture for an hour and a half.
Wash it off using cool water.
How to Condition Your Hair with Egg Yolk?
Egg yolk for hair deep conditioner's main benefit is a deep conditioning and offers a cheaper alternative to the commercial conditioners that are expensive and may also have side effects. Moreover, since this is a natural remedy, it doesn't come with any side-effects. The homemade egg yolk laden hair treatment helps with adding shine to the hair too which is an added advantage.
Here are the procedures in how to prepare egg yolk conditioner for your hair.
Ingredients:
Procedures:
Carefully mix together the egg yolk and avocado, combining enough of each ingredient to cover your head with the mixture.
Apply the resulting mixture on your scalp and hair evenly.
Let the egg yolk and avocado mixture stay on your head for between 20 minutes.
Use cool water to wash off the egg yolk.
Egg Yolk Hair Mask
You can also combine a mixture of egg yolk, honey, and coconut oil to make your hair mask suitable for getting rid of most scalp and hair problems. Honey is known to possess antioxidant properties and hence suitable for dealing with scalp fungal infections. Here is a simple recipe on how to prepare.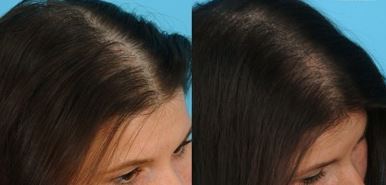 Ingredients:
1 egg yolk (large)
2 tablespoons coconut oil
2 tablespoons raw honey
Procedures:
Warm and melt coconut oil on low heat.
Take your liquid coconut oil and mix it with the honey, whisking the two ingredients together. You may need to whisk for up to two minutes for the ingredients to correctly combine.
Separate your egg yolk from the white in a bowl.
Take your egg yolk or hair and gently whisk it in its own bowl. After whisking, slowly add your mixture of honey and coconut oil. Once again whisk this mixture until all ingredients are combined.
Make sure your hair is dry and apply the mixture, massaging it into both your hair and scalp. You will find it much easier to ask someone to massage the mixture into your hair for you as they will be able to cover your entire scalp, including areas you can't access.
Take a shower cap and cover your hair. Aim to leave the mixture of egg yolk for hair overnight. Try to squish your hair through your shower cap every once in a while. The mixture is staining and you have to cover your beddings overnight, use an old towel to cover your pillow in case of leakage from the shower cap.
Wash the mixture out using warm water until it is all gone. Avoid shampooing if possible, but if your hair feels oily, use a gentle shampoo.
Dry your hair, styling it like normal after done with the application of this egg yolk for hair mixture.
Egg Yolk and Lime Juice for Hair Loss
Egg Yolk and lime juice is the perfect natural homemade remedy to tackle the problem of hair loss among men and women. The natural egg yolk remedy slows down the process of thinning of hair.
Apart from tackling hair loss, the treatment's other benefit is that it also aids hair growth, prevention of receding hairline and scalp problems. Here are the procedures on how to prepare your lime and egg yolk for hair loss.
Ingredients
Yolk separated from the white of two eggs.
Around 3 tablespoons of natural lime juice would do just fine for this egg yolk treatment.
Instructions
Add the lime juice to the egg yolk and then beat it for a minute to form a mixture.
Gently apply and massage the mixture over your hair roots and scalp and let it get absorbed for around 15 minutes.
Wash your hair with cool water before using a cleanser to remove any sugar that might have been present in the lime juice.
Egg Yolk and Olive Oil Mask
Olive oil also strengthens and softens hair, making it particularly ideal for dry or damaged hair. It also exfoliates your tresses while strengthening the color of your hair and maintaining the texture. However, when combined with egg yolk, it forms a perfect treatment for your hair problems. Here is how to prepare:
Ingredients
Procedures
Mix 2 egg yolks with 2 tablespoons of olive oil, then dilute the mixture with about half a cup of water. Slowly, massage the resulting mask into your scalp.
Set for 15-20 minutes, rinse it out as usual. You can shampoo afterward if you want to but it's not necessary when using egg yolk for hair treatment.