You have already heard of the information that plucking and also waxing of the eyebrows isn't that worth. Doing this can never assist the eyebrows to grow faster as needed. Plucking and waxing the eyebrows usually damages the hair follicle eternally, thus preventing the hairs from growing back ever.
If you want to understand how to make the eyebrows to grow faster, then you have to remember this tip. While you wait for the eyebrows to grow back, stimulating of the region can assist the hairs to come out as faster. 
For this reason, consider the use of a soft brush. Scrub the eyebrow region in the circular motions, doing away with all the dead cells and thus spurring the blood circulation in the similar time. Now, when there is a lot of blood flow, the faster the hair-growth process is supposed to be.
But make sure that you are not vigorous when doing this, as it is able to damage the skin. Use of excess pressure might loosen the hairs, which are all in place still.
How to Grow Eyebrows Fast Overnight
Bigger or fuller eyebrows are beautiful and are look better, are easier to shape and you will have the liberty to pluck, tweeze and condition them.  The normal hair growth rate may differ in different people due to factors such as diet, type of hair and so on. Therefore, to make eyebrows grow out overnight or faster, try the following home remedies:
1. Castor Oil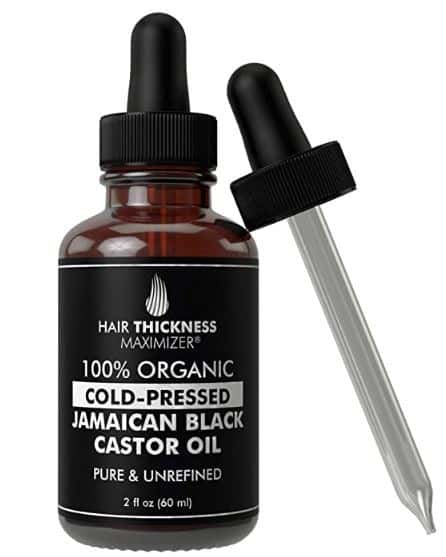 A tried and tested remedy for making the eyebrows to grow faster is none other than use of the castor oil. It is very natural, safe and also inexpensive.
Jamaican black castor oil is one of the most popular and effective remedies for hair growth. It contains fatty acids,   vitamins and protein that is essential for nourishing hair to make it grow out faster. Since it is much enriched with a lot of proteins,  and also the vitamins, it assists in nourishing of the hair follicles. Thus, promoting faster hair growth. Here's how to use castor oil to grow eyebrows.
Remove any face makeup you have.
Soak a clean swab into the castor oil
Use it on every eyebrow
Use the fingertips so as to gently massage the eyebrow region. Normally, for about 5 minutes but not more than that
Leave it for about 30 minutes
Wash off using warm water and a mild cleanser
Do this process every day for about 3 weeks until you see the desired results
Do not use the ingredient if you have any burning sensation or even irritation.
2. Healthy Foods
Apart from the external remedies, pay a lot of attention to what you do internally also. The foods that you eat play a very crucial role in the promotion of faster hair growth. It also supplies all the nutrients that is required.
So, make sure that you are acquiring all the important nutrients from whatever you eat. Eat foods that are very rich in proteins, zinc, iron & also omega fatty acids. For better eyebrow growth, add the below indicated healthy foods into the daily diet:
Carrots, sweet potatoes and also the mangoes
Walnuts, olive oil and also the avocados
Lean meat and other fish species
Leafy greens like the kale and also the spinach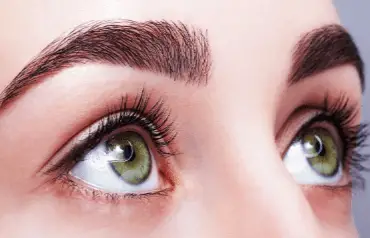 3. Aloe Vera
Over-plucking of the eyebrows is a reason for the slow growth of the eyebrows. One solution to increase growth is aloe vera. According to NDTV, "aloe vera has a chemical makeup similar to that of keratin and it rejuvenates hair with its own nutrients, giving it more elasticity and preventing breakage."
Aloe vera treatment can be used to grow sparse eyebrows, after shaving or waxing and thin eyebrows. Here's how to use aloe vera to make eyebrows grow thicker and fuller faster.
Crush an Aloe Vera leaf and then take out the gel. Massage the eyebrows very much gently with it for about 3 days. Soon, you will observe that the eyebrows are growing back. This particular ingredient contains natural enzymes and other moisturizing properties that are able to nourish all the hair follicles, making the eyebrows to grow thicker and also faster.
Also, it makes the skin which is around the eyebrows to be soft. Follow the instructions to use a remedy that has Aloe Vera.
Extract gel from a plant leaf. Massage the eyebrows very gently. Leave it for about 20 minutes. Wash off using warm water.
Yet another great method is to make a paste by mixing of about ½-teaspoon of fresh aloe gel that has little coconut oil or even the honey. Use this onto the eyebrows and leave it for about 20 minutes. Rinse off using water.
4. Milk
Milk naturally contains lot of goodness, which is the reason as to why this is been applied in several skincare products. But, did you know that it can assist to grow the eyebrows faster? It has proteins and also several other nutrients, which nourishes the hair roots and also improves the hair growth. Just follow the below;
Pour some amount of milk into a bowl
Use a cotton ball so as to dab some
Gently massage the eyebrows using the milk
Let it dry on its own
Wash off using lukewarm water
Doing this process on a daily basis can assist you to give the desired results.
5. Coconut Oil and the Lemon Peel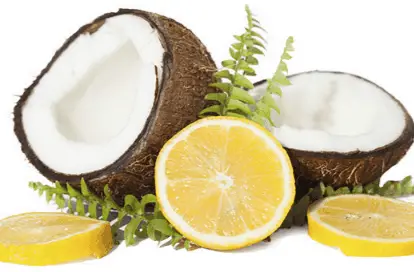 When it comes to making the eyebrows grow faster, coco is very much concrete while the lemon is pulpy and a mixture of the two is but vitally indicated to make the eyebrows grow back a bit faster. Just follow instructions.
Take about ¼-cup coconut oil and then blend it using sliced lemon peels
Keep the mixture in a dry and cool place for at about 6 hours
As it is ready, use a q-tip so as to apply every other night on the eyebrows
If you are using during the daytime, avoid stepping out in the sunlight for at about 2-hours after using
Repeat the process for 3 weeks for better results
Avoid the use of this tip if have experience of irritation or burning.
6. Vaseline
Vaseline petroleum jelly conditions and keeps moisture in your brows. Keeping the skin above the eye moisturized can help speed up hair growth. Vaseline locks in moisture and conditions eyebrows to grow thicker and faster. It is also a good eyebrow growth remedy after shaving.
Clean off makeup using makeup remover.
Wash and rinse your face with warm water and pat dry.
Use a cotton swab to apply Vaseline to your brows upwards but from the inside to the outside of your eyebrow.
Leave it on overnight for quicker results.
7. Coconut Oil With Castor Oil
Coconut oil works as a conditioner. It will moisturize and condition brow hairs to grow back out thicker and fuller. The fatty acids found in coconut oil work with the natural proteins found in hair to protect it from breaking. It has Vitamin E and also the protein that is able to be beneficial for the skin. This can be the best option if you like to turn your eyebrows a shade darker. Just follow the same process as for castor oil.
Warm the coconut oil first.
Place the coconut oil on the eyebrows.
Massage on the eyebrows a bit gently so that the circulation of blood improves.
You would require to rinse this off using warm water.
This would have to be performed every other day.
Other benefits of coconut oil for getting thicker eyebrows include moisturizing and improving blood circulation. It is also antibacterial and will prevent infections and eyebrow dandruff that can cause thinning eyebrow hair. You can mix this natural hair growth treatment with castor oil for quicker results.
8. Onion juice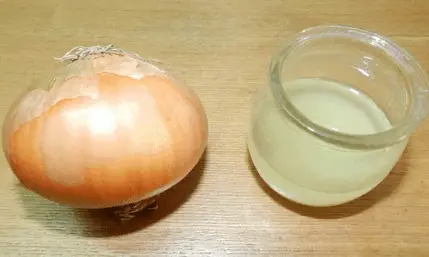 Onion juice helps in faster and much denser growth of the eyebrow hair. The juice contains sulfur that normally improves the production of the collagen tissues needed for a proper eyebrow growth. Also, it also strengthens the hair follicles.
Try the use of fresh onion juice on the eyebrows so as to stimulate the growth of new hair. Onions have a high amount of sulfur that assists to increase circulation.
You would require to extract the juice from the onion.
You have to grind the juice so as to make it possible.
Use the juice and then leave it on for about an hour
Wash it off using water. You can also use a very mild cleanser.
This would have to be done at least once every day.
9. Olive Oil
Do you know that the olive oil is very perfect for the eyebrows?  If you are suffering from alopecia and eyebrow loss, olive oil can help regrow back eyebrows. Studies have been able to show that olive oil reduces the inflammation caused by DHT hormone that leads to hair loss. It contains a lot of Vitamin E that can make the eyebrows to appear thicker than usual.
Place the olive oil on the eyebrows and then massage it before going to sleep at night.
You will have to leave the olive oil on the eyebrows at least overnight.
Use the warm water so as to rinse off the olive oil when you wake up very early in the morning.
10. Egg Yolk
Egg yolk contains a protein that is similar to keratin. Keratin is a major ingredient in most hair growth supplements. Using egg masks on your brow hair can help it grow out thick and long. Here's how to grow eyebrows using egg yolk.
Break at least 1 egg and separate the yolk from the white part.
Beat the yellow yolk to make a good consistency.
Use a cotton swab to apply the egg yolk to the eyebrows.
Leave it on for about 20 minutes and then wash it off using cold water.
Rinse it off using cold water.
Use the protein treatment at least twice a week until you are satisfied with the result.
11. Exfoliation
Exfoliation is one of the best ways to stimulate hair growth on parts of the face. Exfoliation helps your hair strands to come through faster. "Exfoliation on the brow area not only removes dead skin under the hairs but can also help with hair growth by stimulation and giving circulation to the hair follicle." [Elke Von Freudenberg on NewBeauty.com].
When you exfoliate, you are stimulating the skin. This can allow you to make the eyebrows to grow better and even faster than ever before. Also, you can also get rid of the dead skin cells that may be stimulating hair growth.
You might choose so as to create your very own scrub with the use of the sugar and also the coconut oil.
Rub the exfoliating scrub in a circular motion so you do not have anything to worry about anymore.
Remember also not to scrub very hard as you may get rid of the skin in the process.
12. Almond Oil Extract And Vitamin E Oil Capsules
Almond oil is rich in vitamin E, essential fatty acids, magnesium and potassium. When used on eyebrows, it will reduce inflammation and help soften the skin for growth of new eyebrow hairs.
Make a mixture of almond oil extract with linseed oil.
Dip a clean Q-tip into the mixture and apply generously to your eyebrows.
Allow it to sit for about 2 minutes.
Add a little more of the oil mixture and massage gently into the eyebrow skin.
Do this procedure every night before going to sleep to encourage a fuller or thicker eyebrow growth. Both vitamin E oil and almond oil will condition, strengthen and stimulate your eyebrows to grow faster.
13. Milk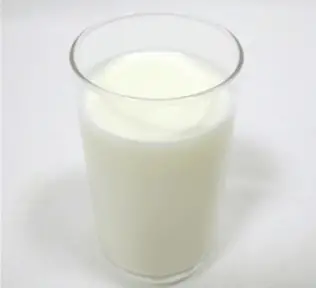 Deficiency in protein and essential fatty acids leads to eye brow thinning. Milk contains two vital proteins known as casein and whey. These two will trigger and stimulate the growth of healthy hair. According to NiceHair.org, casein contains glutamine that helps stimulate hair follicles. On the other hand, whey will give you strong eyebrows and prevent hair breakage.
Put a little milk in a glass. Use whole milk only.
Dip a cotton ball in the milk.
Gently rub it on your eyebrows or areas with sparse brow hair.
Allow 15 minutes for it to dry.
Rinse off (gently) with warm water.
How can I make my eyebrows grow fuller in a day or two days? It is not possible to visibly grow them in a day or in two days. Simply repeat this home remedy to make your eyebrows grow out fuller, faster.
14. Eyebrow Serum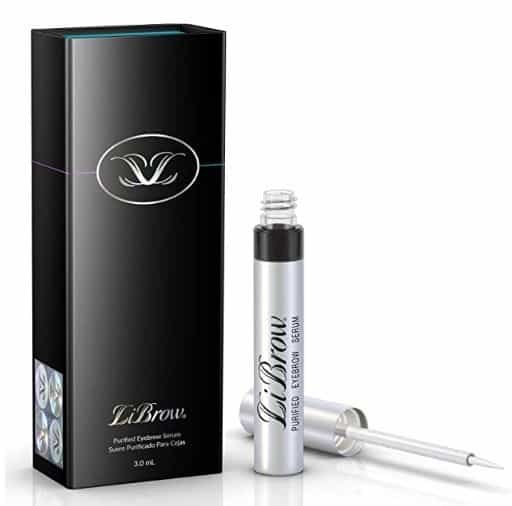 An eyebrow serum is a product that is made to stimulate growth of hair follicles above the eye. Some of the best serums contain peptides as ingredients that make hair to grow quickly. You can get these eyelash and eyebrow enhancement serums from drugstores or online.
15. Apply Eyebrow Powder
There are eyebrow growth powders that can help you grow fuller and thicker brows quickly. These are particularly very good if you are looking outside growing eyebrows naturally. The final step to achieve thicker, darker eyebrows is through highlighting them on the face.
Taking a fluffy brush, dip it in translucent powder and then brush clearly around the perimeters of the eyebrows, tracing their shape. This can define the edges more and make the eyebrows appear sharp.
16. Avoid Wearing Makeup
Aggressive face makeup can slow down the growth of your eyebrows. If you do a lot of brow makeups such as pencils and makeups that require thorough rubbing and vigorous disturbance of the hair follicles, you will end up with thin, sparse eyebrows.
Reduce doing eyebrow makeups that may be harsh. These include brow hair dye that may contain harsh chemicals that will prevent eyebrows from growing long and fuller.
If you have to use makeup, go for softer pencils and gentle tints.
Also, try to avoid wearing brow makeup everyday if you want to grow eye brows back fast.
17. Avoid Applying Lotions And Creams
Lotions and creams clog hair follicles. This prevents the 'natural breathing processes of hair and prevents your eyebrows from growing out long and healthy.
How To Grow Thicker Eyebrows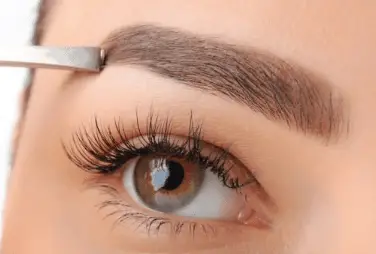 18. Drink Water
Water is very good for the individual's overall health. It assists to get rid of all the toxic substance from the body through the urine. Start drinking at least 8 glasses of water every other day. This can enhance the body system and thus improve the hair growth.
19. Massage
Massaging the eyebrows is a perfect way that can be applied to improve eyebrow growth. Massage the area which is around the eyebrows using olive oil for about 10 minutes daily. This can increase blood circulation to the area and you can see the positive results.
20. Fenugreek Seeds
Do you want to have something that is able to assist you to grow thick eyebrows? Fenugreek seeds contain nicotinic acid and also proteins that you can apply. These two are able to assist make hair grow thicker. This can also be vital if you have lost the hair due to over plucking as this can make the hair follicles to grow again.
You are required to soak the fenugreek seeds for at least 6 hours.
You are required to grind the seeds that you have soaked.
Add some amount of coconut oil to the seeds.
Use the paste that you have created on the eyebrow area.
Leave it on for overnight.
Wash using warm water.
This process can be done about 3 times a week until you get the desired results.
21. Essential Oils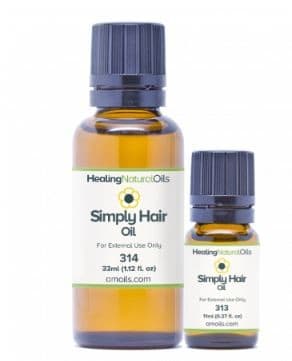 Apart from the regular oils, there are certain hair essential oils too that may be applied for massaging onto eyebrows for speeding up their growth. It contains the well known Morrocan Argan Oil which makes hair softer, silkier and shinier as well as taming any frizz. Ingredients such as rosemary, have been used for hair care by the people of the Mediterranean countries for centuries.
22. Lemon
Lemon is the best home remedies for eyebrow growth. All you are required to do is take a thick slice out of fresh lemon and then rub the eyebrows using that for about 5 minutes thoroughly.
How to Grow Eyebrows Fast Men
Thicker brows provide guys a rougher, more masculine appearance. And unlike the men's hairstyles that need specific cuts or even the lengths, thicker brows are easy to achieve using very little effort.
23. Avoid Hair Waxing, Plucking, And Tweezing
Avoid any hair removal if you need to grow the thicker eyebrows. Men normally are not the plucking or even the tweezing type, so this should not be a very big problem. Let the brows grow as long as possible even if you see the stray hairs that make the brows appear out of shape.
Experts also recommend waiting for a period of at least one month before plucking or even tweezing. If you want to have thicker eyebrows but do not want the brows to appear scraggly and unkempt, cut all the stray hairs instead to give the brows shape without removal of the roots. This way, the hair keeps growing but you obtain well-kept brows.
24. Take A Step Back From The Mirror
When you go into the salon, it is recommended that men request to have their eyebrows cleaned up a bit underneath. After that, take another look in the mirror, then you can be able to trim. Once the shape is there and you've gone back to the groomer a few more times, then they are able to make sure it's tailored for the face shape and also the eyebrow hairs
25. Massage Your Brows Using Natural Remedies
Put a remedy into the finger, use it to the eyebrows, then massage gently the brows for about 3 minutes. Leave it on until an hour, then wash it with warm or even plain water. Do this process every day and you will see positive results within 6 months.
Some recommended natural remedies are the: castor oil, and aloe vera. Don't forget to take a lot of water and eat food that has essential nutrients like vitamin, mineral, and also the protein.
26. Eyebrow Pencil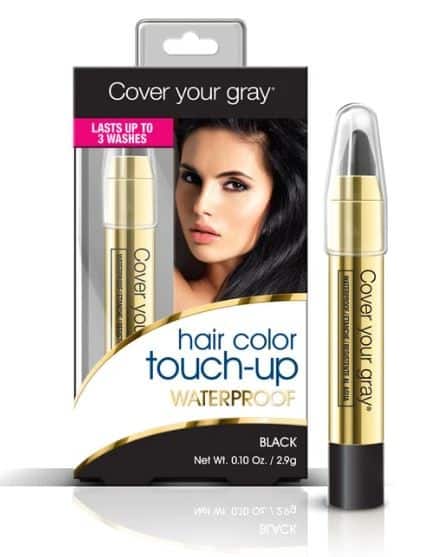 If you suffer from the hair loss on the brows or if there are any noticeable patches on the brows, you can apply the use of eyebrow pencil so as to cover the patches as you allow the brow hairs to grow back once more. This is a very cheap and instant remedy that can assist anyone who is suffering from unexpected hair loss.
How To Regrow Eyebrows Overnight
Because of lack of nutrients, hormonal imbalances or even over-plucking of the eyebrows become less and it will appear to be very bad. Eyebrows complete the facial beauty, just imagine how it will be if you have very thin eyebrows.
27. Vitamins
Not only the eyebrows, but bodies also require vitamins so as to function properly. Increase the intake of vitamins such as Vitamin A, Vitamin E as well as the Vitamin C. Some of the fruits and also the vegetables, which have these vitamins are:
Vitamin A – Lettuce, red pepper and also sweet potatoes
Vitamin E – Olives, almonds and peanuts
Vitamin C – Strawberries, broccoli and lemons
Vitamins also enhance physical appearance and affect the internal organs. It also decreases the effect of the chemicals available in the eye-liner and mascara.
28. Rogaine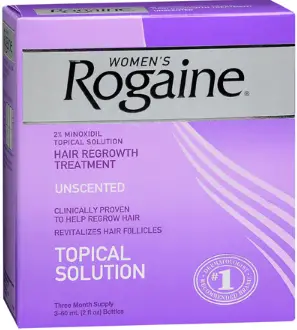 Rogaine is normally intended as a treatment for the male pattern baldness. The exact process is not clear, but according to some doctors, the medication can dilate the blood vessels, which in turn stimulates the growth. There is no proof that Rogaine can be able to provide thick hair growth for the eyebrows, but it can assist to rebuild the eyebrows that are very much sparse due to over-plucking, there are a few steps on how to regrow eyebrows using Rogaine;
Wash the face and hands thoroughly, then dry them up using a clean towel.
Brush the eyebrows using an eyebrow brush. Pull the hair up, in the direction of the hair growth. Brushing of the eyebrows stimulates growth and can expose balding areas.
Dispense a small amount of the gel onto a clean cotton swab. Run the swab over the eyebrow area. Avoid getting the medication into eyes. Do not over-apply. You require only a very thin film of the medication on the eyebrows.
Repeat it at least twice a day. The rate of growth normally varies, but it can be able to take some time. You should continue to use the product for up to a period of about six months if you do not see any results. The time of day does not in any way matter, but once in the morning and once before going to bed makes the application much consistent
Recent Content