Finding the perfect stunning lip color can be crazy hectic, especially when you are not aware of your skin undertones. There are many factors to consider while selecting the best lipstick for dark skin. Don't be attracted only to the colors and shades, but also consider other characteristic features of a good lipstick brand.
Among what you should not fail to consider include the following:
Color And Shades – The lipstick color or pigment should be rich enough to meet your desired standards. The shade should complement your skin tone to give you a shiny appearance.
Moisture Content – Consider buying a lipstick that has enough moisture capacity to make your mouth supple and hydrated all day long. Avoid lipstick that contains harsh ingredients that can make your lips dry and get chapped.
Long Wearing – This is an extraordinary feature of the modern lipstick colors and shades. What you choose should have a high staying power to stay long without fading or drying.
Plumpness- An ideal lipstick color should add plumpness to your lips, making them appear fuller and sexy. Though this can be attained using a plumping lip gloss and lip balms, it becomes more convenient if the lipstick has this kind of ability.
Flavor – A nice lipstick should have a nice romantic scent though it should not be too intensive to irritate.
Cost – Pocket-friendly products should not compromise quality but should enable the consumer to meet her purchasing power. There is much cheap lipstick for dark skin from various drugstores and agents.
Maintenance – Generally, bright lipsticks require high levels of maintenance. The lipstick should not overly demand a shiny and long-lasting appearance.
Safety Standards – The kind of lipstick you choose should not cause any health risk to the user. Some products contain harsh chemical ingredients that can damage your lips.
Lipstick Colors for Dark Skin (Tones)
Dark skin complexion is featured by either golden yellow undertones or warm red to brown skin undertones. Think of celebrities like Oprah Winfrey and Jenifer Hudson, among others. There are various lipstick colors and shades for black women with dark skin tones. Not all of the available colors are perfect for any dark skin woman.
Other features like natural hair color, eye color, and skin undertones will determine how the lipstick colors and shades suit you.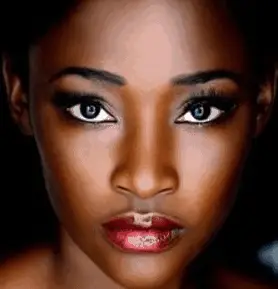 Brown Lipsticks Color For Dark Skin Tones
Brown lipstick color is incredibly perfect for dark skin girls. If you want something to make your dramatic eyes pop, go for brown lipstick color shades such as darker and chocolate. You can go for lighter shades if you love neutral. The whole idea is to find what suits your skin undertones and eyes color.
Top Rated Brown Lipsticks Brands for Dark Skin include; MAC in Chestnut, MAC in Stripdown, Nars in Chelsea Girls, Clinique Almost in Black Honey, among others. Ensure the brand is long-wearing and moist enough to maintain the hydration state of your lips.
Red Lipstick Colors For Dark Skin Complexion
Dark skin girls can attain an instant glamour by going for a red lipstick color. Traditionally, red is a rocking lip color that is romantic and vibrant, hence adding radiance to dark skin tones, giving them a lovely and sexy appearance. Get the right shade of red lipstick for your dark skin tone.
For your deeply dark skin, go for a fiery, intense red. This is a bold color that makes your other features stand out. The red hues have a great tendency to add vibrantly and warmth to your golden or brown undertones. To attain double attention and a flattering appearance, get the best brand of red lipstick color, among which are listed below.
Best Red Lipstick Brands for Dark Skin
Here are among the top-rated brands you can give a trial.
NARS Velvet Matte Lip Pencil Cruella
* As an Amazon Associate I earn from qualifying purchases.
The NARS matte lip pencil red is a non-drying non-glossy lipstick color that can give you an instant glamour all day. The color's appearance on the lips seems a bit staining hence gorgeous red for your dark skin complexion. An alternative to this red lipstick color is the MAC Lipstick Ruby Woo.
Tom Ford Lip Color Wild Ginger
Light and bright red lipstick color can be amazing on dark skin tones. Tom Ford Lip color Wild Ginger is the ideal in giving such a lovely and young appearance. It has some orange hues combined with some darker hues to complement your skin. An alternative for this lipstick color is the NARS Semi Matte Lipstick Heat Wave.
Purple Lipstick Color for Dark Skin
Super vibrant. Super lush. Super creamy. This cult-classic lipstick is the perfect combination of high-impact color in a super-moisturizing formula
This lipstick uses microfine pigments so the shades are vibrant, but the feeling is lightweight
The formula is infused with vitamin E and avocado oil. Buttery-only better!
Non caking, lightweight formula for superior comfort
Over 82 amazing ways to play with cool, classic, and trendy lipstick shades ranging from nudes, pinks, reds, corals, browns and purples, in 4 finishes: cream, pearl, sheer, and matte
* As an Amazon Associate I earn from qualifying purchases.
Purple is not only a cool lip color for your pout but also a double attraction for your dramatic smoky eyes. The best purple lipstick shade you can try is the Revlon Super Lustrous Lipstick. The metallic sheen adds radiance to your brown or golden undertones making you appear exemplary stunning.
Apply a moderate amount to make your lips pop. Some complementing eye makeup can make the hue to look more flamboyant. Going for deeper purple can still be awesome, especially if you go for Dolce & Gabanna's Duo Gloss Fusion sheer lipstick in #100.
Coral Lipstick for Dark Skin
The Houses of Colour Riche: Introducing four vibrant lipstick families of Reds, Berries, Pinks and Nudes. Choose from lipsticks like bold red lipstick, vibrant mauve lipstick, bright pink lipstick, and your lips-but-better nude lipstick
Moisturizing Lipstick Formula: Smooth your lips in just 1 coat with 75% caring ingredients like Argan Oil & Vitamin E. Our lip stick leaves lips feeling soft and moisturized for a long lasting lipstick look that doesn't smudge, smear, migrate or feather
For The Ultimate Lip Make Up Look: Start in the center of your upper lip, work from the center to outer edges, following the contour of your mouth. Then glide across the bottom lip. Available in 52 lip makeup shades, pair with Colour Riche Lip Liner
Because You're Worth It: Create the look you want with our full line of makeup including foundations, concealers, highlighter makeup, brow pencils, eyeshadow palettes, lipsticks and much more
L'Oreal Paris Beauty: A leading total beauty care company based in Paris, we offer innovative products and unique expertise from beauty experts in makeup, skin care, hair care, styling and hair color
* As an Amazon Associate I earn from qualifying purchases.
Coral tend to be a bit brighter for darker skin, but young and trendy girls can still be comfortable in this lipstick color. To balance out your skin tone, you can apply a touch of gold lip gloss on top, making your yellow undertones sparkle bright. Coral is nice during summertime and while at the beach during the day time.
You can also go for orange coral lipstick colors since they are perfect for accenting dark skin tones. The shade adds glamour to the golden and brown undertones, whether during the day or night time. Shimmery shades of coral lipsticks are not suitable for dark skin since they make your look paler.
Blue Lipstick on Dark Skin
Ultra-modern, navy blue sheer lipstick with a deep berry tint Enriched with Vitamin E
Designed to be applied straight from the lipstick bullet – no lip brush required
Lipstick Queen invites you to break beauty barriers and lead the way with lip From colors that transform, and textures and formulas that are moisturizing and feel comfortable, we have a lipstick for everyone and every occasion
Make waves with Hello Sailor, the head-turning, nautical blue that transforms into an ultra-modern and flattering sheer blueberry mauve Using Lipstick Queen's famous color-changing technology, this formula reacts with your pH to instantly change into your own unique shade, that complements any skin tone Enriched with Vitamin-E and Shea Butter
This must-have lip color glides on silky smooth and leaves lips soft, supple, and moisturized The cool berry tone and hints of deep sapphire make teeth appear whiter, and illuminates your complexion for the complete "naughty-cool" look
* As an Amazon Associate I earn from qualifying purchases.
This is among the trending and best among lip cosmetics. There are various blue lipstick shades, such as sky blue, dark blue, light blue, purple-blue, navy blue, and bright blue shades, respectively. Dark skin women are not left out in making a statement appearance with this cool lipstick color.
Blue lipstick is a fun color, but not everyone is guaranteed to make a statement in this nuance. For some people, the appearance can be too bold and even hard to withstand. Simple makeup and some powder on your face can make your eyes stand. The lip color will also depend on how you accentuate your silhouette.
Dark Skin Celebrities with Blue Lipstick Color
There are many Hollywood dark skin stars currently rocking in blue lips. The gorgeous navy blue lipstick color worm by Teyana Taylor made her style and fashion to rock and hit the cover pages of many publications. Nicole Bitchie, in her bold blue lip color, made not only her eyes pop but also her natural hair color.
This gorgeous lipstick color is also spotted among other celebrities like Amber Rose, Ashanti, and Rihanna. Ka'oir Cosmetics are among the producers of the blue lipsticks that celebrities never fail to have. To make yourself more stunning, blue lipstick color should complement your fashion style.
Orange Lipstick on Dark Skin
Achieve pure color in a satin or matte finish
Hydrospheres and natural extracts provide all-day comfort and hydration
Developed with colorreveal technology to deliver rich, pure and stay-true color
Contains rosemary extract to provide intense moisture
Provides antioxidant care and comfortable wear.
* As an Amazon Associate I earn from qualifying purchases.
Dark skin can still flatter in orange lipstick color. Brown or deep red are among the shades that complement well with the black skin tones. Your makeup should be simple; avoid overdoing eye shadow and eyeliner if you want your eyes to stand out. Some little mascara and eyebrow shadow are also suitable for showing off your eye color hues.
Yellow based oranges lipstick color is also the best option for dark skin girls. The hue forms the perfect contrast by adding radiance to the golden tones. Shimmer lipsticks are ideal, but the right flecks like gold or copper are the best.
Dark Lipstick for Dark Skin
Dark lipstick is gorgeous when combined with complementing shades such as red or brown. The makeup should also be of the right contrast besides your clothing, eyes color, and hair color style. This lipstick in various shades ranging from deep chocolate browns, purples to black is trendy and can be ideal for runway, party, and fashion events.
The majority of the dark lipstick color and shades are cool hence suitable for cool skin tones. Warm skin tones are always flattering in shades with yellow undertones though this shade can expose your teeth' discoloration. To make them appear white, blue-based dark is the bomb.
Bold dark lipstick shades are capable of attracting double attention. Therefore ensure your lips are in good condition to avoid looking awkward. Exfoliate to ensure that the dry skin or chapped lips are avoided since this color will settle in the lines a d cracks making it look not pleasant.
Use a gloss to moisturize your lips. Apply a lip primer or concealer in the same shade as your lip color before wearing your dark lipstick color. The foundation used should complement your skin tone for natural instant glamour.
Nude Lipstick Color For Dark Skin Women
Nude lipstick is ever amazing on almost all skin complexions. Dark skin women can still pull off this lip color without going wrong. If you not comfortable in nude shades, then you can try any plum shade for your lips.
It is difficult to find out the perfect nude lipstick shade that will complement your skin tones in giving you an excellent divine pout. Nude has kept evolving since a long time ago, and currently, there are a variety of shades ranging from nude peach, beige nude, matte nude to chocolate nude lipstick shades.
Best Nude Lipstick Color for Dark Skin
Did you know that neutral lipstick colors like nude are now rocking on the runways and red carpet like red lipstick colors? Nude is a simple color that can still ooze a sexy appearance among black women. Your dark, pigmented lips ought to be complemented with the best nude lipstick color for dark skin for you to flatter.
To avoid looking washed out or appear like your lips are chapped, learn how to choose the right nude for your skin tones. You will also have to know how to apply your nude lipstick for a subtle, long-lasting color appearance.
Nude lipstick for Light to Tan Dark Skin
Think of Beyoncé, Rihanna, and Nicole Kidman. Here are top-rated brands you can never go wrong with:
Bobbi Brown Beige
MAC Lipstick in Fresh Brew
MAC Lipstick in VelvetTeddy
MAC Lipstick in Half N' Half
NYX Extra Creamy Round Lipstick – Tea Rose
Best Nude Lipstick for Dark Caramel Skin
Here are the top best brands to try if your complexion resembles that of Queen Latifah or Halle Berry.
Bobbi Brown Uber Beige
Revlon Super Lustrous Creme Lipstick – Rose Velvet
MAC Touch
Milani Color Statement Lipstick – Nude Cream
Top Best Nude Lipstick for Dark Skin
Think of Gabrielle Union, and if you qualify her skin complexion, go for the following best nude lipstick for dark skin.
Bobbi Brown Chocolate Lip Color
Bobbi Brown Cocoa Lip Color
Revlon Super Lustrous Lipstick – Flesh Tone
Revlon Colorburst Lipstick – Hazelnut
Nude Lipstick Shades For Deep Skin Tone
Try to imagine Kelly Rowland, Jeneil Williams, and Alek Wek. Choose the following nude lipstick picks if you belong in this category of black women.
BB Hot Cocoa or Chocolate
NYX Chambord
Mac Lipstick in Hug Me
MAC Lipstick in Coconutty
How To Choose the Best Nude Lipstick Color For Dark Skin and Black Women?
Begin by determining the correct nude lipstick shade for your skin pigment. Swipe the lipstick on the underside of your wrist and observe the swatch. The best color should be one or two shades darker than your skin. Darker skin black women will ever be flattering in nude lipstick colors with bronze tints.
Go Peachy
It is of no doubt that peachy nude lipsticks brighten up the black skin undertones. Peach tints are far much better as compared to beige and grey-based nude lipstick colors. The whole idea is that peach nude is a warm hue that aids in neutralizing out the dark lip pigments to give you the perfect pout.
Top Up
A sheer peach gloss can make a statement on top of your nude lipstick. The best lip gloss to use should be of the same shade as your natural lip color. People with intensive dark lip pigment should begin by applying a concealer to cool down the natural dark hue.
Some of the best nude peach lipstick you can try are MAC Velvet Teddy, MAC Shy Girl Lipstick (peachy nude), and YSL Rouge Pur Couture in Taupe Raphael, among others. Remember to exfoliate your lips to get rid of dead, dry skin and chapped lips. Apply a lip balm to moisturize before application of your selected best nude lipstick for dark skin.
Lipstick Shades for Dark Skin (Women)
For many years, dark skin women have had tough moments trying to wear some of the trendy and sassy lipsticks. Brown and nudes have seemed to be the only zone to tour when it comes to lipstick shades and colors though these colors become boring due to their lack of flare.
There are various lipstick shades in reds, orange, purples, and pinks that can definitely make a dark skin girl look stunning. The only trick is to ensure you complement well your skin undertones to avoid looking washed out. It is good to be aware that not every lipstick shade will look perfect on every woman.
Tips on Application and How to Wear Lipstick Shades for Dark Skin
Any bright lipstick color for any skin complexion needs a high level of maintenance.
Exfoliate your lips and ensure they are not dry and chapped before the application of any lipstick color. You can use olive oil and a brush or a soft piece of cloth with warm water.
Moisturize your lips a night to the application of lipstick. Immediate application of a lip balm can make the lipstick not to adhere to your lips. A lip primer can be used for dark skin tones, and you can try MAC's Moisture Cover concealer.
Let the products dry, then apply your desired lipstick color. While choosing a lip liner, ensure it is matching with your lip shade or a shade lighter.
To make your lips color outstanding, the rest of the makeup should be simple. Apply some face powder and slightly complementing mascara for a stunning appearance.
* As an Amazon Associate I earn from qualifying purchases.
Conclusion
In conclusion, dark lipstick for dark skin can easily be noticed when faded or worn off. You ought to take time and select a long-wearing dark lipstick brand that will last. The product should have the ability to moisturize your lips without pausing any health risks.