How can you exfoliate lips? Read the article to explore on how to exfoliate lips with sugar, Vaseline and the best way to exfoliate lips at
What is the best way to exfoliate chapped lips? Get more insights on how to exfoliate lips with sugar, toothbrush and Vaseline to attain soft, smooth kissable young looking lips.
Chapped dry lips can be annoying especially when they peel off making it difficult to apply your best lipstick. Currently there are many factors that can cause flaky chapped lips. Winder and dry weather spells can cause lips to become dry. Application of a wrong lip makeup can also lead to your lips peeling.
Exfoliation is the best way renew your lips appearance by the removal of the dead skin causing the awkward old appearance. It can also help in creating soft moist and plum lips. However, there are several ways and methods on how to exfoliate lips. Among them include use of homemade lip exfoliator sugar scrub, toothbrush and Vaseline among others.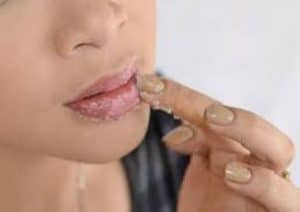 How to Exfoliate Lips with Sugar
Sugar possess an exfoliation characteristic feature due to its sticky and molecules. Is used in making natural lip scrub when combined with other ingredients. Sugar scrub with brown sugar combined with honey are suitable for attaining soft moisturized lips.
While preparing homemade lip exfoliant from sugar, you need honey and edible oil such as almond oil, sunflower oil or olive oil. How to make a lip exfoliator recipes can guide you on how to prepare the scrub in the correct volume measurements of the ingredients. You will have to mix the ingredients in a bowl and stir for a paste to form.
When you apply the formed sugar scrub using your clean finger, make circular motions for 2 minutes and let the paste stay on lips for 5 minutes before clearing off with cotton ball and washing with warm water. End the process by application of a best lip balm. The best time to exfoliate your lips is during night before you go to bed. Repeat for 2 times a week for a period of one month to note a change.
In the morning when you wake up you can notice a smooth texture of your lips when you move your tongue around. Do your normal washing routine and apply your best lipstick, foundation and a concealer if possible.
Honey is used since it is medicinal in nature. It helps in the healing of the chapped and cracked lips overnight to give you the soft baby kissable lips. It is also a moisturizer that helps in hydrating your lips throughout the day. Oil is added to the mixture to provide a barrier against air, moisture and sunlight.
To make the pest nicely scented, you can add few drops of lemon or your favorite flavored essential oil. This is all option when you are preparing the sugar scrub since the outcome is stiff effective regardless of such additives.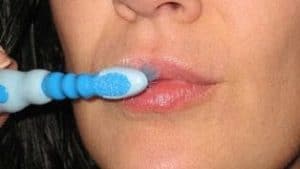 Exfoliate Lips with Toothbrush – How to
You can take away the dead skin from your lips using a soft bristle brush. It involves a simple process that can be done in 5 minutes and you have your renewed lips. You need to put a little amount of lip balm on your lips to help soften the dead skin layer. Now wet your brush in warm water and begin rubbing against your lips in a gentle circular motion.
Take 4 to 5 minutes to exfoliate lips with toothbrush before you wash it off with warm water. To finalize, apply some Vaseline or lip balm for a shiny attractive appearance. You can alternatively mix sugar and honey in a bowl and using a toothbrush scrub your lips for 3 minutes then apply a lip balm.
Do not use the same brush used for lip exfoliation in brushing your teeth or clean it thoroughly before using it for teeth to avoid small particles of dead skin stuck on brush to remain on the teeth. Preferable you can use old brush that has soft and gentle bristles, which you no longer use for cleaning your teeth. A new toothbrush is not recommended since the bristles and firm and strong and they can easily pierce your lips.
Baby brush is also ideal for using and it is very gentle when you dab Vaseline or olive oil after the process. As said the best time is before going to bed since your lips will be able to heal overnight. The following day when you wake up continue with your normal face makeup without worrying about your lips anymore.
Exfoliate lips with tooth brush once a week and after a period of one month your lips will be soft and smooth. It is just ideal as using homemade lips exfoliator sugar scrub. Most important is to know how to exfoliate lips in the right time and style.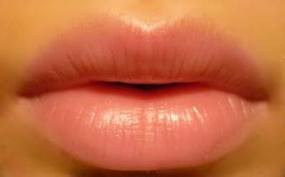 How to exfoliate Lips Aftercare Tips
Avoid licking your lips, if you have the urge apply some chapstick
Moisturize your lips on a regular basis to avoid drying and cracking
Olive oil and coconut oil are the best for moisturizing your lips
If you use homemade sugar scrub to exfoliate addition of cinnamon can plumper your lips although it can also contribute in making your lips itchy and chapped.
Sugar + honey + olive oil is the best scrub since it exfoliates and moisturize at the same time.
Chronic and persistent dry and chapped lips can be a sign of a syndrome hence seek treatment.
Best Way to Exfoliate Lips – How to get Super Soft Lips
Here is a simple technique on the best natural ways to exfoliate lips. You simply need Olive Oil, Sugar, Soft bristle toothbrush, warm water and a small towel. When you have all these materials here is what you need to do.
Mix together some sugar and olive oil until you get a thick paste. You should end up with more sugar then oil. But remember, you will only need a little. As much to cover your lips.
Grab your tooth brush and scrape up the mixture.
Gently brush your lips in tiny circular motions for about 2 minutes. (Like brushing your teeth but on your lips)
Leave on the substance for about 3-5 minutes.
Cup your hands and fill them with warm water and rinse your lips until all the sugar particles are gone.
Tap your lips with a towel to dry.
How to Exfoliate Lips with Vaseline
Vaseline is among the best products used in enhancing soft and smooth lips. It helps in exfoliating dead skin hence renewing your lips. To get rid of the dye chapped lips you need Vaseline and a toothbrush. Begin by applying a thin layer of Vaseline to your lips and wait for five minutes before exfoliating.
Use a brush with soft bristles to rub the lips in a gentle circular motion for 2 to 3 minutes. Vaseline softens the dead skin layer and also enhances healing of the chapped lips while the toothbrush majorly exfoliates. Remove excess Vaseline using a tissue and live a moderate amount for protection and shine.
Alternatively you can mix some sugar with Vaseline and use your finger to gently rub it on the lips in a circular motion. Before getting to bed is the best time and also remember to always apply some Vaseline while going to bed to enhance hydration and moisturizing effect.
How to Exfoliate Chapped Lips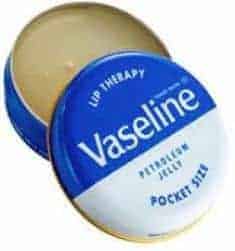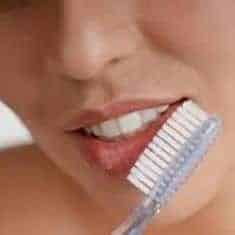 It very necessary to exfoliate your lips when they become flaky and chapped. There are various causes for chapped lips and they include; cold weather conditions, too much exposure to sunlight, smoking and use of other substances such as tea and coffee. At home lip exfoliation is however an essential process that involves the following techniques.
Exfoliation with sugar and honey: sugar is a natural abrasive and suitable in the removal of dead skin. As discussed above it becomes more effective when mixed with honey and olive oil.
Use of baking soda: When baking soda is added to water to form a paste and applied on the lips using a finger in a circular motion exfoliation takes palace.
Exfoliation of lips with lemon juice: Lemon juice mixed with castor oil and glycerin helps not only in healing of chapped lips but also exfoliating of dead skin cells. Glycerin is a moisturizer while castor oil a barrier against hazard environmental conditions.
Rose petals mixed with raw milk: Soak the rose petals in raw milk and mix to form a paste. Apply it on the chapped lips for plumper and color effect.
Remember to end every process of exfoliation you use with the application of lip balm.
In conclusion therefore besides knowing how to exfoliate lips, you can prevent further or future drying and flaking of the lips by regular application of sun screen lip balm, drinking sufficient amount of water, avoiding or minimizing on smoking among others. Share with us your opinion and experience to do with getting rid of chapped lips overnight.