How can you stop dandruff permanently? After knowing what causes dandruff, here are various ways on how to get rid of dandruff permanently. These methods range from using the best hair care products and treatments to natural ingredients and home remedies.
Proper hair washing
Hair Moisturizing
Balance Diet and lifesytle
Hair Massage
Comb hair with dry shampoo
Medicated anti-dandruff shampoos
Topical steroid ointment
How Do You Get Rid Of Dandruff Overnight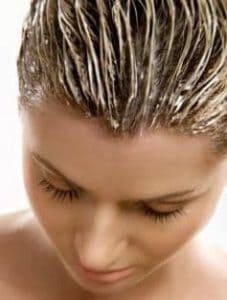 Regular and proper hair cleaning using the best shampoo and conditioning products. Dandruff are caused mainly by formation of dead skin cells on the scalp. Brushing your hair also helps. Anti-dandruff shampoo should be utilized at least twice a week. Daily use is discouraged since it can lead to hair damaging.
Constant Hair Moisturizing
Hair moisture deficiency causes severe drying of the scalp and hence a cause of dandruff. Conditioning your hair twice or thrice a week not only makes it soft but also shiny and lustrous.
Balanced Diet And Healthy Lifestyle
Lack of vitamins and nutrients is a source of dry flaky skin. Taking a balanced diet, exercises and minimal stress is key when it comes on how to get rid of dandruff fast and permanently. Stress also contributes to the formation of more oils on the skin and scalp thus formation of this type of scalp condition.
Hair Massage
Massage hair with natural oils such as olive oil, almond and coconut oil gently using your fingers. This helps to enhance blood flow to the scalp hence nourishment of the hair roots as well. This type of treatment also helps in relieving stress from the scalp and hair. There is a controversy about mineral oils facilitating more dandruff since such oils are said to provide feed for fungus. But that has not been fully proven.
Dry Shampoo
You can quickly get rid of dandruff by combing out your hair with a reputable dry shampoo. The powdery product is sprinkled on top of the scalp and a combed out along with dandruff. You are advised to rinse the comb after every stroke.
Medicated Anti-Dandruff Shampoo
For severe dandruff, you ought to get a long term solution. Medicated anti-dandruff shampoos can be used. Such products are packaged with ingredients such as keratolytics, urea, sulfur or salicylic acid.
Topical Steroid Ointment
You can directly apply shampoo in hair regularly before rinsing it out after 10 minutes. Some types of hair dry out too much after regular application of shampoo. For such a case topical steroid ointment can be used instead.
How to Avoid Dandruff – Prevention Tips and Recommendations
You can as well prevent the formation of dandruff. Avoiding some of the causes can help you stay dandruff free. Here are some of the tips on how to avoid dandruff.
Cleaning your hair is recommendable but NOT on a daily basis. Some practices like daily washing your hair with shampoo and conditioner can also contribute to dandruff and hair damaging. Experts recommend three times a week as the most ideal regularity for cleaning your hair.
Avoid some hair treatment processes such as hair lightening especially when harsh chemicals are used. Natural hair lightening can be ideal as compared to chemical hair lightening. According to most surveys on individuals who seek treatments on how to get rid of dandruff, the main causes are associated with chemical treatments.
Protect your hair against harsh environmental conditions such as moisture and humidity. While planning to swim ensure your hair is well covered and protected from the pool water. Chlorine is one type of chemical that will affect your hair.
Consult a dermatologist regularly to check if your skin is healthy. There are medications that can also be prescribed by an expert to prevent dandruff.
How to Get Rid of Dandruff Home Remedies
You can as well get rid of dandruff naturally using the best home remedies. While trying such an approach, it is recommended to remain patient and consistent in the application. Here are some of the best natural ingredients to permanently remove dandruff.
Lemon Hair Washing
Lemon is known as a key ingredient in most hair treatments such as lightening especially in the presence of sunlight. Similarly, it can also be used in the treatment and removal of dandruff. Before thinking on how to get rid of dandruff naturally using lemon, it is very important to note that the acidity nature of lemon can lead to premature graying of hair. Here is how to prepare before applying lemon:
Obtain two lemon fruits and extract the juice.
In a ratio of 1:2 mix lemon juice and water.
Apply the solution on your hair and allow 5 minutes before washing.
Wash your hair using a shampoo and apply a conditioner.
Repeat the process for thrice a week to observe results.
Aloe Vera Gel
Use Aloe vera gel for hair treatment. This natural ingredient has been used in the packaging of most hair care products such as moisturizers and shampoos. Aloe gel helps in relieving of stress from the scalp. It is also a strong anti-bacterial agent that prevents scalp fungal infections. Obtain the gel and apply directly in your hair as you conduct a gentle massage on the scalp. Rinse and shampoo your hair after 30 minutes.
Honey Lemon
A Mixture of Honey and Lemon. When honey is mixed with lemon, it forms an effective paste suitable for helping most hair problems. The mixture can also be used for natural hair lightening besides on how to get rid of dandruff. To make it suitable for dandruff removal, add plenty of water and wash your hair. After 20 minutes, rinse your hair and moisturize it.
Vinegar
Vinegar is also effective in the permanent removal of dandruff from the hair. Mix vinegar with water and wash your hair on a regular basis and it will help in the treatment of dandruff within few weeks.
Natural Oils
Natural oils such as olive oil, almond, tea tree oil and coconut oil are the best in the treatment of dandruff. You are recommended to massage your hair gently using your fingers to enable the oil reach the roots and evenly distribute on the scalp. Thrice a week will result to super lustrous shiny hair free from dandruff. Alternatively you can mix coconut oil with lemon juice for more effective results.
Egg White
Egg white is also a suitable home remedy for dandruffs. The presence of proteins in this ingredient helps in promoting a healthy and shiny hair. Alternatively you can mix it with curd and apply for 15 minutes before washing your hair.
Best Anti-dandruff Shampoos – Top Rated Brands
After trying a specific type of shampoo without any positive outcome you are advised to change and try another. Here are some of the best shampoo brands you can give a trial on how to get rid of dandruff fast:
Best Anti Dandruff Shampoo For Women
Best Anti Dandruff Shampoo for Men
Chronic dandruff may associate a serious underlying medical condition. You are therefore advised to seek medical advice if there is no change after trying the above-discussed treatments on how to get rid of dandruff.
Recent Content