Why are my knees dark? Get more insights on how to get rid of dark knees and elbows, through lightening treatment and use of the best home remedies fast in one week.
Dark knees and elbows can degrade your beauty heights. This is when you find it inconvenient to wear short skirts and sleeveless tops. However, this is not the end of everything, you can lighten your dark knees and elbows naturally at home or using skin lightening products.
Why are My Knees Dark?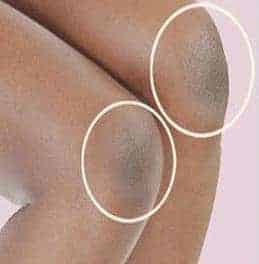 There are some causes of dark kneed and elbows. These areas have thicker skin which is more elastic as compared to the rest of the body. Therefore, it tends to dry and darken more due to dead skin build-up. Frequent rubbing and too much exposure to the sun is also a reason for dark knees and elbows.
Too much exposure of skin to the sun causes the production of melanin in the skin which is a dark substance that protects it against UV radiations from the sun. The elasticity of skin at the elbows and knees makes it susceptible to wrinkles and builds up dead skin cells.
How to Get Rid of Dark Knees?
You can lighten dark knees naturally with home remedies or use the best skin whitening creams, lotions, and soap. Natural ingredients are recommended as safe and cost-effective compared to chemical treatments. Here are the best ways on how to lighten dark knees and elbows naturally at home.
Lemon Juice
There are many uses of lemon juice and skin bleaching is one of them. Here are steps on how to whiten dark skin on the knees and elbows using lemon.
Use lemon as an exfoliant: Take 2 tablespoons of natural sugar, 1teaspoon lemon juice, and 1 egg white. Mix the three ingredients together until a thick paste is formed. Gently scrub your skin around the knees in a circular motion following a gentle massage. Take 10-15 minutes before washing off with warm water. Let it dry and apply a skin moisturizer.
Lemon skin lightening mask: Make a mixture of 1 tablespoon lemon juice, 1 tablespoon sandalwood paste, 1 tablespoon tomato juice, and 1 tablespoon cucumber juice. Apply the paste on your elbows for 15-20 minutes and rinse with warm water before applying a moisturizer. If your skin is dry mix an equal amount of lemon juice, honey, and 2 drops of essential oils instead.
Obtain lemon fruit and make slices. Squeeze the juice and apply it on the skin using a clean cotton ball. Using warm water, wash off after 20 minutes. Alternatively, you can spray the juice on your knees and elbows or rub the slices directly without extracting the juice.
Lemon is a natural antioxidant and antibacterial. Lemon juice is rich in Vitamin C which is effective for skin lightening, clearing dark spots, acne marks, and dark patches on the face. Vitamin C has been scientifically proven to reduce the amount of melanin produced and therefore suitable for treatments on how to get rid of dark knees.
Note that, lemon is allergic to some skin types. It can cause a burning sensation while directly applied to sensitive skin. It is also eye irritating and you need to be careful while using it to avoid contact with your eyes.
Aloe Vera
Aloe vera is scientifically proven to possess antioxidant property making it suitable for skincare. It is therefore a key ingredient in most skincare products and cosmetics. It helps in treating different kinds of skin conditions. Pigmentation, dark spots, acne scars and marks are among what it cures.
Dark knees and elbows caused by sunburn and hyperpigmentation can best be removed using aloe vera. You are not going to get instant results while using home remedies and you ought to be patient and persistent. Here are procedures on how to get rid of dark knees and elbows using aloe vera.
Cut the outer layers of an aloe vera leaf. Squeeze out the thick, jelly-like substance.
Apply the gel thoroughly on your skin and perform a gentle massage.
Leave it on for about 30 minutes, and then wash it off with water.
Do this at least twice daily for two weeks to realize a positive change in your skin.
Be careful to avoid the substance getting into your eyes to prevent irritation.
Alternatively, go for cosmetics and skincare products packaged with aloe vera.
Consult a specialist to conduct allergic reactions before the use of aloe vera gel or juice.
Turmeric
Turmeric is good for the skin since it is not only used on how to get fair skin naturally but also a smooth young radiant young-looking skin. Being an antioxidant, it helps in the removal of free radicals from the skin thus protecting it against aging, wrinkles, stretch marks, and skin conditions like acne and eczema.
Sunburn and tanning is one of the factors that contribute to excessive melanin production in the skin. Turmeric has been found to suitable for reversing such suntanned skin to its fair shade. Therefore, when you think of how to lighten dark knees and elbows naturally, turmeric, aloe vera, and lemon juice are among the best home remedies for whitening.
Turmeric and Lemon Juice Mixture: Make a home remedy by mixing turmeric powder with lemon juice to form a thick paste. Alternatively, you can mix the powder with cucumber juice instead of lemon. Apply the paste on the elbows and knees affected by dark pigmentation.
Turmeric is a natural dye and can easily stain your fingers, clothes, and other contact materials such as plastics. When applied to the skin before you go to bed, the sheets and pillows will get stained. Therefore morning hours are the best time to use turmeric to get rid of dark knees and elbows.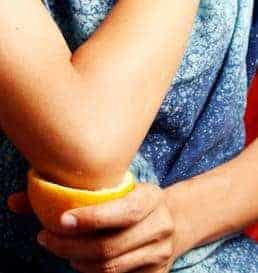 Baking Soda and Water Mixture
Add a small amount of water to the baking soda and stir the mixture. Apply the paste in a gentle circular motion. Finalize by application of a moisturizing ingredient such as Vaseline, Coconut Oil, or Olive Oil. Baking soda is a natural abrasive and will make your skin soft and beautiful.
A Mixture of Lemon, Castor Oil and Glycerin
Mix the three ingredients in a bowl and thoroughly stir to mix. Apply the paste formed on the knees before bedtime using your finger or a toothbrush. Lemon possesses a healing property that will treat any dry and cracked skin. Oil helps in protecting the knees and elbows skin by forming a barrier. Glycerin is added since it is a moisturizer.
MULTI-PURPOSE AND VERSATILE SKIN CARE: Pure vegetable glycerin is an outstanding moisturizer and skin cleanser that also provides softening and lubricating benefits
SOFTENS AND MOISTURIZES: It's easily soluble in water, making it suitable for use in all of your favorite cosmetic applications
SINGLE INGREDIENT: Pure vegetable glycerin has a long shelf life and does not easily oxidize
GMP Quality Assured: NPA A-rated GMP certification means that every aspect of the now manufacturing process has been examined, including our laboratory/testing methods (for stability, potency, and product formulation)
Packaged in the USA by a family owned and operated company since 1968
During the summer months products may arrive warm, but Amazon stores and ships products in accordance with manufacturers' recommendations, when provided.
* As an Amazon Associate I earn from qualifying purchases.
Sugar and Mineral Oil – Coconut Oil, Olive Oil & Castor Oil
Homemade sugar scrub can be used in promoting an even skin tone around the knees and elbows. Exfoliating is highly encouraged to get rid of dead skin cells. Natural sugar is an effective natural scrub for faster outcomes.
To use this method on how to get rid of dark knees and elbows, mix sugar and a mineral oil such as olive, coconut or castor oil to make a thick paste. Gently apply it to the skin in a circular motion for 5 minutes. Wash it with warm water and soap. Repeat the treatment twice per week.
How to Lighten Dark Knees and Elbows – Fast, Permanently
Here are top-rated products to whiten dark patches on the knees, elbows and any other area on the skin. Read on the
Hydrogen Peroxide
Hydrogen peroxide in small quantities can be included in face masks and skin whitening ingredients to come up with a faster skin whitening effect. When you mix milk, honey, papaya, and hydrogen peroxide and apply on the knees and elbows, it will automatically help in the removal of uneven skin tone, dry skin patches, and age and dark spots among others skin blemishes
Utilizing a mixture of these natural ingredients is the best way on how to get rid of dark elbows and knees at home. You are however discouraged from the regular application of hydrogen peroxide compound on the skin since it deters the process of blood flowing to the skin. This is one of the major side effects of hydrogen peroxide skin bleaching.
Skin Lightening Creams, Pills, and Injections
These are instant ways of whitening knees and elbows. Effective whitening creams contain superior ingredients such as glutathione, alpha arbutin, kojic acid, and a low concentration of hydroquinone. Creams and lighten pills that contain mercury and a high percentage of hydroquinone, above 2% are unsafe to use.
Skin whitening pills and injections similarly have long-term side effects such as the risk of constant skin diseases, cancer, and allergic reactions, especially if not done under medical guidance. Therefore involve a dermatologist before going for skin lightening as a method of getting rid of dark knees and elbows.
Glutathione supplements - We take amino acid nutritional supplements seriously which is why our GSH amino acid supplement contains 500mg of L-Glutathione plus 50mg alpha-lipoic acid and milk thistle
Liver supplement - Maintaining liver health has never been easier thanks to our natural liver cleanse supplement packed with 100mg silymarin milk thistle to promote liver and kidney health for adults
Refreshing supplement - Help fight back against aging with our antioxidant rich clear skin supplement packed with skin vitamins for glowing skin and healthy skin care for natural beauty enhancement
Brain support - Glutathione milk thistle and ALA brain vitamins combine to form a potent brain supplement which can help preserve brain health including memory, focus, and attention support
Quality assurance - Rest assured with our amino acid pills you can trust because all of our supplements are made and tested in state of the art labs because you deserve high quality products
* As an Amazon Associate I earn from qualifying purchases.
Treatment for Dark Knees and Elbows
A severe underlying medical condition can associate symptoms such as dark elbows and knees. When you try on various ways on how to get rid of dark knees and elbows and you realize no change, it is high time you consult a doctor or dermatologist.
There are medicated topical creams used for the treatment of serious skin conditions. Your doctor can prescribe to you one of them. Lotions and creams for treating dark and ashy elbows and knees are available over the counter and you need to arrange with a dermatologist before using them.
AMERICA'S FAVORITE FOOT CREAM: The PurSources Urea 40% Foot Cream is made with pride in the USA with premium quality ingredients, so you can rest assured that you're getting only the very best! And if you don't believe us, just ask the thousands of Americans that trust and prefer our Amazon Best Selling products!
THE TREATMENT YOUR FEET DESERVE: Uncomfortable shoes, a fast paced life, sports your feet have to endure a lot every day and its only natural that your heels end up cracked and dry! With the PurSources Urea 40% Foot Cream you can have the smooth feet of your dreams in the easiest and quickest way possible! The amazing formula of the cream will deeply moisturize and soften your feet for phenomenal results!
PREMIUM QUALITY FORMULA: This wonderful foot care cream is specially formulated with carefully selected ingredients that will give you unique results fast. Urea cream is commonly used to reduce itching and prevent dry and scaly skin. The pure formula of the cream is incredibly effective yet gentle on your skin so it can be perfect for all cases and skin types.
ESSENTIAL FOR EVERYONE: Whether you want to get rid of calluses or you want silky soft heels for sandal season, this foot cream is the right choice for you! The unique lotion will nourish your dry and cracked skin so you can have incredibly smooth heels and get the relief you need from the pain and hassle of calluses. With PurSources you will look and feel amazing so you can dance, run, and enjoy life with no worries!
ORDER WITH CONFIDENCE: Your satisfaction is our top priority and this is why we strive to provide you with the best quality products and service. So if for any reason you are not completely satisfied with our amazing foot cream, we will give you a full refund with no questions asked! Just let us know and we'll be happy to help you!
* As an Amazon Associate I earn from qualifying purchases.