Learn how to remove black hair dye form hair. The article explores on how to get black hair dye out from skin, hands and carpet. Read to find more on the safe effective ways on how to strip black hair dye form your hair without causing hair breakages.
Like any other hair dye, black hair can be a mess not only on your hair but also your skin, carpet and hands. Regardless of whether the dye is permanent or semi-permanent, it can be quite difficult in completely stripping out black dye from your hair. Similarly, when the dye spill on the carpet or bath tubs it is not easy to wash it out.
There are various techniques discussed in this post and guidelines on how to remove this hair dye without any further damage. High color lift dyes tend to penetrate the follicle and settle in hair shaft. However, it becomes a great challenge to wash the color out.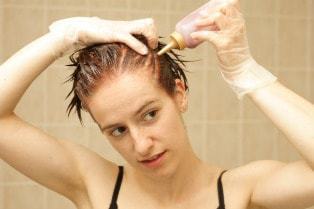 In most case, a funky black tinge is likely to remain on your hair despite following the correct procedures in washing out the dye. Some of the hair color remover products may also tend to be harsh to your hair hence causing hair damages.
How to Remove Black Hair Dye – How to Strip Black Hair Dye
Quite certain you don't want your hair to appear red-orangey, fizzy or dye after an attempt to strip off the initially dyed hair color. Almost everyone admires to pull off black or dark hair color appearance but with some fear of the future state of the hair amid to the removal or changing of the hair color.
It is very wrong to cover your black or dark hair color with a light hair color without stripping off the dye or bleaching your natural dark or black hair. This will not only give your hair a brassy orange tint but also increase chances of hair breakages and damaging due to the dryness.
There are some procedures and instructions to follow in ensuring that your hair is in a good natural condition free from any stains of the previous dye. Besides learning on how to remove black hair dye it is also very essential you look at some of the tips and ways to protect and care for your hair in enhancing quick recovery from the chemicals.
Black natural hair may resume its normal state quite early as compared to light natural hair types like blonde. This is due to the fact that blonde is a very delicate hair to deal with and that is why a professional colorist will be recommended to color it. Black is also tricky especially when it comes to lightening.
This is the only hair type that will need you to bleach to before giving it a bright appearance with a vibrant hair color. The high levels of red pigments in black hair can easily alter the final results of color appearance and hence lightening using correct bleach agents becomes mandatory.
How to Remove Hair Dye from Hair – How to Get Black Hair Dye Out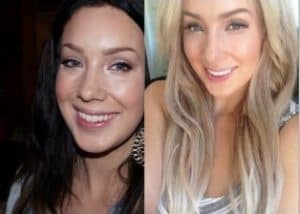 Here are steps and procedures on how to get black hair dye out of your hair. The same instructions may also apply to the removal of any other dye form your hair such as brown, blonde and red hair dye. Here are the the steps and instructions to get it out easily and comfortably.
Select Semi-Permanent Black Hair Dye for Temporary Coloring Your Hair
Firstly don't be driven by your current motive in selecting the type of hair dye. Try to be cognitive on what you want in future. There are permanent and semi-permanent hair dyes products. It you are quite certain that you will change your future hair color in the soonest then semi-permanent black hair dye is the ideal choice for you.
This is due to the fact that semi-permanent dye is likely to get off your hair more easily especially when you wash your hair with some types of shampoo. Permanent black will definitely give you a hard time to remove and it requires patience to completely attain your natural or initial hair color.
Color Removing Shampoo for Stripping Black Hair Dye
Permanent hair dyes does not easily run out when you wash your hair with normal products. There are Clarifying shampoos that enhances quick removal of dye form your hair. Semi-permanent hair dye will get washed off in one or several washes. Choose the right clarifying shampoo for your hair type from a nearby drugstore or beauty store and follow the instructions indicated.
Get advice from a professional hair colorist on the type of shampoo to use on your hair. This is the right person to inform appropriately. He or she can also advice if you can do it at home on your own or you will need professional assistance.
Hair Dye and Color Removal Kits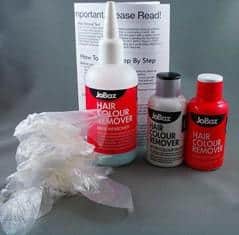 You can strip black hair dye from your hair using a color removal kit. These are mild bleach compounds that act to fade it out quickly. They are available in drug stores and beauty supply shops at a pocket-friendly price. A good example of the best hair removal kit is the L'Oreal and Color Zap that are popular.
Remember that despite using the color stripper kit, the hair will not completely return to its natural original color state. There is a possibility that your hair will appear reddish in color. This is due to the fact that black hair dye has a high tendency of bleaching while coloring.
Carefully follow the instructions provided by the kit. Allow the maximum time stated before you wash and rinse your hair. For attaining a natural hair color, give your hair some period of time to recover. It also advisable to take at least a week before application of another hair dye. This is why you need to plan your self and set a duration through which your hair will transform.
Hair Dye Removal after Care Tips
Hair removal kits contain elements that can leave your hair dry and prone to damages. The moisture content of your hair will be deprived during the process. Therefore ensure that you nourish your hair using an appropriate conditioner. Example of the best top rated are conditioners from Garnier and L'Oreal Paris.
How to Remove Black Hair Dye from Skin
Like any other hair dyes, black hair dye can stain and stick on your skin. Prevention is better than cure and that is why you will always be warned of the staining nature of the dye. Before you begin your hair dye process there are some things to do to avoid the dye from sticking to your skin and casing stains.
It is quite often that the hair coloring kit contains gloves and application procedures. These alone will not ensure the spillage of the dye. Therefore ensure you apply some Vaseline or a dab of a conditioner around your hair line and places likely to be in contact with the dye. This barricades the dye from directly getting in contact with your skin.
Regardless of this, it is hard to ensure that no even a single drop is splash somewhere. If you realize some stains of the dye on your skin unexpectedly, do not panic since there are some basic guidelines to follow in ensuring that the stain is out. They include the following:
How to remove Black Hair Dye Stains form the Skin
Take a small cotton ball and dab in olive oil. Rub the stained area in a gentle manner and you will realize the dye stain is fading. If you act fast within the few seconds of the spillage, you can even use some warm water in place of olive oil and the dye will get off your skin. Alternatively you can use hairspray on the cotton ball.
Using a piece of cloth, apply a mixture of baby oil and some facial cleanser at the stained area and rub in a circular motion. This will not only help in exfoliating the area but also remove the stain completely. Some people have use nail polish remover and the dye gets removed off the skin.
How to Remove Black Hair Dye from Carpet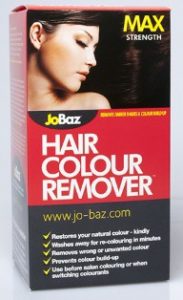 The dye can accidentally spill or drop to the carpet. This does not mean the end to use of that carpet. There are some few things you can do to ensure that the carpet is free from the stain to enable you keep using it. Take a look at the following, try it out and you will be amazed.
Take a little amount of liquid hand dishwashing detergent approximately one tablespoon full. Add to the equivalent amount of white vinegar. Mix with two cups of warm water.
Using a cotton ball dab the solution and sponge the stain. Try to blot using a dry and clean piece of cloth severally and you will see the stain fading and disappearing.
You can also sponge the stain using cold water within the few seconds of the spillage. This will wash away the dye before it sticks and seeps to the carpet.
Alcohol can be used in removing the black hair dye form the carpet. Blot using a piece of cloth and the stain will be dissolved and get removed quickly.
You can also mix the liquid dishwashing detergent with some ammonia in a proportional of one tablespoon full each and two cups of warm water. Sponge using a cotton ball or a piece of cloth. Give it some time about 30 minutes and the more serious stain will disappear.
Using a dropper you can place few drops of hydrogen peroxide on the stain and allow it to stay the whole day. This method may not be the best since the compounds in the peroxide can also bleach your carpet off its color.
How to Remove Black Hair Dye from Hands
You are advised to use gloves during the application of the dye. This prevents your hands from getting stained with the dye due to the longtime of contact. Despite this there are some accidental cases when you realize that your hands have stains of the dye. So the big issue is, how do you remove the hair dye from hands?
Normal washing will not get off the dye from your hands. There is much beyond that to ensure your hands are free from hair dye stains. You can soak your hands in some hydrogen peroxide solution for few minutes and buff your skin using a brush and some baking soda. By the end of your washing you should see the stain out.
If the above method fail, you can try application of the chlorine bleach on your hands for a short period of time. Warm water wash will help in the removal of the stain after the dye acted on by the chlorine compound. Finish with a cold water wash and apply a hand moisturizing cream to prevent cracking and drying of the skin.
Note that hair products are chemicals and they can be toxic to cause harm when in contact with some vital body organs like eyes and ears. Be cautious to avoid unnecessary spillages. Keep all Chemicals away from reach of children.
Recent Content