Is onion good for hair growth? Get more insights on how using onion for hair growth helps in preventing hair loss and promoting regrowth. Being one of the best among home remedies for hair growth, we enlighten you on how to make onion juice for hair growth, prevention of premature greying, bald patches, and receding hairline.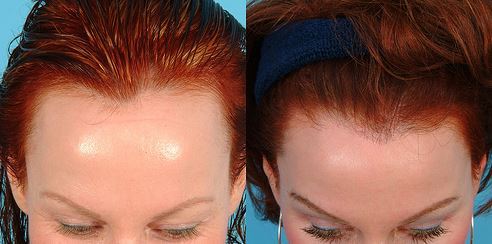 How Does Onion for Hair Growth Help?
Can Onion Help Hair Growth? Hair loss is a problem affecting most people. Despite many factors that cause hair loss, there is a great concern on how to get rid of this problem. Hair not only makes someone look young and healthy but also a symbol of beauty and confidence.
There are both artificial and natural ways for fixing hair loss, but the use of onion for hair growth has been regarded as effective among many people. Being a natural ingredient, the juice is safe to use, affordable, and convenient to use at home.
Most artificial treatments for receding hairline and bald patches utilize chemicals and hence unsafe to both your skin and hair. The majority of people who use such methods have complained of skin irritation and hair damage, allergies, and many more side effects.
How Does Onion Help In Hair Growth?
Most people find it hard to believe onion for hair growth as an effective way of promoting hair regrowth and preventing more hair loss. It is until scientific studies were conducted on the best natural home remedies for hair loss. Which proven onion juice suitable for hair growth.
Both direct application of onion juice on hair and consumption of onions helps in preventing most problems affecting your hair. It is a natural way on how to get rid of dandruff, premature greying, and baldness, fungal, and yeast hair infections.
Onions are much rich in Sulfur a mineral element suitable for enhancing blood flow and as well as stimulation of tissues responsible for the production of collagen for hair development. This is the property that makes onion for hair growth effective.
When onion juice is directly applied on the scalp, it not only nourishes hair follicles but also enhances nutrients supply which promotes fast hair regrowth. Sulfur is an antibacterial agent that inhibits yeast and fungal infection.
Using onion for hair growth also helps in strengthening of weak and thinning hair. To increase the hair volume, all you have to do is apply regular onion juice on the scalp regardless of the pungent smell and you will be amazed by the lustrous shiny appearance of your hair.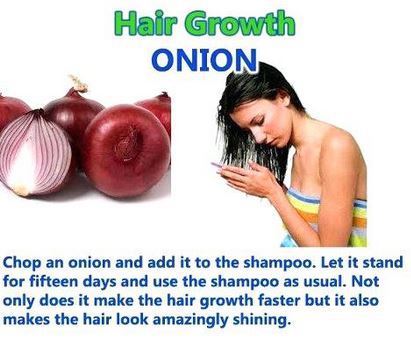 How to Use Onion for Hair Growth?
Besides consuming onions in your food diet, to promote instant hair growth you need to apply directly onion juice on your scalp and massage thoroughly. You can mix with other natural ingredients such as honey for a more effective outcome.
Let the juice act on your hair for 30 minutes before you rinse off with water and mild shampoo. The longer it stays in your hair, the better the results. Three times a week for two months is enough to make you regain your lost hair.
It is good to note that, natural home remedies require consistency and patience to realize the changes. Therefore your use of onion for hair growth requires determination and courage since onion juice has a strong pungent smell that most people may find hard to tolerate.
How to Make Onion Juice for Hair Growth?
Here are simple procedures on how to make and apply onion juice for hair regrowth.
Onion juice for hair growth
Peel the onions and chop them into small pieces.
Squeeze the juice out. To extract the juice, you can use a food processor, a blender, a grater or a juicer.
Massage the juice into your scalp or cover the bald patches.
Leave on for at least 15 minutes (longer if you can tolerate the smell) and then wash out using a mild shampoo.
Onion + Other Home Remedies for Hair Growth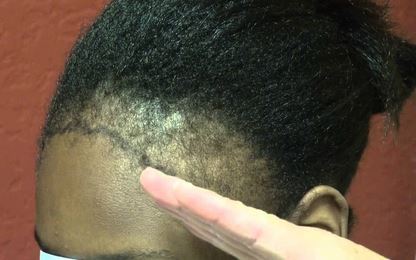 You can also mix the onion with other natural home remedies for hair growth for a more effective outcome.
Onion and honey for hair growth
Mix ¼ cup of onion juice with 1 tablespoon of honey (if more mixture is required, double the amounts).
Apply the paste onto your scalp.
Leave it on for at least 30 minutes.
You can also cover it with a shower cap and leave it overnight.
Rinse it off.
Onion and Rum Mixture
A mixture of onion juice and rum is also suitable for hair growth. Here are procedures on how to prepare and apply on the scalp.
Finely chop some onions and put it into a bowl.
Add ½ cup of rum and leave it overnight.
In the morning, strain the liquid, apply it onto your scalp, and massage gently.
You may also use it as a hair rinse.
Onion Juice and Coconut Oil
Coconut oil is another great remedy for healthy hair. When combined with onion juice, it is claimed to dramatically reduce hair fall and increase hair strength. For this remedy, you may mix equal parts of coconut oil and onion juice and massage it into the hair, especially the scalp. Leave it on for 20 minutes before you wash off and shampoo as usual. You may repeat these three times a week.
Onion Juice Hair Rinse
Add 4-5 chopped onion to one liter of water and boil it for about 10 minutes. Allow the mixture to cool and strain the mixture. Use the onion boiled water to rinse your hair after shampooing.
Tips on How to Use Onion for Hair Growth
If you're bothered by the strong smell of the onion, add some lemon juice or rose water to your hair rinse. Rosemary, lavender, and peppermint all promote hair re-growth.
Honey and onion mixture can also be taken orally.
Try adding onion to your food recipes.
Apple Cider Vinegar also promotes hair growth
Castor oil can promote your hair to healthy, shiny, and strong.
Do not panic when you wake up on a morning and notice a receding hairline, bald patches, or greying of hair. Compose yourself and take a step. Go for one type of treatment and stick to it for at least three months before you think of another. But above all, onion for hair growth seems to be the best natural way to promote hair growth.