The natural lip scrub is one of the best lip exfoliants for the removal of dead skin cells. In the article, various natural lip scrub recipes provide you with directives on how to prepare and use your homemade lip exfoliator.
Best Lip Scrub Recipe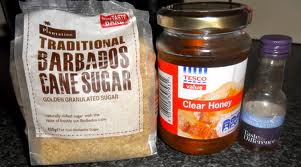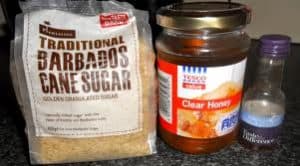 Ingredients
1 teaspoon natural honey
Small cup
1 teaspoon olive oil, sweet almond oil or sunflower oil
2 teaspoons granulated white sugar
1 to 2 drops essential oil (optional)
Lemon juice (optional)
Cotton balls
Moisturizer or lip balm
Procedure
Place the 1 teaspoon full of natural honey in a small sterile cup. Gently warm the honey for five seconds in your microwave.
UMF 20+ Certified RAW Manuka Honey - equivalent to methylgloxal (MGO 850+)
GENUINE MANUKA HONEY: Harvested from the remote and pristine hills, forest, and coastal areas of New Zealand
Buying UMF rated Manuka honeys protects you from low grade honey (often labeled 'active' or 'bio-active') and assures PURITY, QUALITY, and AUTHENTICITY.
Each batch is Independently Tested and UMF | MGO certified
TRACEABLE from hive to jar: Every jar of our Manuka honey has a unique QR code to assure purity, quality, and authenticity.
SUPERFOOD BOOST: Drizzle on toast, oatmeal, yogurt. Stir in warm or cold beverages. Apply to skin or DIY face mask. Take a spoonful a day for a superfood energy boost.
Product of New Zealand - 8.8 oz bottle / 250ml
* As an Amazon Associate I earn from qualifying purchases.
Add 1 teaspoon full of olive oil, or almond or sunflower oil
Add 2 teaspoons full of granulated brown or white sugar and stir to mix.
You can add a drop of lemon juice if you feel like it to create a soothing effect.
If you desire, you can also add a few drops of essential oil such as spearmint or lemon-flavored oil for a soothing scent.
100% Pure and Natural: Majestic Pure Essential Oils are 100% pure and natural, therapeutic grade oils. This means they are free from toxins, additives, or any nasty chemicals. Completely unfiltered and undiluted for the best result.
Cool & Clear Mind: Experience what it feels like when you have a cool and clear mind, that makes you feel more productive and energetic. A drop of Majestic Pure's peppermint essential oil into your favorite diffuser will bring purity into your surroundings with its minty fresh fragrance and will help you with clarity for mental growth.
Aromatherapy way to a worry-free mind: A top choice by many for aromatherapy, peppermint aids in bringing down your stress levels and tries to rid you of worries, which is much needed in this new age of hustle and bustle.
Diverse Uses: Mixing this Peppermint oil with a carrier oil can help you with some at-home DIY recipes for your skin care and hair care. From hair masks, soaps, to massage oils, its benefits can be enjoyed in many forms
High Quality Essential Oil for Ultimate Care: Using the best of ingredients with the best of practices not only ensures that our oils are of the highest quality, but Majestic Pure Oils also ensure that they are perfect for your various self-care, aromatherapy and gifting requirements
* As an Amazon Associate I earn from qualifying purchases.
With clean hands apply the paste using a finger in a circular motion for 2 minutes
Wipe the sugar scrub off the lips using the clean cotton ball and rinse with warm water.
Finalize by application of your best lip moisturizer or balm
Repeat the same for 2 times a week and your lips will be silky soft after one to two months.
Store your excess homemade lip exfoliator in a closed container and keep in the fridge for future
All-Natural Lip Scrub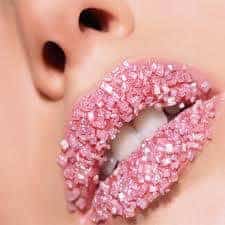 Baking Soda + Water
When baking soda is mixed with some little amount of water, it forms a paste that is suitable for removing dead skin. Baking soda is also a natural abrasive while water is used in dissolving and sticking the molecules together. You can use a toothbrush to scrub the lips together with your baking soda or you can apply using your finger as you make gentle circular motions.
Pure Original Ingredients Baking Soda is the perfect kitchen staple
Sodium Bicarbonate (NaHCO3)
Use in cooking, baking, cleaning & more
Always pure ingredients with no additives
Made in the USA
* As an Amazon Associate I earn from qualifying purchases.
You will be required to apply some Vaseline or a lip balm after the scrubbing using your natural lip scrub. Alternatively, you can apply some olive oil or coconut oil after the exfoliation.  Do not lick your lips after removing the dead skin. If you really feel the urge to do so then apply some chapstick and your lips will feel soft.
Lemon +Castor Oil + Glycerin
This is yet another natural lip exfoliant you can always go right with. Lemon is known for healing most skin blemishes such as black spots on the lips, freckles, pimples, and many more. Therefore the same healing property is applicable for curing chapped lips. Glycerin is a natural moisturizer and helps in not only hydrating the lips but also keeping them smooth and soft. Castor oil on the other hand is best used as a protective barrier.
WHY WE LOVE IT: Sky Organics Organic Castor Oil is a natural source of fatty acids that help moisturize the roots and nourish hair follicles for healthier, stronger and fuller looking hair, lashes and brows.
FOR FULLER LOOKING HAIR: Sky Organics Organic Castor Oil helps condition roots and nourish hair follicles for healthier, stronger and fuller looking hair, lashes and brows.
COLD-PRESSED: Sky Organics 100% pure Organic Castor Oil is retrieved through a process of cold-pressing rather than chemical extraction to help retain its vitamins and antioxidants and eliminate any potential irritants.
FOR BEST RESULTS: Warm a quarter sized amount of Sky Organics Organic Castor Oil into the palms of your hands and spread evenly all over scalp. Comb through from roots to ends. Leave in overnight or at least 1 hour, then wash out with shampoo to reveal deeply-hydrated, luscious-looking hair.
GOOD FOR YOU, GOOD FOR THE PLANET: Sky Organics Organic Castor Oil is USDA Certified Organic, 100% vegan and cruelty-free and is responsibly made in small batches with the highest quality ingredients.
* As an Amazon Associate I earn from qualifying purchases.
Rose Petals +Fresh Raw Milk
Obtain some Rose petals and soak them in raw milk for a few minutes. Proceed to stir the mixture until a paste is formed. Before you sleep at night, apply the paste on your lips gently with your finger. Make circular motions for 3 minutes and you stop. After the 5th minute, you can rinse with warm water and dab dry using a towel.
Finalize by application of some Vaseline or lip balm for moisturizing before getting to bed. Your lips will be soft and kissable the following day with a nice color effect. Repeat using this best lip exfoliator two times a week and for a period of one month, there will be a total difference in your lips appearance.
Natural Lip Scrub with Sugar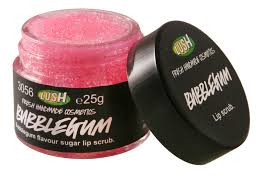 Sugar + Honey + Olive
Naturally, sugar is abrasive and it is the best at-home ingredient suitable for lip exfoliation. When sugar is mixed with natural honey and olive oil, the paste not only removes the dead skin from the chapped lips but also heals and moisturizes at the same time. This is however the best homemade lip exfoliator you can never go wrong with.
Honey is medicinal in nature and is used in curing many diseases. This feature makes it suitable for promoting the healing of flaky lips. It is also a natural moisturizer hence keeping your lips hydrated all day and night long. Olive is a type of edible oil and it is added to the mixture to help in creating a protective barrier. Oil however ensures your lips are protected from excessive sunlight, cold and other factors that lead to drying and chapping of lips.
In conclusion, therefore, when you correctly use your natural lip scrub and you observe no changers, the dry chapped lips could be a sign of a serious medical condition. You are however required to consult your doctor for examination and recommendation of the best treatment.