What are proper sleeping positions and posture? A healthy lifestyle involves proper and enough sleeping. Poor sleeping can affect your health in various ways. Most cases of neck and back pain are as a result of incorrect sleeping posture. Side sleeping is one of the recommended as the best sleep position. What to understand is that the whole concept is not just about side sleeping but how do you attain a proper side sleeping position?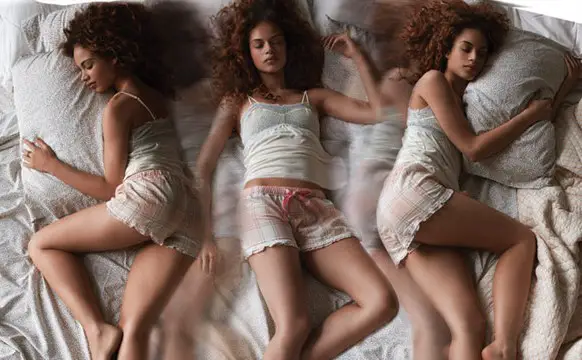 There are some considerations that will help you make a proper side sleeping. They include the following. First of all ensure you are lying on your side, this could be either right or left. The head must be rested on a pillow of standard thickness with comfortable pillow materials. Very thick or thin pillows should be avoided since they turn the neck at an angle.
To ensure that this proper sleeping position balances your spine, place a pillow between the slightly bent knees. The knees should not be brought close to the chest. This will create a fetal position that is not healthy for your back. There should be turning to the opposite side occasionally to avoid spine and chest complications.
The bed should be stiff and not sinking. A hard material like a wooden board can be used to support the mattress from the underside. People experiencing back complications are advised to place their mattress to the floor. This will help in the improvement and quick recovery from back pain.
Proper Sleeping Position for Back Pain
You can treat or prevent neck pain by making adjustments on how you sleep. The two ideal sleep posture for neck pain are the side and back sleeping. Back sleeping ought to be done correctly since a poor one can complicate the situation. The rightful way to sleep on your back should involve the following.
Ensure that your spine remains in its neutral position as standing. Lumbar support can be ideal for proper alignment of the spine. This can be made by rolling a soft piece of cloth like a sheet around the waist before getting to bed. The mattress should be supportive as sinking mattress will injure the spine. A standard pillow can, however, be placed under the knees to create more stability and laxity for comfortable sleeping.
According to the study, those people with back conditions like lumbar spinal stenosis experience pain while sleeping in any position. There could be a change only when the knees are bent." When these people are sleeping, whether on the back or side, they like to bend their knees because that brings their legs up and opens up the back of their spine,"[Dr. Nick Shamie associate professor of orthopaedic surgery at University of California, Los Angeles and spokesman for the American Academy of Orthopaedic Surgeons.]
Proper sleeping positions for this spinal stenosis patients is attained by placing a pillow under the knees as they are lying on their backs. While sleeping on their sides the pillow is placed between their legs and let to bend the knees slightly. Pain can be eased by sleeping in fetal posture.
Best Sleeping Position for Back
You back is key since it contains a great part of the nervous system other than firmly supporting the body frame. Any injury to the back may end up with damage to the spinal cord leading to impossibilities in walking. Good maintenance of the back begins with embracing of best sleeping positions for the back.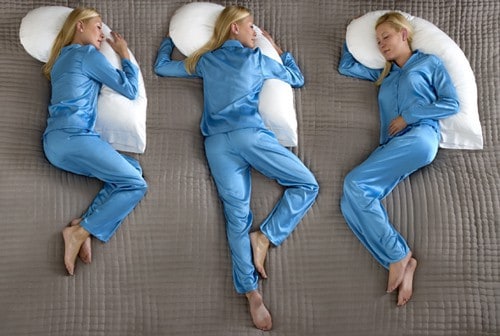 Sleeping on your back is one of the best postures that ensures that your back is healthy. Proper back sleeping is attained when an individual lie horizontally with back on a relatively firm mattress that does not sink. For the sinking spring beds, it is nice if you place a hard material like a wooden board under the mattress.
To ensure that the spinal cord is balanced you should place a pillow under the knees to bend them slightly. The pillow should be of relevant thickness since too thick pillow can cause pain. The materials used in making these support items should be comfortable and conforming to the body shape.
Best Sleeping Position for Lower Back Pain
Sciatica can be caused by poor sleep posture. Lower back pain cases are mostly realized by individuals who take too long in a sited position. The back need to be placed in a standing posture while sleeping. According to the back conditions expert, patients experience pain in any sleeping posture. The pain can be minimized by sleeping in a fetal posture.
Fetal posture helps in raising the knees towards the chest hence trying to balance the spinal cord. Back sleeping and side sleeping are the two recommended best sleeping position for lower back pain. Proper side sleeping position can be achieved by placing a pillow between the legs and bending the knees slightly.
The hands can be placed in front in a free posture. The legs are let to relax and roll towards each other for more comfort. Sciatica can become complex when the beddings are not firm enough. Rolling a soft piece of cloth like a sheet or towel around the waist before going to bed helps in providing the relevant support for the lumber.
Proper Sleeping Position for Neck Pain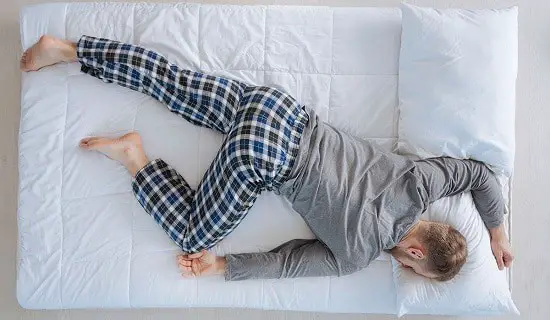 Sleeping on side or back are best postures for people experiencing neck problems. Patients with this condition should not sleep on their tummy. This posture requires the neck to be turned aside hence compressing and straining neck joints.
The pillow to be used in this case should be of the thickness equivalent to the gap between the neck and the shoulders. It is more effective if the pillow is placed at an area above the shoulders. "You want a soft down pillow or something similar that you can kind of bulk and put into the hollow of your neck and support your head,"[ Ms. Brill a neck specialist]
Best Sleeping Position for Neck Pain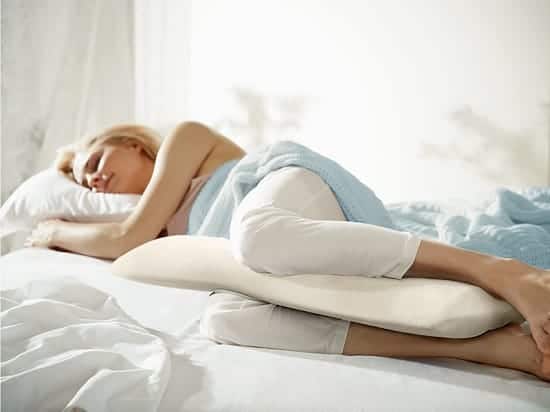 Proper sleeping position is ideal for the wellbeing of the neck and shoulders. Poor sleeping posture contracts neck muscle and an individual wakes up in the morning experiencing neck stiffness and neck pain. This conditions and cases can be overcome by going for the best sleeping position for neck pain.
While sleeping on side or back, the neck need to be strategically positioned to avoid neck pain cases. There should a pillow placed between under the neck to ensure that the body is at the same level and balances with the head.
According to specialists, the pillow thickness used should of the equivalent thickness to the space between the sleeper's neck and shoulders. This thickness hardly allows neck muscles contraction. The materials used in making the pillow should be comfortable and conforming to the neck shape. The shoulders should not be placed on the pillow while sleeping.
There are cases where someone falls asleep while not in bed. Most likely while watching a television on a couch or riding in a car, plane or train. The neck can end up dropping causing neck pains. To ensure this is not happening place a shoe shaped pillow behind your neck. This will hold the neck in position should you become a sleep unknowingly.
Proper Sleeping Position for Neck Pain Tips
Feather pillows are the most ideal for neck pain. They will collapse after approximately one year hence replacement should be done.
"Memory foam" traditional pillows are also the best in this case since they conform to the shape of the neck.
Too stiff and high pillows are not the best. They have a tendency to cause neck pain and morning neck stiffness.
While sleeping on the side a pillow that keeps your head at the same level with your body is effective.
Horseshoe-shaped pillow can be used to keep the neck in position by preventing the head from falling while in some situation like watching television or riding in a car or plane.
Best Sleep Position for Sleep Apnea
Apnea is a condition where breathing is impaired during the sleep due to various factors. The insufficient rate of airflow and poor sleeping posture can cause obstructive sleep apnea. It is difficult to realize on your own whether you have this condition. Some of the things that accompany apnea is snoring and distracted sleeping.
Unhealthy body weight and alcohol are among the cause of this condition. To prevent it there should be a check on your weight as well as minimizing on alcohol drinking. According to the research, apnea can also be prevented by improving on sleeping positions.
Body posture while sleeping is greatly associated to severity of episodes of apnea. The number of cases among the back sleepers doubles that with side sleepers. Studies have shown that, there is slight gravitational effect on the throat while sleeping on the back. The tissues in the upper throat however begins to fall at varied rates. Every individual irrespective of age can be prone to this condition.
Best sleep position for sleep apnea is the side sleeping. There has to be a comfortable pillow that supports the neck to allow free air circulation. The pillow must of the standard thickness besides comfortable.
Best Sleeping Position for Men
The ideal sleeping position for men is the side sleeping and back sleeping. There are few men who comfortably sleep on their tummies. The side and back sleeping is regarded the best since they ensure that the neck and the back are safe when done properly.
Stomach sleeping can cause apnea and neck pain. While in this posture, the neck is twisted to face aside. This is strenuous to the neck muscles hence neck stiffness.
Best Sleeping Position to Grow Taller
While sleeping, there is minimal gravity acting on your bones and spine. Back sleeping is considered the best sleeping position to grow taller. This posture gives room for maximum expansion of the spine since the gravity is almost at zero. The legs ought to be stretched and relaxed while the hands are let free on sides like the soldier sleeping position.
To avoid curving of the spine you need to sleep on a tight or firm mattress. This will not only make you grow tall but also prevents back pain and spinal conditions like scoliosis. You can either use a pillow or not. In case you need one, go for the smaller one that will not have an effect on the neck. A good example of such a pillow is the Japanese cylindrical type.
While practising these best sleeping positions to grow tall, remember to have the relevant diet and nutrition. Growth greatly depends on what we eat besides sleep posture. A healthy balanced diet and enough water intake plus proper growing posture are all you need to become taller.
Recent Content