What is sugaring hair removal? Get more insight on sugaring as a method of hair removal. Read to find out how it works and the best at home recipes.
Sugaring – Meaning
Sugaring hair removal is an ancient process for the removal of unwanted hair that began as an art in the dated back middle-east. This is a method alternative to waxing and is derived from food substances. The hair is removed by root as believed and new hair growth may be realized after a longer period of time of approximately six or seven weeks.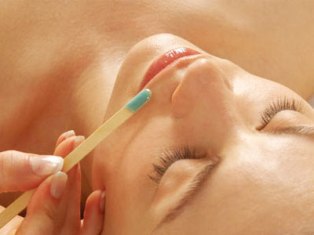 There are two types of sugaring hair removal namely:  The paste and the gel types respectively. Gel is the type similar to waxing. In this technique gel is applied in the hair growth direction and during removal is done in the opposite direction of hair growth. Gel is easier in application as compared to paste. Strips are needed in this sugaring hair removal. The hair to be removed need also to be about ¼ inch in height.
The paste type is where a warm sugaring mixture is applied firstly in the opposite direction of the hair growth. It is then followed by the application in the direction of the hair growth. When removing the paste it is quickly removed in the direction of the hair growth. The gel is a more involving kind of sugaring hair removal though it removes very short hair of about 1/16 inch. Strips are not required here but only you use hands in the application and removal.
Sugaring Hair Removal Recipe
Ingredients
Two cups of white or brown cane sugar
¼ cup of lemon juice
¼ cup of water
Procedures
Mix the three ingredients and place them in a clean and heavy steel made sauce pan. Heavy and strong pan prevents the sugar from over heating
Heat gently over a medium heat. This allows the mixture enough time to simmer.
Stir the mixture continually to avoid sticking at the bottom of the pan
Observe while heating at a reduced temperature and allow it to simmer for about twenty minutes.
keep heating and simmering until the mixture darkens
Dark amber color substance should be seem after approximately 25 minutes of simmering.
Stop heating and remove it from the heat source.
Give it 10 minutes to cool and then place it in an air-tight container.
Store it for use since the sugaring hair removal is now ready for use
At- Home Sugar Hair Removal Gel – How to Use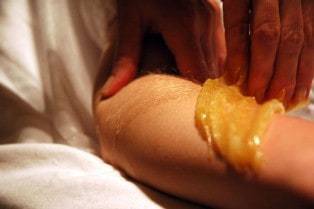 Before the application ensure you have the following
Baby powder
skin cleanse
cloth strips
cotton balls
butter knife or wooden spatulas
Application procedures
Ensure the at- home sugaring hair removal gel is at the required temperature that cannot burn the skin. If the gel is too sticky allow it to worm for few seconds in a microwave. Test the temperature by placing a small drop on your hand skin.
Conduct skin cleansing using the cotton ball especially at the area where sugaring hair removal method has to be done. A body cleansing product can be used. Incase not then a shower can be taken to remove dirt and microbial.
Do not apply any cream lotion or moisturizer on the skin where sugaring hair removal is to be done. This can cause negative side effects during and after the sugaring process.
Apply a thin layer of the baby powder at the area. Thin layer of the powder provides good buffing on the skin and also makes it easier to flick off the strips.
Ensure the hair to be removed is about ¼ an inch or more.
Apply a thin layer of sugaring hair removal gel in the same direction of the hair growth. A thick layer is discouraged since it will make it difficult to remove the sticky gel. It can also cause breakage.
Apply the cotton strip over the sugar gel. This should be done in the same direction as of the hair growth. One side of the strip should be left hanging or unattached to enable easier removal
Remove the strip off quickly in the opposite direction of the hair growth.
For other areas of the unwanted hair reheat the at- home sugaring hair removal gel again to the required temperature and repeat the application procedures.
For sensitive skin areas like the pubic area care must be taken to avoid skin or other organ damage.
Some people may experience a little pain and to calm the area they are advised to apply a recommendable gel.
Avoid touching or massaging the sugared area to avoid irritations and bacterial infections.
Once this is done successfully then it will be the end of the treatment using the At- home sugaring hair removal gel.
Sugaring Hair Removal Pros
The Hair removal can become permanent upon repetitive application. Frequent application of sugaring causes the hair follicle to damage and weaken hence prompt to permanent stoppage in growth.
Efficient and with experienced person. Hair is removed relatively faster and a larger area is cleared with the sugaring as compared to other temporal methods like threading ant tweezing
The sugaring hair removal gel or paste is soluble in cold water. This effect makes it easier to be removed on other non-affected areas. This can only be done by washing with water.
The ingredients are readily available at home. Making sugar gel or paste is easy and cheap compared to other methods.
There are very few side effects when using the sugaring hair removal gel or paste.
Removes the hair follicle by root. This means that the hair follicle will take longer to grow back.
Quick easy and less painful than others like hot waxing.
Sugaring hair removal uses sugar that adheres to the hair and not the skin. This tells us that there is no irritation upon the removal of sugaring gel.
No burns are expected since the sugaring paste is applied at the room temperature
can be done on sensitive skins effectively
No bumps and redness is seen after sugaring is done.
Sugaring Hair Removal Cons
It only work effectively for some specific hair height. For instance ¼ inch hair.
If not carried out well this hair removal technique can cause skin burn and other side effects like irritations skin inflammation and bacterial infections. Therefore it is recommended to be conducted under high hygiene standards.
A skilled technician is required for the most sensitive skins and areas. This may be an extra expense in the sugaring hair removal process.
Pulling off the hair can be painful to some people hence causing inflammation and irritations especially for the most sensitive skins.
The sugaring hair removal cost
Sugaring hair removal is not commonly found and also it requires professionalism for the most effective results. Cost will depend on several factors like the location of the facility technicians or the area to be removed the unwanted hairs.
At- Home kits are available at many counters and it may range from $10 to $50. Homemade sugaring removal own made can be cheap since the ingredients are much available. The price list below can approximate the range of cost for sugaring.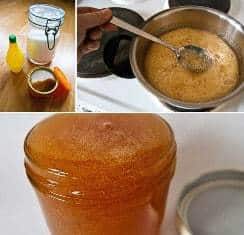 Face areas:
Eyebrow $10 – $50
Lip area $10 – $25
Side burn area $10 – $18
Chin region $10 – $25
Body areas:
Underarms $15 – $40
Shoulders $40 – $55
Chest $35 – $120
Full Arm $35 – $80
Half Arm $40 – $60
Back $50 – $110
Bikini $30 – $75
Brazilian Bikini $60 – $110
Half Leg $30 – $55
Full Leg $55 – $100
Sugaring for Hair Removal Facts
Sugaring is the most popular method of hair removal. It begun in the ancient period and it still exist to date.
Sugaring is the most effective natural hair removal. It is made from natural ingredients that are readily available in our homes
Sugaring gel or paste is soluble in water unlike wax. This makes it easier to apply and clean up.
Longer usage of sugaring hair removal results to slower growth of hair.
There are no side effects or much pain. This is due to its naturalness.
Too little application can't be effective whereas too thick makes it difficult to remove strips. Go for a balance to realize success.
Sugaring Hair Removal – How it Work and what you Expect
The working concept of sugaring. You have to be aware that this method removes the hair follicle by the root. when the hair grow back it could be soft thinner and lighter
How possible is it to make the sugaring gel at home. It is commonly known that sugaring mixture is easy to make at home compared to buying the at home sugaring kit. The ingredients are available in our kitchens.
How safe is the method. This method is termed the safest among all. The gel or paste is applied at room temperature.
Know if you are allergic to the ingredients. This will help you in avoiding this method to opt for another that match your health requirements
The lemon substance in the sugaring hair removal gel acts as an astringent and will always make your ski to shine.
The sugar substance will exfoliate and clear out the dead cells from the skin.
Water makes the gel to be soluble and easy in the application.
Sugaring vs Waxing
Sugaring wax is made from sugar lemon and water which are known to natural compounds. They have no risk on an individual's health. The long usage since ancient periods con prove this fact. Wax contain chemical substances like resins carcinogenic parabens and artificial dyes. These chemical substances are not ascertained to be safe to the body organs.
Sugaring hair removal acts right from very short of as low as a sixteenth of an inch. No one needs to grow bushy for the process to be successful. Waxing always act on tall hair effectively. For extremely shorter hair length the waxing process may not be effective
Wax is applied while hot for effective results though not too hot. Sugaring is applied at room temperature. Thus no cases of burns are observed in sugaring hair removal as a method of reducing unwanted hair.
Wax tend to stick on the skin hence causing more pain in harming the skin cells than pulling out the hair when removing strips. Sugaring gel or paste sticks to the hair and not the skin hence causes no pain and leaves the skin unaffected.
After sugaring the skin is left more toned as hair free no redness or bumps are seen on the skin. Waxing can cause inflammation and redness bumps if nor carried out professionally.
Someone can wax on wax off only once. If hairs are left unremoved you cannot wax again as this will cause bleeding and serious inflammation. In case the hair is left you can only use tweezers to clear it off. It is much disappointing if large patches are left since it will even be more painful to tweeze them out. For sugaring the application can be done more than once subsequently without causing any disaster.
Therefore it is highly recommendable that you weigh between the options before choosing on any particular hair removal method.
Recent Content