Nude lipstick is an essential part of every woman's beauty arsenal. A good nude can complete just about any look, whether it be a daytime work look or a dressy nighttime look. While a nude lip is an absolute must in your makeup bag, it's not always easy to find The Best Nude Lipsticks For Every Skin Tone.
Many women make the mistake of getting a nude lips shade that is too light for their complexion, completely erasing their lips and making them look washed out. Others choose a nude lip shade that is too dark for their complexion, making it more of a statement lip than a nude one. So how do you go about finding a nude lip shade that works with your skin tone? Well, let us help!
Best Nude Lipsticks For Fair Complexions
People with a fair complexion are often in a very precarious place when it comes to finding the perfect nude lipstick. If they go too light, it will wash their lips out and they'll look like a corpse.
If they go too dark, it will contrast with their skin so much that they'll have a good gothic vibe going. Either way, if they get it wrong, they'll have people thinking it's Halloween. The best thing for people with fair complexions to do is choose a nude lipstick that is two to three shades darker than their natural lip color. This is often a pinkish-beige shade, like the ones below:
1. NARS Velvet Matte Lip Pencil in "Get Off"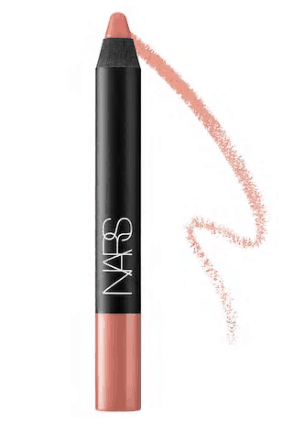 2.Pat McGrath Labs MatteTrance Lipstick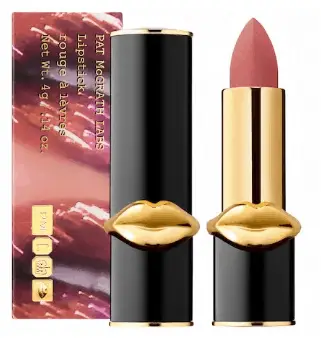 Best Nude Lipsticks For Medium to Olive Complexions
Those with medium to olive skin tones, consider yourselves very lucky. There are a lot of nude lip shades that work with your complexion! People with medium skin tones look best in a variety of nude shades. Peachy cinnamons work very well with olive skin tones, as do medium pinkish-beige shades. Medium beige shades look fantastic on women with caramel-toned complexions, while deep neutral mattes look perfect on those with golden-toned skin. Check out these examples:
1. Giorgio Armani Beauty Lip Maestro in "501"

2. Kat Von D Everlasting Liquid Lip in "Lolita II"

3.Tom Ford Lip Color in "Indian Rose"

Best Nude Lipsticks For Medium-brown to Dark Complexions
People with medium-brown to dark complexions are also very lucky when it comes to nude lip shades! (Not as much when it comes to concealers and foundations, unfortunately – a disservice that the makeup industry is still working to correct.)
Women with darker skin tones can rock a variety of nude shades and look flawless. This includes deep mochas, coppery browns, and reddish-browns. It's important for individuals with darker complexions to avoid lip shades that are too light.
These colors will only settle into fine lines and make the lips look shrivelled and aged. Take a look at just a few great choices for dark complexions:
1. Yves Saint Laurent Rouge Pur Couture The Slim Matte Lipstick in "Peculiar Pink"

2. Charlotte Tilbury Matte Revolution Lipstick in "Birkin Brown"

3. Fenty Beauty by Rihanna Stunna Lip Paint in "Unveil"

You may also be keen on The Best Hairstyles For Every Face Shape or 10 Of the Best Face Masks Available At Sephora