Eyebrow tinting is a practice that has been going on for a long period of time. Improving our brow game is simply a smart grooming strategy, especially when we're going for a natural, off-duty look. Read further to look at some Tinted Eyebrows Before and After examples below.
Defined brows mean you can get away with less makeup and still look put-together. That is why when it comes to tinted eyebrows, a professional option that will beautify this facial feature makeup, is especially great.
What you need to about eyebrow tinting?
Apart from shaping waxing, threading, or tweezing, brow-tinting is a color service that doesn't take away any hair but uses semi-permanent vegetable dye to enhance color, shape, and thickness — or all of the above. The benefits are immediate. Tinting instantly makes you look groomed and adds more structure. You don't have to fill them in every day or use powder, so it's also convenient.
As the beauty world keeps turning its affections from skinny brow to healthy boy brow we look at the art of eyebrow tinting – our favorite low maintenance treatment for thickening and shaping the brows sans hassle.
Why tint your eyebrows?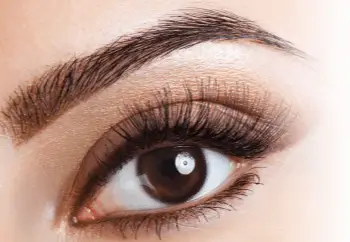 Tinting gives depth and can shape your brows, which frames and flatters the face. As the tint tends to last for a couple of weeks it's also much less fuss than filling brows in daily with make-up.
How to prepare for a brow tinting session?
As your therapist will be using dye, you'll need to check you aren't allergic, or have any sensitivity, to the dye used. Make sure you have a patch test to check for any allergies at least 24 hours before you have your tint.
What happens during a brow the treatment?
You'll have a consultation with a therapist and you'll discuss shape, length, and, of course, color. As tinting lasts for a few weeks it's important to talk through the finish and look you want to achieve.
The color you are supposed to choose
Use your hair color as a guide; if you want something that looks natural stay within one to two shades of your hair color. In terms of tone, a good rule to follow is that blondes and younger faces suit an ashier tone, while warm tones are more flattering to brunettes and as you get older.
How to Lighten Tinted Eyebrows?
Tinted eyebrows give brows definition, which can also help to keep them looking well-groomed. Though permanent brow tints are illegal in the U.S., you may find that natural, tint colors define very fair or grey brows.
Immediately after tinting, even with a vegetable color, brow color can look a little strong or too dark but thankfully it usually fades back naturally within a couple of days, so don't be alarmed if you've had your brows tinted and they look obvious.
Lightening tinted eyebrows
There are a few things that you can do to speed the process of lightening tinted eyebrows. They include the following:
Fading
Leave your freshly tinted brows overnight to settle. After which you will rub some gentle facial cleanser into damp brows and massage for a minute or two. Do not scrub your brows but work the cleanser into coat every hair then leave it to soak in for a minute.
Using water, rinse the cleanser away thoroughly. Follow this procedure a couple of times a day, whenever you clean your face and this should tone down excess color gently.
BLACKHEAD REMOVER: We use Organic Aloe Vera & Organic Rosemary Oil in our facial cleanser to gently & deeply cleanse & unclogs pores, removing dirt, dead skin cells & various pollutants that collect up throughout the day. For smoother, softer skin.
OIL CLEANSER: In order to mildly remove excess oil from the skin without drying it out, we use Citric Acid as well as Aloe and Rosemary in our face cleanser to soothe the skin as well as reduce pores. It's also non-greasy and and non-comedogenic.
HYDRATING FACIAL CLEANSER: Our facewash also includes Organic Shea Butter, Olive Fruit Oil & Coconut Oil to deeply moisturize your skin leaving it refreshed, renewed and revitalized. It's lightly foaming, smells nice and washes off easily. Use daily.
GENTLE FACE EXFOLIATOR: Our original face wash provides a nice deep cleanse so that it brightens the skin while also infusing nature's nutrients to leave your face soft and smooth. Works wonderfully as a face wash for women or mens face wash.
TOP QUALITY SKIN CARE: We use absolutely NO harmful chemicals or chemical preservatives of any kind in our cleanser. Meaning no parabens, SLS, SLES or anything else. It's formulated for sensitive, oily or dry skin. Hypoallergenic. Cruelty Free.
* As an Amazon Associate I earn from qualifying purchases.
Brow Gel
Apply a little colored brow gel through your brows by use of a brush. You have to choose a color that is a little lighter than the tinted shade. If in doubt, select a tint close to your hair. Wipe the applicator so it is clean on a tissue and comb through brows again to shape them as well as blend the color in.
Carry out this process once again, if necessary, and continue to comb browse through until you achieve a natural, lighter look.
Provides a flexible, wearable hold to brow hairs
Gives brows a fuller, thicker appearance; Can be used as a mascara
Light-reflecting formula creates natural dimension and fullness
Use alone or as a final layer over other brow products
* As an Amazon Associate I earn from qualifying purchases.
Eye shadow
You may as well choose an eye shadow lighter than your brows but close to your hair color. Do not choose too warm a shade, especially if you are fair or blonde but rather opt for a slightly ashen color.
Then press eye shadow into brows using a firm, angled eyebrow brush. This allows you to keep within the natural shape, without smudging color around. Pressing on color, rather than sweeping it also gives more control and therefore a more natural look.
By use of a brush that is rounded brow groomer comb the tinted eyebrows. The brush usually looks like a mascara brush. You could even use an old mascara wand as long as you wash it thoroughly.
Also, you can build up a little more color using the same method as before. This professional technique is the most effective way to shape, define, darken or lighten brows but it is best when built up slowly and accurately.[Source]
Sweep a little clear brow gel though to set brows as well as to fix the color.
Tips
Brow gel dries with a little hold, which is useful for maintaining a groomed look that directs the focus away from your stronger brow color. Yet using this, you need to work quickly because it dries firm.
Brows shed and re-grow fast, so waiting for your color to fade a little isn't as painful as waiting for your hair color to grow out. Bottom of Form
How to Fade Eyebrow Tint Fast?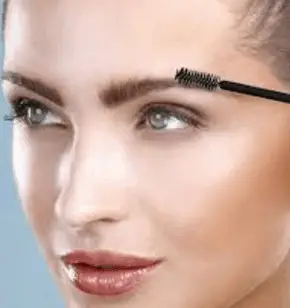 After applying an eyebrow tint you may sometimes feel it is enough to have it on and want to remove it. In other cases the tinted eyebrows may have their own side effects as well hence the only means to control them is by fading them away.
The first thing I can tell you is that if you wash your face regularly, you will realize the color of your tinted eyebrows fades somewhat. If this is still not enough, I would like to suggest a couple of things try before you go and get a color remover and use something so obviously dangerous near your sensitive eye tissues.
Clarifying Shampoo
Use a clarifying shampoo mixed with equal parts of water on a soft-bristled toothbrush to "shampoo" your brows. The shampoo is designed to strip the hair of residues and oils in preparation for a chemical service such as perming, but it can help to remove some of the excess colors from the brows and leave you with a more natural-looking set of eyebrows.
Be sure to tilt your face forward over the sink so that the shampoo mixture doesn't run off into your eyes. You should see results in a few applications.
First aid strength hydrogen peroxide on a cotton pad
Apply it to your eyebrows the way you would use an astringent. The peroxide will not be so strong as to endanger your eyes too greatly if you accidentally get it into your eyes, but will be strong enough to create some lightening effect on the eyebrows.
It is not very advisable to use a color removal product for this purpose, no matter how careful you intend to be. The risks are too great that a mishap could cause serious damage to your eyesight.
How to Tone Down Eyebrow Tint?
If you want to tone down your tinted eyebrows, there are certain things you will have to consider, when carrying down the process.
The first step is to determine what type of color was used on your brows, as even the doctor has to diagnose the cause of the disease before striking the right treatment for it. Tint, or hair color, and henna are the most common. The latter can be lightened at home with a strong over-the-counter shampoo, like Prell.
While using the shampoo, wash your brows with the shampoo and let them dry naturally; the henna coloring should lighten in a few days. But if the esthetician used hair color, do not try to correct them at home unless you want to risk orange or gold brows, which is worse than dark brows, as the experts may recommend.
Go back to the salon, but do not let them convince you that the color will lighten naturally, a process that typically takes two to three weeks. Instead, request that the technician use a high lift developer with a tint to lighten the color evenly, and don't leave until you're happy with the correction. This is all that those who know all about tinted eyebrows will advise.
How to Get Rid of Eyebrow Tint Fast?
Tinting your eyebrows is a cosmetic procedure that is done in order to match your eyebrows to the color of your hair, especially after you have just dyed your hair darker or lighter. You may as well tint your eyebrows when you realize gray hair is taking its course, to make them remain black. Luckily tinting your eyebrows is simple enough that you can do it at home, and removing the tint is just as easy as well.
Lemon Juice
You can use lemon juice on your eyebrows. If you have tinted eyebrows that are too dark and would like them to return to a natural, lighter color, squeeze the lemon juice into them before you go outside. The lemon juice will attract the sunshine and highlight your eyebrows to remove the tint.
Cleanse your eyebrows
Also, cleanse your eyebrows frequently. The eyebrow tint is just a hair dye and will fade the more often water is applied to the dye. Cleanse your eyebrows as frequently as possible with both soap and water to remove the tint.
Facial Scrub
Carry out a facial scrub. Many facial scrubs on the market have scrubbing beads layered into the cleanser. Use a cleanser of this nature, as the beads will exfoliate your eyebrows and remove the excess tint from your brows. You can get one of those facial scrubs here.
MADE WITH 100% NATURAL EXFOLIANTS AND EXTRACTS
HYPOALLERGENIC
PARABEN-FREE
* As an Amazon Associate I earn from qualifying purchases.
Dye 
Tint them again. If you need immediate results, the best way to remove eyebrow tint is to dye them the color that you do want. This means either tinting them darker or bleaching them to make them lighter.
Be Patient
Removing eyebrow tint isn't a process that is usually done overnight. It may take several days for your tint to disappear.
How to Remove Eyebrow Tint Stain?
The color that you apply on your eyebrows may look well on them but not on your skin, which is obviously on the face. While applying the eyebrow dye, it may accidentally get to the skin around the eyebrows.
However, you can fix it quickly by the use of common household ingredients. When you have tint stains on your tinted eyebrows it may seem stubborn, but all you need is a little careful rubbing with the right ingredients.[Source]
Tips on how to remove eyebrow tint stains from the skin
Step 1
Soak a cotton ball with nail polish remover and dab this onto the tinted eyebrow stain. Rub gently and as you do this you should see the stain begin to lift off your skin. Isopropyl alcohol works in the same way as the nail polish remover.
Step 2
You can as well remove the eyebrow dye by use of the non-gel toothpaste on an old toothbrush to scrub at the stain. This also can act well especially if the stain is not that much stubborn.
Step 3
Another method you can use to get rid of the stains on your eyebrow skin is by use of lather up some lava soap with water and scrub. This super- scouring soap is good on many stubborn stains, and might just do the trick on hair coloring.
Step 4
You can as well mix baking soda with enough dishwashing soap to make a paste out of it. Then, rub this into the tinted eyebrows to get out the eyebrow dye stain and also do this well and gently. After applying, rinse off the paste, and am sure your skin will be free from the dye.
Step 5
In this method, you can try if all your efforts have failed but are very careful especially when it comes to the issue of your face. You can use WD-40 which is very risky on the face. Put a little bit on the cotton ball and dab at the tinted eyebrows skin stain lightly. Rinse it off well and wash with soap after you finish.
Eyebrow tint stains on the skin may be stubborn to come out in normal circumstances but am very sure when you try using some of the above methods, you will get a solution to your problem. Always be careful when it comes to areas around your eye as it is one of the very delicate bodily organs that are exposed.
Tinted Eyebrows Before and After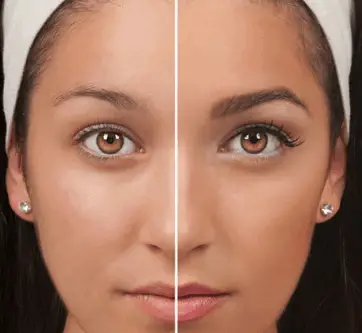 Want to enhance your natural beauty and have the perfect eyebrows. The eyebrow looks after the tinting session will always depend on numerous things.
This will range from the person who worked on the tinted eyebrows, the color used, and skin reaction to the whole activity. Your eyebrow looks before and after the tinting may be great or worse than expected. So always have this in mind.[Source]
Eyebrow Tinting
If you want to create that arched look, the one carrying the process may use a very special eyebrow tinting technique or if you just want to make them look fuller and more defined. This may last 4 to 6 weeks.
Eyebrow Tinting Before and After
There must be an analysis for your face shape as this gives you the perfect eyebrows. There are many eyebrow shapes and not all of them will suit your face and facial features, the expert must be good in eyebrow shaping and knowing what works for you.
Eyebrow Shaping Before and After
If you want to create perfect eyebrows (with a very special eyebrow tinting technique that will not necessarily make your eyebrows darker) or if you just want to make them look fuller or more defined, this is the treatment for you.
It combines eyebrow shaping and eyebrow tinting and is the most popular eye treatment as it enhances all eyebrow shapes. Lasts 4 to 6 weeks.
How to Shape Eyebrows – What is the Perfect Eyebrow?
It is so important to create that perfect arched brow as it balances your features and frames your eyes. I tend to work with your natural shape but important to visualize the shape before you start.
The start of the brow should align with the upper bridge of your nose, so many people start their brows too far apart which makes it very hard to create that perfect arch. The arch of the brow should be about three-quarters of the way along then taper off following the angle of your eye.
Tips for eyebrows, eyelashes, and dry cuticles
Applied in a small amount on the eye hairs work well for regrowth and eye conditioning. Apply the excess on your cuticles whilst massaging in circles and pushing the cuticles back. This will help strengthen the nail bed and give you smoother less flaky nails.
If you wanted a new look, decided to dye your eyebrows, but came back from the salon with way darker brows than you anticipated. Now, you look a little angry so you need a quick fix. Here is how to remove tinted eyebrows easily and painlessly.
Normal Shower Routine
The first thing you should know is that your body's natural oils and your normal showering routine will likely fade the dye quickly within the first week.
Remove Excess Dye
You can try to remove the excess dye from your hair with an oil or with a silicone-based makeup remover and a cotton pad. This will help reduce the pigment by at least one shade.
If that all will not help and you're still freaking out, below are some of the quickest and safest ways to remove a bad brow job.
Dilute the Color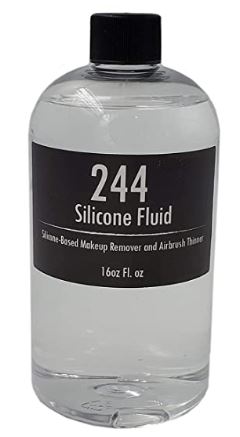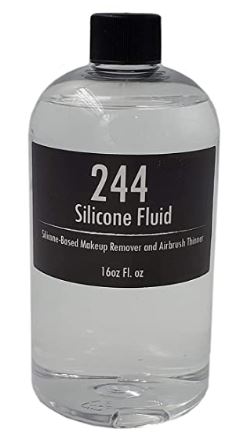 Continue to use a silicone-based makeup remover or toner to dilute the color on your brows and skin. You can also wash your brows with a washrag using your typical shampoo to remove henna dye one of the most common dyes used in brow tints.
Use Clarifying Shampoo
For Hair Burdened by Buildup
Color Safe
No Sulfate Phosphate Paraben
* As an Amazon Associate I earn from qualifying purchases.
Residue from products, natural oils, and dyes. Apply a little clarifying shampoo to your eyebrows and brush through with an old toothbrush. Leave in for a minute before rinsing.
DIY Dye Remover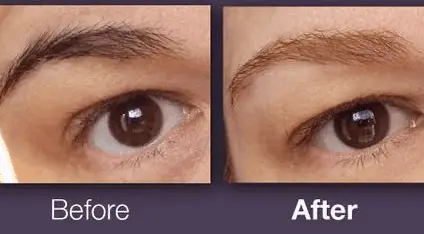 If you can't get to a salon or your hands on a clarifying shampoo, you can DIY your own solution. Mix one part baking soda and one part of your typical shampoo to create a thick paste. Brush into your brows for a few minutes and then rinse.
Facial Bleach
Bleaching your eyebrows is a last resort, and honestly best left to a professional. But if you're too mortified by your purple eyebrows to face a job interview tomorrow, then proceed cautiously.
Facial bleaches often contain first-aid strength hydrogen peroxide, which is safe but can be dangerous getting it that close to your eyes. Carefully brush this into your brows and follow directions!
Go to a Hair Salon
If you went to a beauty salon and they did you dirty, try a hair salon next time. Hairstylists have a greater understanding of the dyes and shades not to mention your stylist already has an intimate knowledge of your natural hair texture, type, and color.
Brow Products
If you wanted some dirty blonde brows but they came out platinum, you can compensate with some high-quality brow products like dip brow, brow pencils, or tinted brow gel. This gel with color correct and keep the hairs in place.
For Black hair with a warm undertone
Long-lasting and smudge-proof
High-pigment formula glides on easily and dries fast
Acts as an all-in-one brow product
Available in 11 shades
* As an Amazon Associate I earn from qualifying purchases.
You May Also Like: