Although Western makeup brands are still dominating the market at the moment, Korean products (especially foundations) are rapidly catching up. Korean BB and CC creams have become viable alternatives for people who are looking for something that is both subtle and offers full coverage.
Since the market is full of options, we have decided to compile a brief list of Best Korean Makeup Foundation that are both high-quality and will not force you to break the bank. In this article, we will cover only a handful of products that we believe will satisfy as many people as possible. Here are five of the most affordable Korean brand foundations.
Eglips Saranghae Zoo Foundation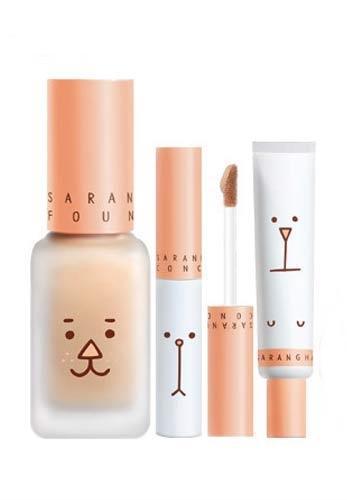 If you are looking for a 100 % authentic Korean makeup foundation, this formula from Beautynet Korea might be up your alley. People who are not keen on the excessive whitening effect that many Korean BB and CC creams have, but want to try something more toned down, will find this formula especially useful. This color matching foundation will suit anybody's personal requirements –  with a standard SPF rating for 36, it offers a lot more coverage than its counterparts.
It is available in a 30ml, animal-themed bottle that is very tightly secured and portable. On top of all that, you can also use it as a makeshift concealer to hide any blemishes, freckles and uneven skin textures. It comes in two colors variants (beige and vanilla), so if you want to sort out your uneven complexion, this is one of the best Korean foundations that you could choose.
Clio Kill Cover Highest Wear Foundation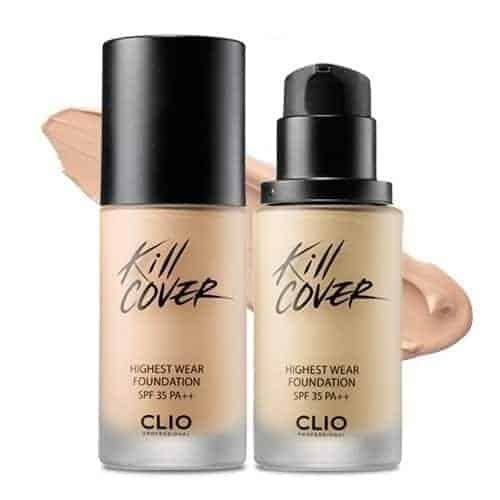 If you expect your foundation products to go the extra mile and offer both long-lasting coverage and built-in sun protection, then you should consider giving this formula from Clio a shot. It features an advanced formula that contains silicone pigments, which ensures wide, long-lasting coverage, with a flawless, yet subtle finish.
Since it has a semi-matte finish, people with oily skin should have no issues using it. Furthermore, due to its excellent and all-encompassing coverage, this foundation formula can conceal even excessively enlarged pores, preventing your skin from secreting too much oil. All in all, this formula from Clio is a perfectly viable choice, so make sure to give it a shot next time you are out shopping.
Etude Double House Double Lasting Foundation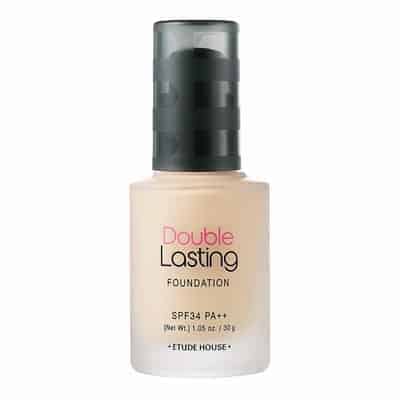 When it comes to Korean brand foundations, there are few better choices than this formula developed by Etude. This foundation, which has a creamy consistency, is available in natural tones, such as beige. Due to the fact that it has a rich and thick texture, one drop of this formula is enough to provide your skin with full and long-lasting coverage. In spite of its creamy consistency, it is actually very suitable for oily and combination skin types thanks to its matte finish.
Furthermore, if you are dealing with acne scarring, blemishes, and an uneven complexion, this formula can serve the role of a concealer, hiding your skin imperfections with ease. Because it imitates the natural color of the skin, all skin tones, from pale and black, can use this foundation without encountering any issues whatsoever. Stores sell this Etude foundation in five shades – tan, beige, sand, vanilla and fair. As a sweet bonus, it also provides a sun protection factor of 34.
OHUI Ultimate Cover CC Cushion Foundation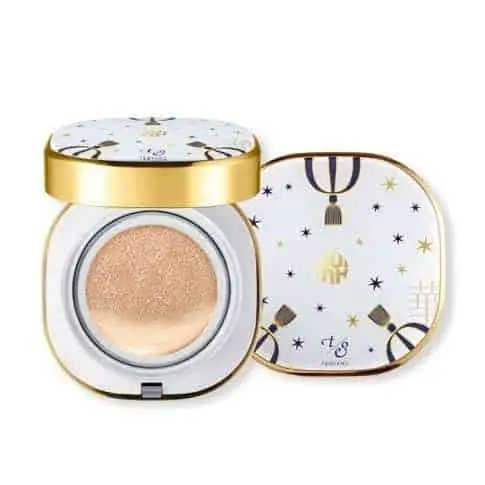 If you have a light skin tone and want a foundation that is capable of enhancing your complexion, this whitening foundation from Ohui is one of, if not the, best choice that you can make. Sold in a compact, highly portable container, this formula will provide perfect coverage, along with helping you obtain your desired complexion. Similar to other Korean brand foundations, if you are dealing with skin issues such as blemishes, acne scars, and dark discolorations, among others, this OHUI formula will help you cover them.
Furthermore, if you have oily skin, the OHUI ultimate will keep your makeup intact for almost the entire day, even on the hottest weather. Make sure to check their online store, as OHUI has made a habit out of releasing special editions of their cosmetic products.
MISSHA Magic Cushion SPF 50+/PA+++ Makeup Foundation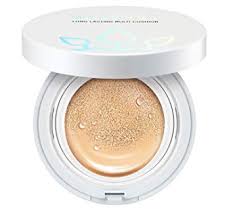 Even by Korean foundation standards, Missha is a relative newcomer on the Western cosmetics market. Out of their selection of products, the most interesting formula has to be the Magic Cushion.
Featuring a creamy liquid texture, this formula combines the best elements of BB and CC creams into one, long-lasting foundation product that provides full coverage and a luminous shine. On top of that, it is also perfect for moisture control and hiding wrinkles. It is ideal for sensitive skin as it does not clog the pores.
Conclusion
While nobody can say that one is better than the other, Korean brand foundations have the advantage of providing a subtler effect, while offering full coverage at the same time. If you want to take a break from Western foundations and try something new for a change, make sure to give one of these products a shot.
You may also be keen on 19 Best Face Creams for Dark Spots and Uneven Skin Tone in 2020 or 10 Best Drugstore Mascara For Thickness And Length