How to Make Blonde Hair Dye. You can save part of your money by avoiding hefty pays to salons by learning how to make blonde hair dye. This is the only way you can be certain of the ingredients used as natural and safe. To know whether homemade blonde hair dye recipes work, perform a strand test before making the full head application.
Though homemade blonde will not instantly what you want but can be achieved in stages of natural hair lightening. Chemicals used in bleaches and some brands of hair dyes can be harmful at one point in life. Especially when you are not sure whether they are accumulating in your body or not. Here are recipes for home preparation of own blonde hair dye.
DIY Blonde Hair Dye Recipe
There are two types of homemade blonde hair dye. The complex at home blonde hair dye and the simple or basic homemade blonde hair dye.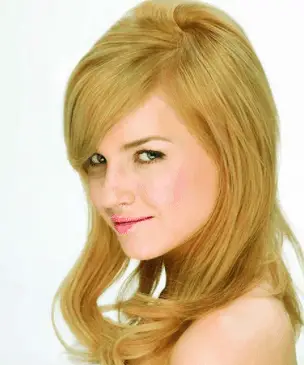 How To Dye Your Hair Blonde Without Hair Dye?
Instructions
Take one pint of Cider Vinegar and one ounce of rhubarb root and mix to boil and simmer for ten minutes respectively.
To the mixture add 2/3 ounces marigold and chamomile flowers each, lemon juice extracted from two lemon fruits. Stir and simmer again for five minutes more.
The resultant substance is then mixed with two ounces of honey and the same amount of 95% proof liqueur alcohol. Store in a capped bottle after thorough mixing.
Shampoo your hair and then apply the dye mixed in water. You will need one tea tablespoon full of the dye in approximately one liter of water for a single rinse.
If you want highlights then use a brush to apply your own homemade blonde hair dye in streaks and you will observe them after complete drying.
For more intensive shade, three to four times per week can be made in the application.
Simple Basic Homemade Blonde Hair Dye
There is also a way on how to make blonde hair dye that may be mild though your hair will lighten to some level. You need to have one cup of lemon juice and three cups of chamomile tea. It should be brewed and cooled.
Mix them and apply them to your hair then sit in the sun as you observe the color change. Rinse to wash out then apply a conditioner. For real air change, repeat severally for a few weeks.
When you apply either olive oil or coconut oil to your hair and sit in natural sunlight, your hair can lighten to a certain level. The only problem with this technique is the scorching effect of the sun on your skin. The application of sunscreen can help in minimizing skin burning.
Brand New Genuine Khadi Natural Product in Export Packaging. Customer Satisfaction Guaranteed.
Made with Senna Cassia, that improves the texture & strength of your hair.
Rich in Vitamins E & D to moisturize and revitalize your hair, giving it volume, and restoring its natural color.
Herbal Formulation is safe and effective for all hair & skin types.
Made in India.
* As an Amazon Associate I earn from qualifying purchases.
Cassia powder is also a natural way of lightening your hair to blonde. The consistent application of this powder mixed with lemon juice results in hair lightening. The process should be done after shampoo and a conditioner should follow for a shiny appearance of the hair. You can attain your blonde by making several applications about three times per week.
Different Shades of Blonde Hair Dye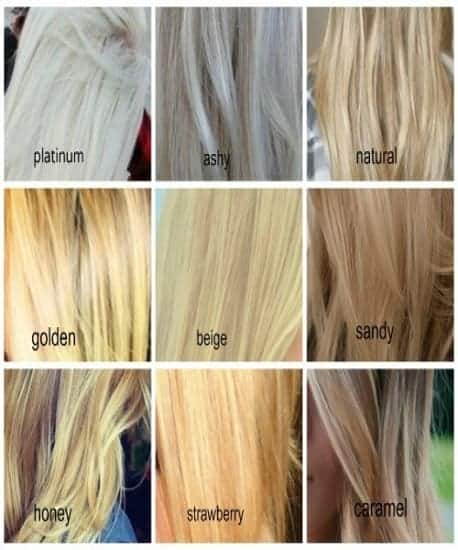 It is quite tricky in selecting the right blonde shade to accentuate your hair. The different shades of blonde hair dye have different intensities of toning your hair. While going blonde it is not easy to predict the outcome. As much as you expect the best, there are also probabilities of hair damaging as a result of bleaching, your hair coming out brassy or look unnatural.
Things to Know Before Going Blonde
Know your financial level in budgeting for blonde. Remember that blonde is the most demanding hair color and you should be ready to maintain it regularly for a stunning appearance.
Consider your skin tone and natural level of hair color. The blonde shade you are going for should be the perfect complement of your body features. Are you cool or warm skin? Find out and also consider how your eyes will look in the blonde hair color you want to wear.
Professional colorists should be able to advise you on the kind of blonde hair dye suitable for you. Learn how to make blonde hair dye if you want your hair naturally dyed at home.
Blonde hair color should also contrast your makeup appearance. The lipstick and eye shadow you use should be of the right color to complement your blonde.
Understand why you want to dye your hair blonde, is it permanent or temporal? This should direct you on whether to go for highlights or completely dye your hair blonde.
Since there are different shades of blonde hair dye, your natural hair color should be considered in finding out the right shade of blonde hair dye to make you look natural. In a nutshell look at the following shades of blonde hair dye.
Light Blonde Hair Dye
Light blonde hair dye is perfect for lightened hair only. This shade of blonde hair dye cannot lighten naturally dark hair. Bleaching is required to lighten the dark hair before application of any light blonde hair dye. For dark dyed hair, color remover should be used to strip off the dye before application of light blonde hair dye.
Best Light Blonde Hair Dye – Brands
Henna Hair Dye – Light Blonde
Clairol Natural Instincts Haircolor, Light Blonde 002
Garnier Nutrisse Ultra Color Permanent Haircolor, LB2 Ultra Light Natural Blonde
Garnier Nutrisse Crème Extra Light Natural Blonde 10
Nice'N Easy Hair Colour Light Golden Blonde 102G
Nice'N Easy Hair Colour Extra Light Beige Blonde 97
Clairol Perfect 10 By Nice 'N Easy Hair Color
Reddish Blonde Hair Dye
This shade of blonde hair dye works well for lightened or blonde hair. Dark and black hair requires to be bleached for a nice appearance of this hue. Light brown or dark blonde natural hair may not need bleaching through orangey may be observed among some hair types.
Check out the 17 Best Ash Blonde Hair Dye in 2020
Caramel Blonde Hair Dye
Caramel is a shade falling between beige blonde and golden brown. This nuance is perfect for warm skin, light pale individuals. The color adds radiance to the yellowish or golden tinge undertones of the skin making it vibrant. Caramel blonde hair dye is one way of accenting your hair with this beautiful hue.
If you want to highlight your dark hair, caramel blonde hair dye is all you need. Similarly, brunettes can appear more vibrant in caramel highlights. It is also the best way to go for lowlights when you want to add a hint of dramatic richness to your blonde.
Best Caramel Blonde Hair Dye Brands
Nice 'n Easy Color Blend Foam by Clairol
Feria in Golden Sunset or Caramel Kiss by L'Oreal
Frost & Glow Kit by Revlon
Dark Golden Blonde by John Frieda
Honey dip or Brown Sugar by Garnier Nutrisse.
Super Blonde Hair Dye
Super Blonde crème lightening kit by L'Oreal is said to be perfect for blonde and light brown shades to lift blonde and lightened hair. L'Oreal Super Blonde Prelightener can be used to pre-lighten your naturally dark hair prior to the application of your desired light shade. The same product is best for removing the old color of the dyed hair.
The complete kit contains all you need for the application and some instructions you should carefully follow. Your hair will require conditioning after super blonde hair dye treatment for a moisturizing and soft shiny appearance.
Blonde Hair Dye for Men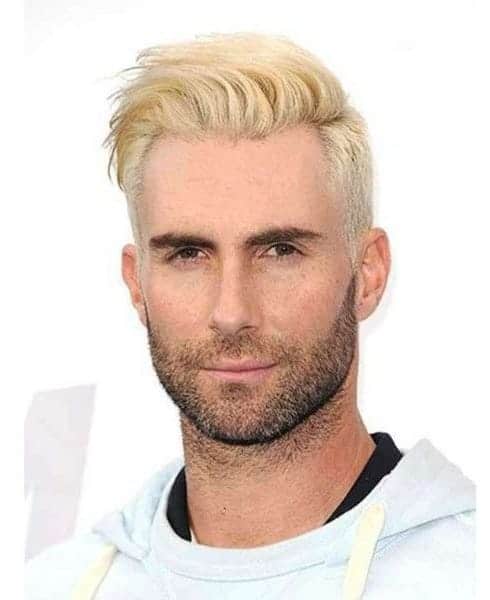 Just like women, some men may derive fun in coloring their hair. It is not bad to change your appearance by dying your hair with your desired hair color. For your natural blonde hair, the best blonde hair dye for a man should be able to lift your color.
For dark, black and brown hair, you will need to bleach before you apply your blonde hair dye for men. Skipping this process will make your hair dye to have no effect on your hair. The process is hair damaging and is better done in a salon.
Dilute bleach solution when applied in stages for some time will end your hair bleached with minimal damages. The conditioner should be applied after every bleach to restore the moisture capacity of your hair. If you know how to make blonde hair dye at home then you can still lighten your hair naturally without risking breakages.
Best Blonde Hair Dye for Men
Just For Men H10 Sandy Blond Hair Color
Just For Men Natural Sandy Blonde Hair Colour – H-10
3x Just For Men Hair Colour Natural Sandy Blonde Packs
Just For Men Shampoo-In Hair Color, Dark Blonde/Lightest Brown
Blonde Hair Dye on Brown Hair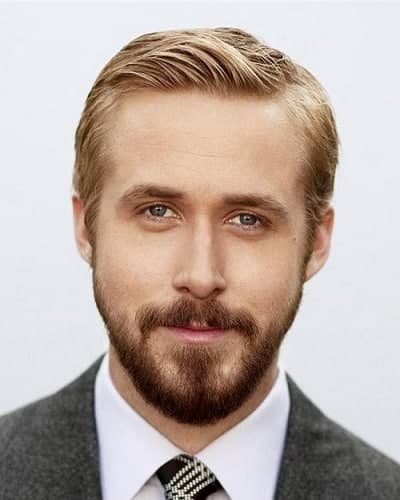 Blonde hair dye may not suitably lift your brown hair color without bleaching. Blonde hair dye on brown hair can end up in an orangey appearance. Your naturally brown hair should be lightened using a bleaching solution. As said, bleaching is hair damaging and it's better if done in a salon by a professional colorist.
Going blonde from brown is quite impossible without bleaching, and generally, this is the only certain way of going light from dark. You can only go for highlights if you really don't have to bleach your hair. For your brown dyed hair, you need to strip off the color using a color remover product. After the dyeing process remembers to condition properly.
Recipes on how to make blonde hair dye can help in learning how to make your own at home blonde hair dye that is free from chemicals due to the use of natural ingredients. There is no guarantee of the mentioned products as effective and safe. Conduct an allergy test to be certain of any product you want to purchase for your hair coloring.