What is the best ash blonde hair dye? Ash blonde hair color is now in the spotlight and seems to be a new glory. This trendy color has a unique nuance that makes someone look cool and stunning. This blonde hue is perfect in accentuating cool skin complexions hence creating a flattering appearance among the lovers of this color.
To make your ash blonde vibrant, you ought to bleach your hair if black or dark is your natural hair color. This is the only way to avoid your hair appearing yellowish due to the red pigments available in this hair color. There is no much hustle in going ash blonde if your hair is a natural blonde.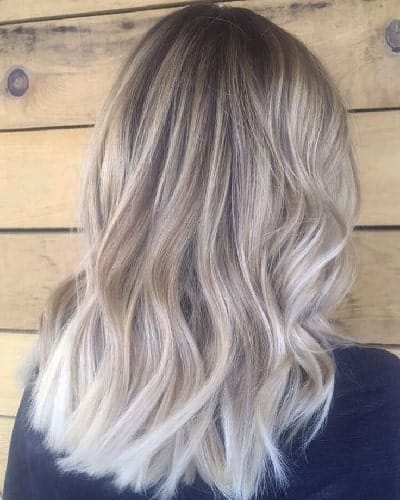 Going blonde can either be professionally handled at the salon or you can risk to do it on your own. Bleaching is a hair damaging process and one way of minimizing this is going for the best ash blonde hair dye that ensures the safety of your hair.
[Related Article:
10 Best Flat Iron For Damaged Hair And Buying Guide
]
Best Dark Ash Blonde Hair Dye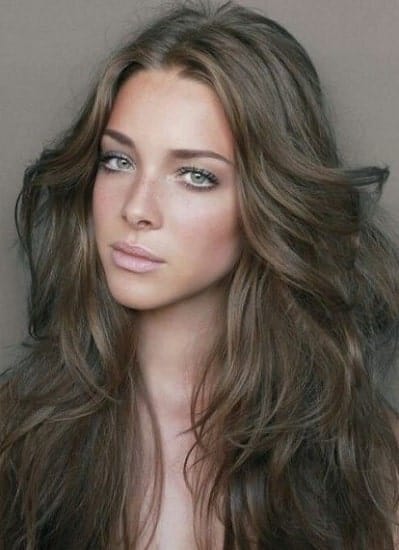 While choosing a hair dye for your blonde it is good to know about the effect the effect of the product on your hair, the maintenance level and your allergic reaction to the dye. Going back to your natural ash blonde should begin by application of a color stripper to your hair, that is, if your hair is dyed with a different color. This will prevent you from cases of hair turning grey or orange as many people claim.
If you have naturally blonde hair, going ash blonde is one of the simplest things. Select the best dye and consult your doctor to make an allergy test. You should not burn your scalp or irritate your skin as a matter of applying an invalid dye to your hair. You will also need to do a strand test and cross check with the time and outcome as provided in the instructions.
Application
Be careful during the application since hair dye is so staining when it gets in contact to your skin or any other material. That is why you need to use gloves while applying as a piece of a towel is placed on your shoulders. Timing is important and the dye should not take more time in your hair than specified in the instructions.
Dark brown or black hair should be bleached prior to the ash blonde hair dye application. The lightning should be done to several levels for the most vibrant outcome. Bleaching can be hair damaging this is where extra care will be required. Ensure the bleach is not exceeding the prescribed time in your hair and dye should follow after complete drying of the hair.
It is very vital to maintain your hair well after the dyeing process. Normally bleaching dilapidates your hair and it requires nice after treatment for the repair to take place. A good conditioner should ensure that your hair is restoring its moisture capacity.
[Related Articles:
10 Best Hair Removal Device for Bikini Area and Buying Guide
]
Best Dark Ash Blonde Hair Dye Brands
There are various brands of hair dye that are popular due to their well working nature. Among them include the following.
L'Oreal Superior Preference Dream Blonde Hair Color, 7A Dark Ash Blonde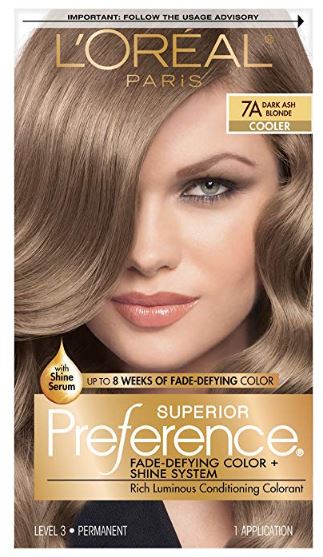 According to customer reviews, this product is said to be the perfect and the kit comes with a shampoo, conditioner application gloves, instructions, pre-conditioner and the dye itself.
"L'Oreal dream blonde hair colors dark ash blonde 7A is the most complete Color and Care system designed especially for blonds. It combines breakthrough conditioning technology with anti-brass actives to ensure beautiful layers of color and light for the most ethereal blond."[Description by the manufacturer]
This product can be obtained from different sellers at varying prices that include the shipping cost. The following are the sellers, Best Price Online FL, DEALSOUTLET, BEAUTY PLUS, and Beauty Time among others.
Revlon Colorsilk Beautiful Color, Dark Ash Blonde 60 1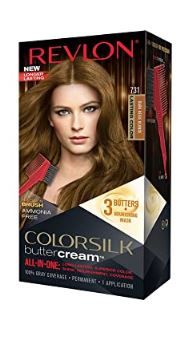 The complete kit of this product has ammonia-free colorant, gloves, cream color developer and a conditioner. The customer review states that the product gives your hair a dark ash blonde appearance with no brassiness. The ingredients used meets the safety health standards though allergic may happen as reported by some people. Take a test from your doctor before proceeding to use.
Instructions should be carefully followed to avoid damages to your hair. You are not advised to use if your scalp is damaged or your skin is sensitive. Perhaps coloring your hair ever made you reactive then you should seek clarification from the physician before you use Revlon Colorsilk Beautiful Color, Dark Ash Blonde.
Garnier Nutrisse Radiant Blondes (7.31 Dark Golden Ash Blonde)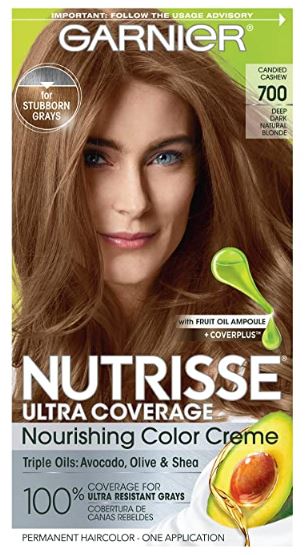 This is another best brand from Garnier that has the ability to accent your blonde hair by giving it a warm vibrant golden tone. According to the customer's reviews, this product is long-lasting and makes the user look natural.
Others include
There are also more other best hair dye products for blonde hair you can obtain from other manufacturers and ensure you make enough inquiry and testing before you settle on a brand. Hair coloring especially where bleaching is involved should cautiously be handled if not professionally.
Light Ash Blonde Hair Dye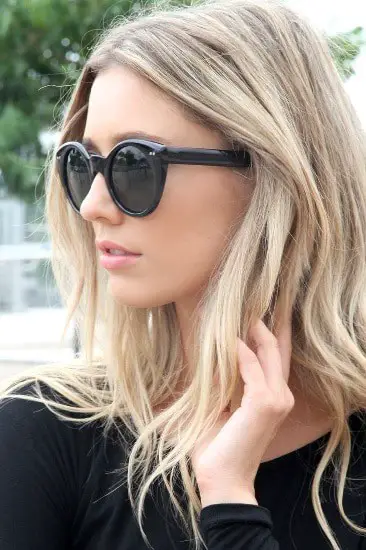 If your hair is light or medium blonde or grey toughs, you can minimize the orange and red undertones with a light ash blonde hair dye. There are best ash blonde permanent and semi-permanent dyes that are long-lasting and they may require one single application to change the appearance of your hair.
An ideal complete kit should contain a color seal conditioning gloss that also moisturizes your hair to naturally glow and shine. Maintenance is the best way to make your hair dye last longer. You should also remember to touch up the roots by re-coloring them once they surface. Pair up your chic light ash blonde hair with best nude lipstick for fair skin.
Natural Ash Blonde Hair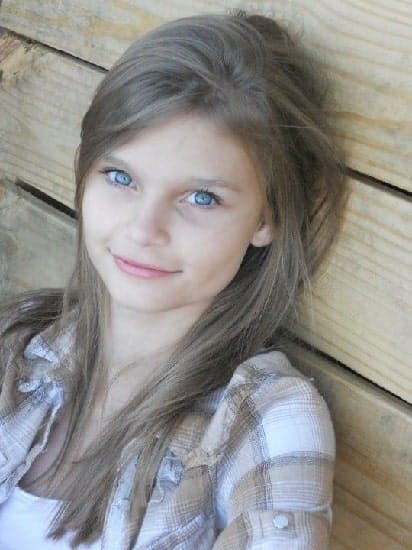 Natural ash blonde hair is among the most stunning hair color admired by many women. This the coolest nuance of blonde that makes the pink and purple undertones in your skin to look vibrant. You might have not realized this natural hair color can make you step to the spotlight and you decided to dye to a different color.
It is not yet late for you since you can go back to your natural ash blonde hair. You don't have to incur more salon expenses in achieving this. For your dyed hair, you will need to go for a color remover that is effective in stripping off the dye molecules. Follow the instructions as you apply the color stripper and it will be even more undoubted if you carry out strand test.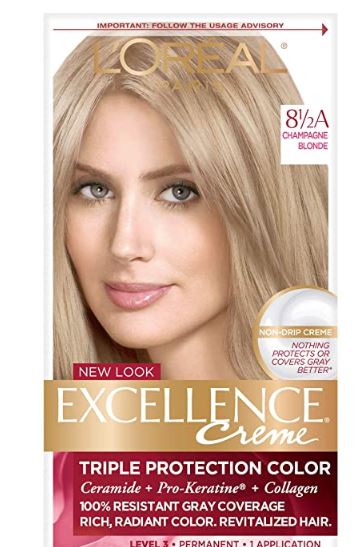 Sometime a tinge may remain as a result of the previous dye in your hair that has taken quite long. However, you can decide to let the tinge fade naturally as the new roots develop or you can apply a semi-permanent hair dye that resembles the color of your natural ash blonde hair such as excellence 8.5 natural Champagne Blonde by L'Oreal Paris.
For instance, if your hair is currently brown or dark, you may end up with a yellow or orange tinge after the color stripping process. Ash blonde semi-permanent hair dye like nice n easy light ash blonde is what you will need to neutralize the orangey tones.
To perfectly accomplish this mission a nice conditioner should be used regularly. This ensures that your hair is healing from the damages and the moisture capacity is getting restored. You will also need to use a good shampoo brand that ensures your hair is looking healthy, soft and shiny.
Medium Ash Blonde Hair Dye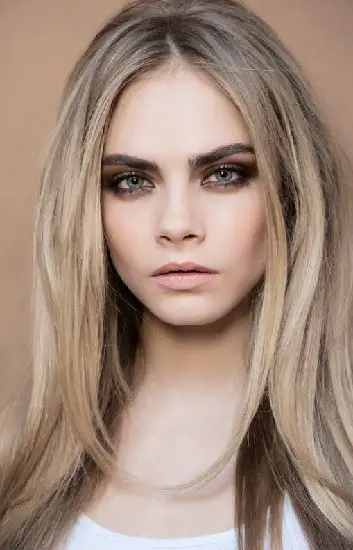 L'Oreal Paris Excellence Creme Triple Protection Hair Color, 7-1/2A Cooler Medium Ash Blonde is among the best brands for medium ash blonde hair.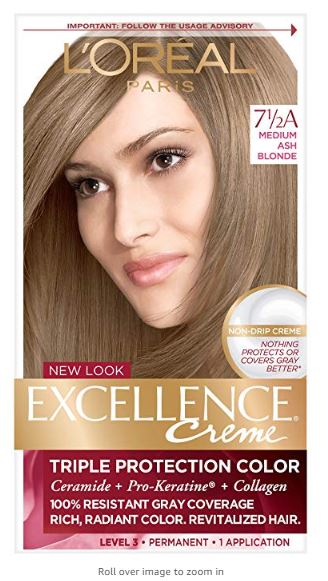 Going medium ash blonde is one way of accentuating your cool skin complexion. This is the perfect hair color that can complement your hazel, brown or blue eyes to look outstanding. Like any other dye, medium ash blonde should be applied carefully while following the procedures as provided in the kit.
The salon comes to be the ideal place where your hair dyeing process should be done. It may be tricky in attaining the correct tone of the medium ash blonde hair color. This because most color or dye outcome seems deeper or lighter than the image on the box.
How to Get Ash Blonde Hair
The best way to get ash blonde hair is an application of ash blonde hair dye. This can be perfectly done at the salon by the professional colorists. Alternatively, you can also do it on your own by purchasing the right hair dye kit. It is much easier to attain this hair color if you are naturally blonde.
Conversely, for dark hair, it is quite a complicated and risky process. This is due to the hair lightening process that involves bleaching with chemicals that may damage your hair, scalp or the skin. Therefore if you decide to risk and do it on your own you need to follow procedures strictly as provided in a nutshell.
Select the best hair color product and perform an allergy test
Wear the gloves and place a towel at your shoulders to protect your clothes and skin
Empty the content of the dye bottle into the applicator cap and shake well
Carry out stand test as per the instructions.
Divide your hair into small sections and begin the color application
For bleached hair ensure it is completely dry
For stubborn hair, give more time for the color to form but preferable as indicated.
Rise your hair clean until clear water is out
Apply a color seal conditioning gloss to moisturize and lock the color in.
Maintain your hair with a correct shampoo and conditioner for a long-lasting outcome.
Watch the following video to learn how to get ash blonde hair at home
Ash Blonde Hair Dye on Black Hair
Black hair is tough and it contains more red pigments according to the study. The pigments ought to be removed to avoid yellow or orangey tinge after the application of ash blonde hair dye. Bleaching is the most common way of ensuring black hair is lightened before any color change.
This hair requires several sessions of bleaching until the right level or stage of lightening is achieved. Hair damage can occur in the process and time indicated on the bleach chemical should be adhered to accordingly. Failure to which you are risking your hair of frying.
Ash Blonde Hair Dye on Bleached Hair
Bleached hair to the right level is the best in making the ash blonde dye appear vibrant, shiny and natural. This also ensures that the dye lasts long without fading. Unbleached hair is likely to cause a disappointment given that the color may turn out different after the dyeing process. To avoid that carefully carry out the bleaching process for a stunning appearance of your ash blonde hair. Also, know about bleach blonde hair dye.
More on Best Hair Dye Brands, Colors and Shades
Related Reading: Best Hair Color, Eyes Color & Skin Tones
Recent Content