What is the best navel jewelry? Get more insights on navel piercing jewelry of various metals such as steel, titanium, diamond, and white gold belly button rings that are real and fake.  And, check this first before getting a belly button piercing.
Navel piercing is a treasured art of beauty among many women. To make the piercing purposeful, there is an insertion of a navel piercing jewelry for an outstanding appearance. There are different types of navel piercings that work effectively for specific barbell rings. Before thinking of a ring you must have first of all thought about the kind of belly button piercing you love.
Among many celebrities, some of the most popular types include: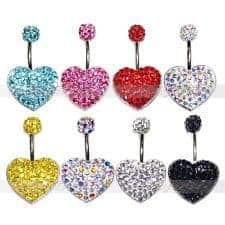 Despite the dangers and risks associated a great number of these body piercings are successful with a few challenges of rejection and infection. When you have clearly made up your mind you have to get to a reputable tattoo shop with professional piercers who should conduct the piercing. The major secrete in ensuring a successful healing process is to strictly adhere to and follow the navel piercing aftercare instructions recommended.
A period of 9 to 12 months is enough to for you to go through healing. Once a navel piercing is performed, there is an insertion of a ring into the piercing. The barbell has to remain in place until complete healing. Premature changing can lead to a navel piercing rejection that can take place even after healing is complete.
There are different navel piercing jewelry in the market. Not all of them are effective for everyone. It not only depends on the type of navel but your body's acceptance in terms of shape and allergic reactions. Some metals can cause irritations and pain due to the material used or the weight.
Above all, there is standard navel jewelry for each kind of belly button piercing and it must have the following specifications: Thickness must be 1.6mm and 9.5mm long. It should have silver caps that measure 5mm in diameter and 8mm for upper and lower ends respectively.
Once your professional piercer certifies that you have completely healed, you can therefore change the ring to your preferred navel jewelry. Despite that, you will also mitt the challenge of selecting the best brand and type of ring to accentuate your belly.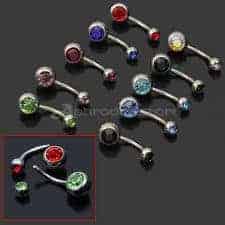 Here are some of the top-rated rings you can never go wrong with.
CZ Round Solitaire Mini Belly Button Navel Ring
PASSION ETERNITY Reverse Dangle Navel Belly Button Ring
summer Rose Top & Bottom Surgical Steel Belly Button Ring
Mystical Seahorse Head & Tail Surgical Steel Belly Button Ring
Dragonfly Head & Tail Surgical Steel Belly Ring
Fierce Octopus Head & Tail Surgical Steel Belly Button Ring
Gemstone Snake Head & Tail Surgical Steel Belly Button Ring
True navel piercing involves piercing any edge of the belly button using a needle. It does not involve punching the navel itself as various people mistake. As much as the art is rocking among many celebrities and popular women, it is still a punch line among others.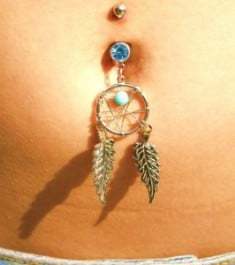 Due to associated problems such as navel piercing pain and long healing process, there are people who still do not admit that navel piercing is safe and especially while done professional and problems are there but can be handled.
For this case, there is fake navel jewelry that can be clipped on an unpierced belly button. They can still look almost real especially when seen from a distance. They are best used with minors and those who cannot risk dangers like scarring and navel piercing rejection.
There are many factors regarding the design you will have to look at before selecting a navel body jewelry. In the market, you will find curved jewelry bars with large balls on one side and small on the other. Plain steel bars are also a possibility. Depending on your type of belly button piercing, dangle jewelry can also be an option. And don't forget about the unique shapes of flowers, dolphins, and rings that have a stud.
Gold Titanium Double Jewelled Navel Belly Bar 1.6mm – BODY PIERCING JEWELLERY
Double Drop Heart Dangle Clear Rhinestones Belly Navel Bar Ring Body Piercing
10 x DOUBLE GEM 14G crystal navel bar belly ring body piercing clear silver B01
NEW MULTI CRYSTAL GEM DOUBLE BALL BELLY BUTTON BAR NAVEL RING BODY PIERCING UK
316L Steel Dangle Crystal Navel Belly Button Bar Ring Body Piercing Jewelry
12pcsX Crystal Double Gem Ball Navel Belly Bars Rings Piercings
Crystal Double Heart & Ball Belly Bar Navel Ear Ring Stud Piercing 16mm Heart
STERLING SILVER EYEBROW BELLY BODY PIERCING BAR GOTHIC DOUBLE AXE CHARM
Crystal Clear Double Gem Belly Bar – Navel Piercing Body Bar
Steel is a common metal used in the manufacture of body piercing jewelry. This is not only due to durability but as the ability to withstand corrosion. Steel is also not allergic to many individuals and hence the best option for accenting your navel piercing. Here are some of the stainless steel brands of navel body jewelry you can try:
Double Crystal Gem Belly Button Navel Bar/Ring Surgical Steel 12mm 14g piercing
12 X Double Crystal Gem Belly Button Navel Bar/Ring Surgical Steel 12mm piercing
316L Steel Dangle Crystal Navel Belly Button Bar Ring Body Piercing Jewelry
[UK SELLER] SURGICAL STAINLESS STEEL DANGLY BELLY BARS / NAVEL BARS / PIERCING
Stainless Steel Double Cross Dangle Piercing Belly Barbell Navel Ring Bar JW109
Fierce Octopus Head & Tail Surgical Steel Belly Button Ring
Mystical Seahorse Head & Tail Surgical Steel Belly Button Ring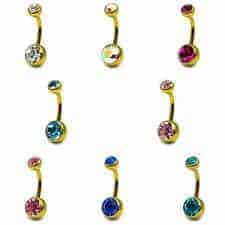 Gold is a treasured metal in the making of body jewelry. This is due to the valuable characteristic feature of this metal. White gold navel jewelry can be perfect for any body type and shape as long you are not allergic to it.
White gold may tarnish in color as time goes by due to oxidation by air and contact with moisture and water. Therefore when you go for any beware that it hardly retains its appearance once used severally.
Everyone wants to appear exceptional and outstanding. Most of the navel piercing jewelry has become too common especially in appearance and design. It is quite difficult in finding unique jewelry. Looking at various pictures from the internet and magazines can help you find something unique for your beautiful navel piercing.