What is the best pink lipstick for dark skin? Get ideas on how to pull a perfect pout with pink lips color shades such as soft pink, light pink, bright and hot shades of pink. Also, learn how to wear your perfect pink lipstick for your dark skin complexion.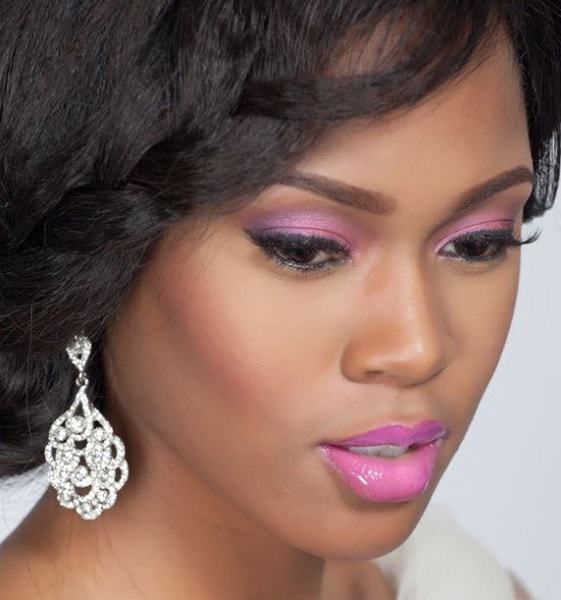 Just like red, pink color oozes sexy appearance. Not every shade of pink will look stunning on anyone. From this post, you will bear with us that, every shade works perfectly for a particular skin tone. Wrong selection of a pink lip color shade can make some women appear pale or washed out. This is the reason as to why you have to consider your skin undertones before choosing a pink pick.
Like red lipstick for dark skin, pink is trendy and youthful brilliant hue that is gorgeous on almost everyone. Regardless of the age, any woman can look flamboyant in this lip color.
Celebrities with Pink Lipstick Color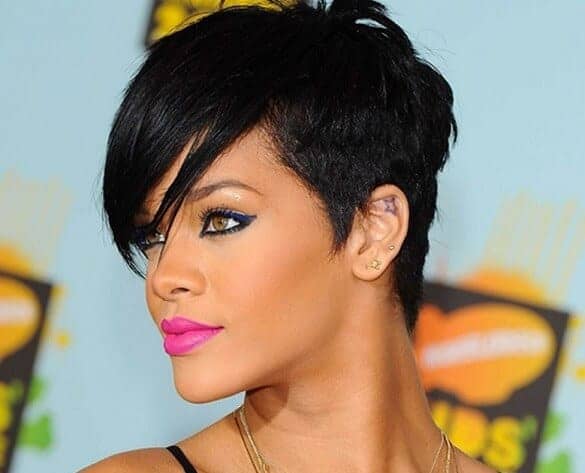 Think of celebrities like Rihanna, Kim Kardashian and Nicki Minaj who rock in pink lip color. Nick Minaj disapproved the notion that women of black color cannot pull off pink lips. Her Mac edition lipstick regarded Pink Friday, the same name that branded one of her alba made her step the spotlight.
This made her become a great inspiration among many beauty industries and companies. It was in 2012 when MAC cosmetics launched another lipstick in the VIVA Glam edition that got branded VIVA Glam Nicky. This is a bright yellow satin lipstick that became popular and attracted the best sale courtesy of Nicki Minaj.
Best Pink Lipstick for Dark Skin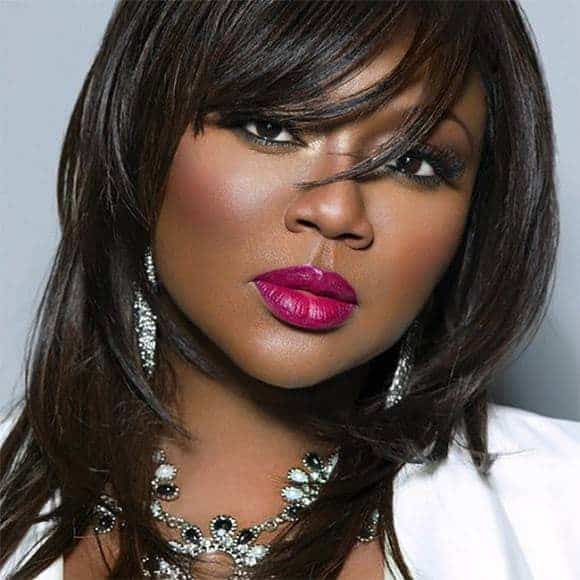 Determine what kind of pink color and shade suits your lips while also complementing other features on your body. Just like the variation in skin complexion, so does the skin tones. You could be a warm skin tone or cool skin tone girl. Rich pink lipstick colors and shades are perfect for warm skin tones. The bright hues in rich pink make the yellow golden undertones in the warm skin to shimmery shine.
Cool skin tones, on the other hand, ought to go for cool pink color shades. Bright pinks are light to make them appear washed out. Dark skin exists in various complexions such as fair, light, medium, olive and dark bottom line complexions respectively. You can also read on best lipstick for brown skin tone.
Best Pink Lipstick Shades for Your Dark Skin Complexion
Fair Dark Complexion: There are dark skin women who have pale or fair skin complexion. However, they should play safely to avoid looking paler or washed out. Some of the best pink shades to suit them include; beige pinks, nude pinks, mauve pink and pale rose. Avoid bright pink for your lips.
Light Skin Dark Complexion: Light skin tone women can still wear pink lip color perfectly in the right shade. There is shade ranging from pale to deep which you can try. Some of the most ideal shades for this skin tone include; hints of violet, peachy pinks and bluish-red pink shades such as magenta.
Medium Skin Tone Complexion: Fortunately, women of color in this category have all the wide range of shades to pick from. Some of the flattering shades include; deep pinks, brownish pinks, magenta, wine-pinks, caramel and Pinkish-berries among others.
Olive Skin Complexion: Warm olive skin tone is fabulous in darker pinks or any pink shade with the purple hue. Due to the warm yellow undertones, pinkish-reds are not advisable for this skin tone. There is likely of color clashing hence making you appear paler.
Dark Bottom line Complexion: Just like olive skin, the darker skin works well with darker pinks or purple base pink lipstick colors. Light pinks should be avoided since they are too bright for your complexion.
Best Pink Lipstick for Dark Skin – Brands
Here are the top rated best brands you can try.
How to Wear Pink Lipstick on Dark Skin
There is a possibility of having the best pink lip color but you can still wrongly apply it hence end up looking dull and gloomy. Here are the guidelines on how to correctly apply your pink lipstick. This is the only way of attaining a long-lasting shiny and outstanding lip appearance.
Select the right shade of pink lipstick for dark skin women basing on the above-provided guidelines. Watch the color of your veins under your wrist, if yellow you are warm skin and if blue then you are cool skin tone.
Use a thin nylon brush and make an outline of your lips with a concealer. Use suitable concealer such as Physicians Formula Magic Cube Concealer. This step help in preventing the color from settling into lines around your lips. A pencil may be harsh for this case.
Apply using your ring finger. You can also use a brush but a finger can pat well the color to attain the soft long-wearing stain.
Apply a lip gloss to prevent the lip color from bleeding. The perfect gloss should also make the pink on dark skin to appear shiny and glamorous.
Keep the eye makeup simple for the lips to lips to strike. A little of champagne eyeshadow and a small amount of eyeliner accompanied by a little coat of mascara. Avoid lip gloss if the lip color you are wearing is highly saturated.
Hot Pink Lipstick for Dark Skin
You can attract double attention by choosing a hot pink lipstick for dark skin correctly. The golden rule of skin tone in every complexion always holds regardless of the formula, texture or brand of your best color.
Hot pink lipstick Brands
Light Pink Lipstick for Dark Skin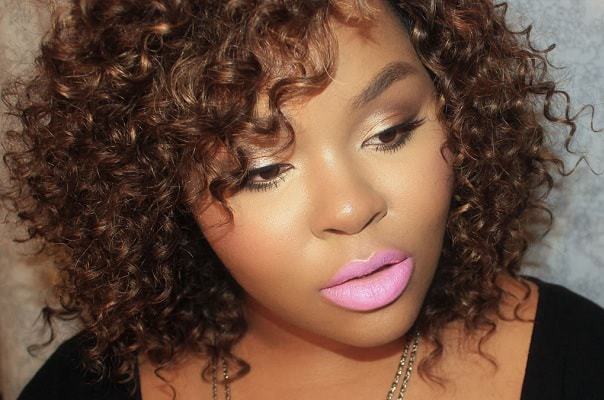 Talk about baby pink, musky or mauve all are light shades that are gorgeous on dark skin tones. The light shades of pink can be horrific when wrongly done on the lips. It will scare if your lips appear milky or dipped into chalky powder. Here are some tips on how to wear pale, light or bright pink lipstick for dark skin.
You should always apply a concealer or prime to avoid the natural lip pigments showing through. Use a brush to conceal or primer before the application of the pink lip color.
Always apply two layers for effective appearance. Blot the first layer using a tissue before putting the second layer. This helps in avoiding the color from streaking and wearing off.
To make the lips pop, moderate on your eye makeup, that is, a black liquid eyeliner. This not only adds definition to your face shape but also makes your light lip color to appear vibrant.
To add radiance to your face, you can apply some baby pink or rosy blush to your face. Powder illuminator dusting can be applied on top of the blush to make the appearance bright shiny.
Best Brands for Light, Bright Pink Lipsticks by MAC you can try include the following: MAC Angel, MAC Please Me, MAC Bombshell, MAC Hot Gossip,  MAC Pervette, MAC Viva Glam Gaga, MAC Creme Cup, and MAC Chatterbox among others.
Shades of Pink Lipstick for Dark Skin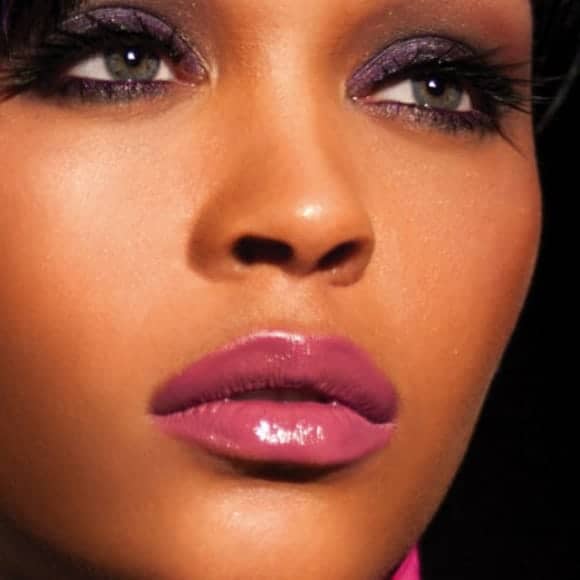 Soft Pink for Dark Skin: Pink in this shades can still flatter dark skin girls when correctly done. These include Barbie and bright pink lipsticks in various bases for warm and cool skin tones.
Pink Matte for Dark Skin: Matte in beige and pink tones are suitable for dark skin women. Avoid using a lip gloss if the color has too much sheen to look more gorgeous.
Nude pink lipstick: There are various nude pink shades that can naturally accent your lips. Apply two layers to make the appearance bold enough. This is the best way to go when you have become bored with the perfect pink lipstick shades.
Therefore, it is evident that pink lipstick for dark skin is the right way to go when you are a woman of this complexion. Gone are the days when dark skin women used to fear to wear this lip color claiming that it is too dramatic and only suits light skin women. Submit a comment for your opinions.
Recent Content