What is the best red lipstick for olive skin tone? Read to learn how you can pull a perfect pout in red lip color. Find out the best shades and brands of lipstick for your olive skin complexion such as orange-red, matte among others.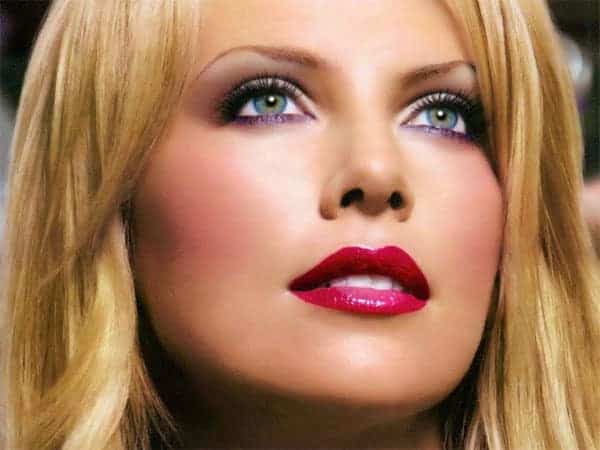 Red lips ooze sexy appearance hence preferred by many women in pulling off such an instant glamour. There is nothing as important as knowing the right shade to complement your skin tones. The red attractive lips you happen to see your favorite celebrity wearing may not give you the same effect due to variation in skin undertones among different people.
To be candid, olive skin tones have yellow and green undertones that complement specific shades of red lipsticks. For you to look stunning you ought to know the right makeup that will not only make your lips pop but also make your eyes stand out. You also have to know how to pull a perfect match for your hair color and outfit style.
Think of celebrities like Kim Kardashian, Penelope Cruz, and Zoe Saldana who rock in red lip colors without fear, this is because they know something perfect for their olive skin undertones. Try on drugstore brands if you are a beginner and understate your makeup before you think of going Kim Kardashian style.
Best Red Lipstick for Olive Skin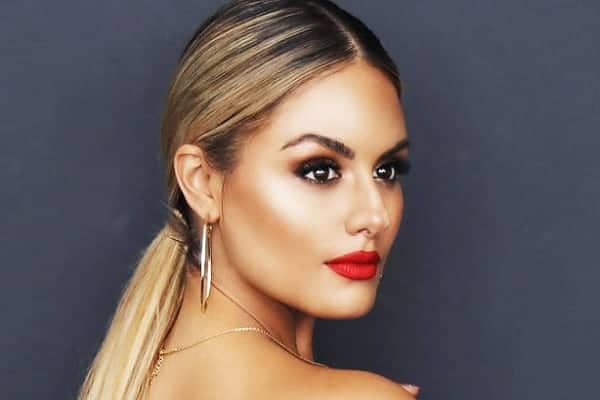 However much red lipstick color flatters most women, it is quite difficult in finding the perfect shade for olive-skinned beauties. Olive skin is neither dark nor fair a quality which gives a wide range of colors to choose from but this must be done with a lot of concern for the skin undertones.
Apply a little red shade you have selected on your wrist to test whether it complements your skin undertones. If you realize the color is not matching then ignore the pick and try another one since there is a high tendency of the color clashing with your facial skin undertones.
Too Bright reds like true red and cool blue-based reds are not suitable for olive skin tones. Here are some of the best red lipstick for olive skin tones that you can never go wrong with.
Mauve-berry red Lipstick Color
This lip color contains warm tones that brighten up olive skin complexions. Mauve is an orange base color that complements the yellow and green tones of the olive skin. A good brand to use for accenting your lips with this color tone is Revlon's lip butter in Red Velvet.
Deep and Vampy Red Lipstick Color
What makes this lip color ideal is the presence of deep purple tones that not only make it stunning color for winter but also the perfect match for olive skin tones. Know how to make your lips pop by application of a simple makeup that also rhymes your skin undertones. What you can try to give you the most subtle glossy look is Revlon's Colorburst lipstick in Plum.
A Nude Based Red Lipstick Color
Nude red color tends towards brown hence suitable for olive skin. With this skin tone, you cannot go wrong with brown-based reds or nudes. Alternatively, you can choose brown-red lipstick and cover it with a nude gloss to attain the same perfect pot. Here you can try a brand like ELF's Prime Plum among others.
Dark, blue-based red Lipstick Color
As much as blue-based red is a bright lip color that doesn't flatter olive skin, the darker shade of it is marvelous. You can still not go wrong with darker bright reds regardless of the formula. Alternatively, you can apply any cool base red and top it with a warm gloss to brighten up the cool base. Try Revlon's Colorburst lipstick in Crimson as a red lipstick for olive skin tone to make a statement.
Best Shade of Red Lipstick for Olive Skin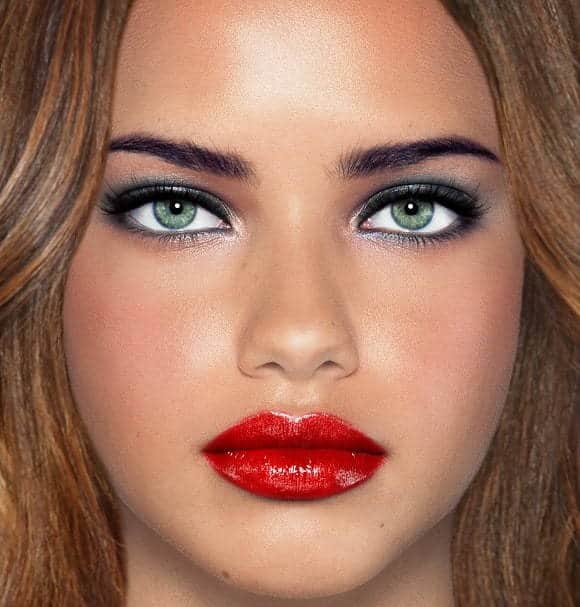 Shiny colors and shades are perfect for olive skin tones tending towards dark. The shine enhances the appearance of the color on the dark skin making the lips stand out. If your skin tends towards light whitish, then you should go for orange-toned shades that will not only add warmth but also complement your undertones.
For the makeup, apply a blush that falls in the same color category as the shade of the lipstick you have selected. This not only makes your eyes pop but also make matches your facial skin for a stunning appearance. Remember to use a lip liner prior to lip color to prevent it from bleeding.
Here are the best top red shades of lipstick for olive skin.
Smashbox lipstick in Black Cherry
Mary Kay's Creme Lipstick in Red
Perfect Red Lipstick for Olive Skin
Know how you can attain the perfect red pout for your olive skin tones. This involves the right application and maintenance. Bright colors tend to fade and wear off faster compared to dark and deep lip colors. It is also easier for people to notice any change in your lips when wearing such colors.
Before application of your red lip color, ensure your mouth are well exfoliated. This has nothing to do with your best red lipstick for olive skin but is a golden rule that applies to any other lap color plication. The big question is, how do you apply red lipstick color for olive skin?
You can use your finger or a brush to apply as a lip tint. Blot the edges of your lips with a tissue or feather using a soft brush to matte the finishing. For a subtle vinyl effect, top with a gloss of the same shade as your lipstick color. Remember to flatter your eyes with a nice eyeliner, eyeshadow, and mascara such as Revlon Eye Luxurious Color Perle Eye Shadow, 25, Peacock Lustre.
Red Lipstick for Olive Skin Brunette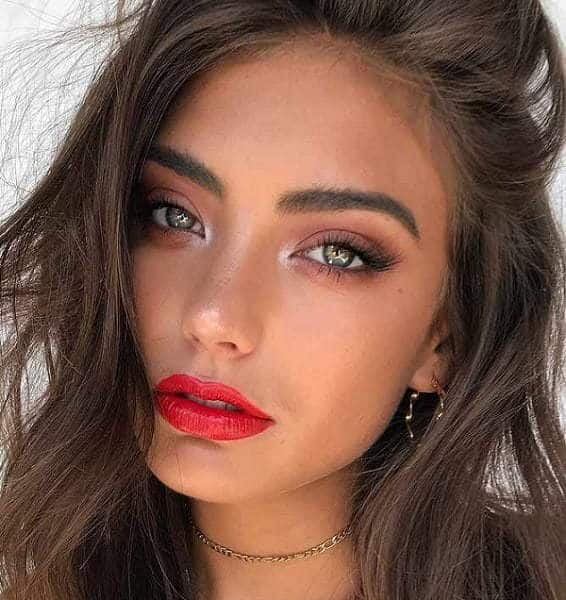 Though coral peachy colors flatter well olive skin brunettes, deep red hues are also striking in not only making the hair color to stand out but also your lips. While wearing this classic lip color, avoid too much blush. Flesh toned eyeshadow can do better than any colored one. Olive skin brunettes should avoid choosing brown or purple based reds.
Use a matte or high gloss formula of red for the most appealing appearance. To add on the color effect combine with a slight dark lip liner. Basically, olive skin brunettes can flatter well in other lipstick shades like plum, mauve, and dusky rose. But if you want to pull off a flaming crimson for a party or night out then brown-based red shades are right for you.
Matte Red Lipstick for Olive Skin
Matte lip color is beautiful especially if your skin is silky. You can dust some bronze if the matte red shade makes you pale. Here are some of the best matte red brands you can try:
NYX Round Lipstick  "Snow White"
Revlon's ColorStay Ultimate Suede Lipstick in Trendsetter
Orange Red Lipstick for Olive Skin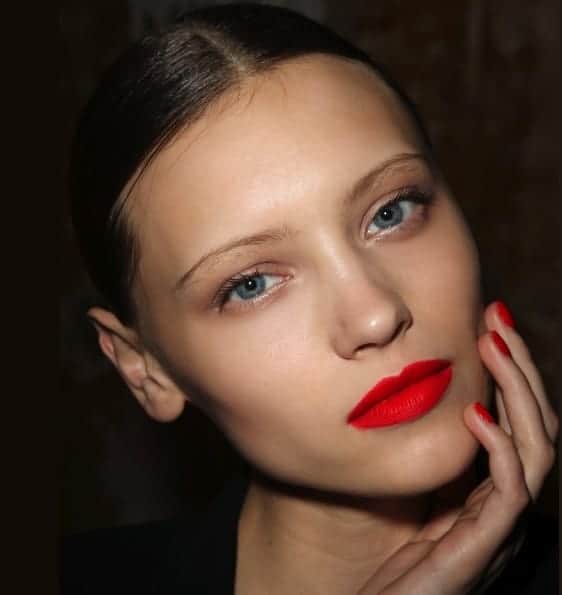 Orange-red is a classic lip color for olive skin girls. This neutral best red lipstick for olive skin warms up both cool and warm undertones in bringing out the favorite natural appearance. Here are some of the best brands you can try:
Revlon's Super Lustrous in Fire & Ice
YSL Rouge Pur Couture in #13 Le Orange
In conclusion, it is evident that there are many varieties of best red lipstick for olive skin. Therefore take time and keenly select the perfect shade that can give you a perfect pout ever.