What are the Signs of Navel Piercing Rejection? It is quite normal that body piercings can sometimes become havoc. Migration and rejection are among the major dangers of body piercings.
Belly Button Piercing Rejection Signs
Rejection occurs when the body does not accept any foreign objects placed in the skin, i.e. jewelry.
The body will, however, consider the object as a threat and will launch fighting mechanisms. Among them include pushing the object out of the skin slowly by healing the skin behind it and finally the foreign object gets pushed out the skin.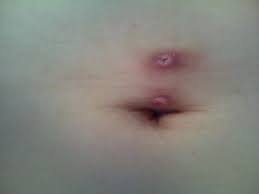 Migration, on the other hand, is that process of the moving the object slowly from beneath the skin to the surface. It is among the symptoms of belly button piercing rejection. When the object is pushed closer to the skin surface eventually scarring will form as end result of the healing process.
Navel piercing healing process takes quite longer and so does navel piercing migration rate. It is however not easy to tell if really rejection is taking place. But what is belly button rejection? This is what many people fail to distinguish from navel piercing infection though they can have similar signs and symptoms.
Signs of Navel Piercing Rejection
There are signs that can help you to determine if your piercing is migrating. Rejection and migration takes place in a very slow manner and it is hard to determine without being too observant. Weeks or months can go without you identifying that rejection is actually taking place. Here are some of the signs that can help you recognize this condition:
There is constant soreness and high skin sensitivity that can be irritated by the touch of a shirt or blouse.

Rejecting Navel signs

You can see with your eyes the

navel piercing jewelry

through the skin due to the reducing thickness.
The navel ring or bars will hang more loosely compared to when it got placed.
The piercing holes sizes around the piercing increase in size and you can see them becoming larger.
There is increase in the amount of discharge from the belly button piercing holes
Formation of

navel piercing keloid

.
Navel Piercing Rejection – Rejecting Navel Piercing
Not everyone is susceptible to belly button piercing migration. It depends with an individual's body reaction against foreign objects. In most cases piercings that take place close to the skin surface can result to rejection. Navel punching is among the body piercings that break through a thin layer of the skin. This makes it easier for the body to push out the inserted navel jewelry considering the small amount of skin surface broken through.
Unfortunately rejecting piercing takes place in a slow rate and can go even up to four years for you to notice the scarring. This makes it so helpless and there is little to be done when it has already happened.  Stopping it is one of the hardest thing to do in controlling the migration process.
Further Prevention
However, you can try to prevent it from forming further.  In the end you will be left with a scarring tissue and a hole that will remain in place if the rejection was to take place to the completion.
The best thing to do is get to a piercer and let the jewelry be removed at that early stage of migration. It will pave a way for a normal healing process of the scarring tissues and the hole as well.
If plan A fails, there is always plan B and up to the remaining 24 alphabetical letters. The first rejection should not kill your dream of oozing a sexual appearance in your best jewellery. It is not always the case that your body will reject any subsequent piercing. Therefore you can re-pierce and take good care to be surprised with success.
Rejection can occur due to the barbell material. While trying for another chance it is advisable you change the type of jewellery material used. For example, if niobium was rejected try stainless steel or titanium. The size of the ring or bar also counts. Too small sizes of 18 and 16 are likely to be rejected compared to larger gauge of 14 or 12.
Different types of naval piercing
Try different types of navel piercing for a re-pierce. If vertical navel piercing or inverse was rejected you can try horizontal navel piercing in creating a change in the location. During the second or third trial, the professional piercer should try to break through more thick tissues without harming the underlying nerves and neural.
Having gone through it for another time you should also become more responsible of the piercing. This involves adhering to the belly button piercing after care instructions to avoid navel piercing infections as well. The hygiene standard has to be kept at standard, by using antibacterial soaps and sea salt soaks effectively.
Rejected Navel Piercing
Having known the symptoms of navel piercing rejection, it is recommended to be observant on changes that takes place when you undergo this type of body piercing process. Itchy body piercing signifies that something is wrong and you have to be alert. Though itching can sometimes be part of the normal healing process but when it becomes chronic then get prepared for anything in line of infection and rejection.
As said infection and rejection can have similar symptoms. The only difference is that an infection strikes at a faster rate while migration takes longer. Redness is a sign for both and you can distinguish by taking a close observation. If you realize a scaly dry and red skin then that is a rejected navel piercing.
Soreness
Soreness can also be normal especially for a fresh body piercing. There is something wrong when this symptom associates excessive tenderness and pain. This is more of an infection and not a rejection and you will know what to do if you look at navel piercing pain management.
Rejected navel piercing is also characterized by elongated exit holes towards any side or direction of the body. This is an attempt by the body to push out the jewelry. But when the holes become swollen it is a sign of an infection.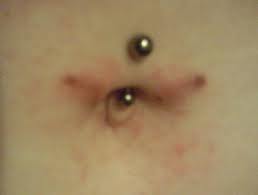 Navel Piercing Rejection Pictures
Since it becomes difficult in detecting a rejection due to the long time it takes, you need to keep updating yourself with information about the piercing. It will help you both psychologically and physically in tackling any matter that can arise. Navel piercing rejection pictures can be a good source of such knowledge and information on how does it exactly looks like.
Enough preparation both psychologically and physically is recommended. This is the best way of ensuring that your skin is relaxed and there is no tension during the piercing operation. Walk around the tattoo shops and ask questions involving procedures, instructions and after care. Once familiar with everything and satisfied you can now book an appointment with one of the reputable tattoo shops.
Navel Piercing Migration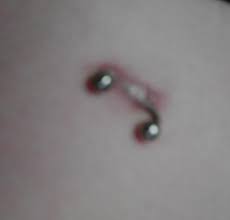 As said migration defines the entire process of rejection. This is where the body jewellery is pushed to move towards the skin surface by the body's healing of the tissues beneath the object. Scarring is the final result of a navel piercing migration. And once it is formed there is little you can do to remove the scar and that is why it is recommended you remove the jewellery to allow normal healing to take place.
There are people who are allergic to nickel used in steel jewellery. Perhaps it can be the reason for the rejection. Personally I would recommend allergy test before choosing on a metal to be used as the bar or the ring. Remember that even the highest quality steel contains little nickel. Too heavy jewellery can also cause a rejection and that is why you are advised to go for a standard size belly bars.
Navel Piercing Scar
Navel piercing rejection scar is one of the biggest worries among beauties. Scars are normal in any body piercing since is part of the healing process. Normal belly button piercing scars will take long before disappearing completely. Do not be surprised if it takes more than three years and you should perceive it as normal.
There are cases when you are forced to take the jewellery out of the navel piercing. Pregnancy is one of the factors that can lead you to such a choice. Expect to see a small navel piercing scar however long it will take you before removing the jewelry.
Generally, scars are likely to fade as you age and one day they will match your skin tone of the surrounding area. There are people who will conduct another pierce in the same scars to avoid scars being visible.
There are modern technologies you can use in the removal of the belly button piercing scars and if you conduct your doctor you should get details on the best thing to do to your scars to make them disappear or be less visible.
Recent Content