What is the best upper lip hair removal method? Get more insights on the best upper lip hair removal technique, tool and products such as epilators and creams. Also find out more on home remedies.
Facial hairs define the male secondary characteristics in human beings. These hairs grow at different areas of the face and men will always shape them to various styles like the goatee, mustaches, sideburns and beards depending on their personal preferences.
Women can also grow facial hairs especially at their menopause stage of life. To be Candid Upper lip hair is a form of facial hair that grows on the upper lip. An example is the mustaches.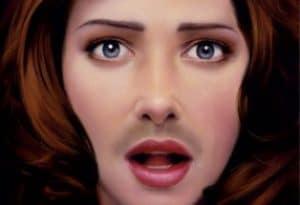 Upper Lip Hair Removal Methods
There are several methods that can be used to remove upper hair either permanently or temporarily. The technique to be chosen will depend on various factors such as, the skin pigmentation and sensitivity, hair color, cost and availability of the services.
Electrolysis
In this method, needle-like electric electrodes carrying electrical energy are penetrated to the hair follicle up to the root hence destroying the root to inhibit any future growth. This method can be used in removing the upper lip hair effectively. Read more on Electrolysis hair removal to find out on how this application, the benefits and side effects.
Laser method
Laser is a hair removal where concentrated light wavelength energy is directed to penetrate the hair and destroys the root. Laser hair removal is a permanent method of removing hair and it is very effective and efficient. It is a certified method carried out by specialized technicians. It can also be done at home and therefore not necessary to visit a laser clinic.
Waxing
This is another method for the temporal hair removal. Waxing is the most convenient technique in terms of application and availability. At home waxing is the best for those who want to remove their body hairs from home. Wax can easily be prepared home at requires basic though keen skills in application. Sugaring wax is also available in wax centers. European wax center is well known to offer the best solution for the waxing and other hair removal techniques.
Tweezers
This method involves mechanically holding a hair and pulling. Upper hair lips are best removed using tweezers method since once the hair is removed there is no regrowth. This is also regarded a permanent hair removal method. There are no scars or inflammation realized with this process. It is comfortably done at home hence a more convenient technique for upper lip hair removal.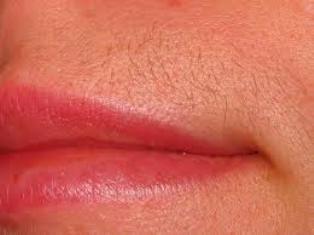 Threading
In this method, a thin thread made of cotton is doubled then twisted and rolled over the region to remove the hair. Once pulled out it removes several hairs. For upper lip hair removal, this method can be the best also compared to waxing. One may experience a pinch of pain as the hair is removed in several short lines. Many people have tried this method and it has been seen to work effectively. Eyebrow threading has also seen to give much awarding results. Therefore don't doubt in applying it foe the upper lip hair removal.
Depilatory cream
Depilatory creams are good for hair removal since the regrowth takes a longer period of time to happen. This creams have chemical compound that act on the keratin of the hair on the skin, and they can as well have an effect on your skin. For those who have reactive skins, it is advisable to seek medical prescription to avoid side effects of skin damaging. Some spot testing can be done also then after some time full application can be carried out. Therefore depilatory creams can be used in upper lip hair removal effectively upon following the prescribed instructions.
Epilator
An epilator is a hand held device which pulls the hair up by the rood once moved over the area the unwanted hairs need to be removed. These devices are made in different sizes ranging from small ones to big ones. The slim one will be the best ideal for the upper lip hair removal.
Bleaching
Bleaching method of hair removal works best for dark hairs. Dense dark hairs on the upper lip may be challenging to be removed with this method.
Shaving
Shaving as a method of hair removal has been used by many people over a number of years. This is the only method where the hairs grow back too fast. She skin normally get affected after the shaving and swelling or red bumps can be realized. Some shaving gels are available over the counters and can be used along with for sensitive skins.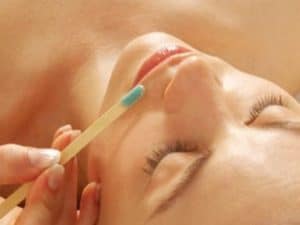 Upper Lip Hair Removal Tips
Best time to remove the upper lip hair is just before bed. This will give your skin a favorable time to relax and heal from irritations and swelling that may be experienced while waxing, threading, or using an epilator. Using an ice pack will help in easing out the pain and other itchy effects.
For women with upper lip hair, using tweezers will be more effective on cost saving. It can also be done comfortably at home.
It is best recommendable that if your skin is too sensitive, you ought to choose on threading to remove the upper lip hair or other unwanted hairs.
Note that thicker hair may not work effectively with depilatory creams.
Upper lip Hair Removal Home Remedies
Shaving is the common and simplest natural way of getting rid of hair. It is cheap and carried out at home. It is in modernity done in barber shops located in urban centers. Plucking is also a natural method. It can be done once or twice a week. This can best be done using tweezers.
Waxing is the most effective, it involves application of wax on the surface and cover with a piece of cellophane paper, then ripped off in strips. Wax is commonly available or can be home made using few ingredients. A mixture of haldi, besan and curd applied on the face removes the hairs effectively including the upper lip hair.
A mixture of lemon, honey and sugar and heat in a microwave for approximately 3minutes forms a paste. Apply this paste on area to remove the unwanted hairs and cover with a fabric strip and rub in parallel and opposite the hair direction. Repeat severally about three to four times. Pull off the fabric or the piece of cloth quickly against hair growth direction. It moves as pulling out the hair.
Recent Content