What is double navel piercing? Get more insights on double navel piercing jewelry, bar ring and pictures. The post explores more on different variations of double belly button piercing formed from combination of normal and inverse navel piercing, vertical and horizontal among others.
The face of beauty is changing on daily occasion with slight changes and variations of the current trends. Navel piercing begun as a traditional art among few people and it has finally spread to everyone as a way of decorating and beautifying belly among women and men.
Celebrities have greatly contributed to the wide spread of this style among many generations. Every teenager dream of the day when some jewelry will be hanging down there at the belly button. This is all fantastic as long as you become responsible of it. There are different types of navel piercing and among the latest is the double belly button piercing.
Double Navel Piercing
This involves two different kinds of navel piercings performed at various sides of the navel. Each piercing is conducted separately and preferably following the complete healing of the other. Traditionally double navel piercing involves top and bottom belly piercing, though there are other possible variations of achieving the same.
It is obvious that the navel itself does not get pierced though it is good to always be aware of it. The skin at the top of the belly button is pierced to reach at normal piercing. When the same individual goes for the piercing of the skin at the bottom of the navel then by the end of the day will have attained double piercing of the navel.
There are normally dangers and risks for any belly button piercing performed. Navel piercing rejection and navel piercing infection are the two major worrying risks. Everyone who has undergone the piercing must try hard to follow the navel piercing aftercare instructions recommended. This is the only way preventing dangers and also making the healing process to be effective.
Double Belly Button Piercing Possible Variations
Double Vertical Navel Piercing: It involves the combination of normal piercings conducted at both above and below the edges of the belly button. There are two navel piercing jewelry inserted in the tow piercings making a pattern of 4 vertical line balls.
Double Top Navel Piercing: Two piercings are performed at top edge of the navel with a small skin separation. It is best done one at a time following a complete healing. By the end of the day two rings barbells will be inserted and both hangs at the navel.
Double Horizontal Navel Piercing: This is quite known and is unique among many women. It involves piercing at both the right and left sides of the belly button. The two independent piercings are mostly joined together with a long barbell to appear outstanding.
Combo Multi-Navel Piercing: This involves a combination of double horizontal and double vertical piercing. The 4 are joined with long pieces of jewelry to form a '+' pattern at the belly button. It is one of the rare since it takes longer period of time to reach at the pattern.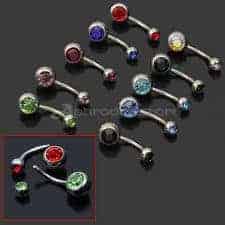 Double Navel Piercing Jewelry
Depending with your body, there are many different types of navel piercing jewelry you can use for your double piercing. It also depends with the type of variation you have opt for. Normally a ring will be inserted in a new navel piercing and maintained until a complete belly button healing process.
Once inserted, the ring can only be changed under various circumstances only. Pregnancy, rejection and after healing are the only recommended factors that can lead to the changing. However, rings of various styles and shapes are available for accenting your double piercing and among them include:
Using two curved jewelry rings for each piercing.
Two plain steel or titanium bars for the double piercings.
Navel jewelry with shiny dangling.
Unique shapes of tiny jewelry inform of flowers, dolphins or any other style.
A navel ring combined with a stud is also amazing.
Double Navel Piercing Bar
A nice bar will always make your belly outstanding. Things to consider while going for a double piercing bar include the shape, color and the metal used. Golden and titanium are attractive. Though stainless steel is ideal for many body types in avoiding cases of migration. Here are some of the best double piercing belly button bars you can try.
Gold Titanium Double Jewelled Navel Belly Bar 1.6mm – BODY PIERCING JEWELLERY
Double Drop Heart Dangle Clear Rhinestones Belly Navel Bar Ring Body Piercing
10 x DOUBLE GEM 14G crystal navel bar belly ring body piercing clear silver B01
NEW MULTI CRYSTAL GEM DOUBLE BALL BELLY BUTTON BAR NAVEL RING BODY PIERCING UK
316L Steel Dangle Crystal Navel Belly Button Bar Ring Body Piercing Jewelry
12pcsX Crystal Double Gem Ball Navel Belly Bars Rings Piercings
Crystal Double Heart & Ball Belly Bar Navel Ear Ring Stud Piercing 16mm Heart
STERLING SILVER EYEBROW BELLY BODY PIERCING BAR GOTHIC DOUBLE AXE CHARM
Crystal Clear Double Gem Belly Bar – Navel Piercing Body Bar
Double Navel Rings – Double Navel Piercing Rings
Rings are part of any navel piercing. It not only enhance effective healing process but also in accenting the piercing. Various shapes and rings are available over the counter in many beauty shops. Here are some of the best double navel rings you can never go wrong with.
CZ Butterfly Mini Belly Button Navel Ring
Swarvoski Crystal Round Solitaire Belly Button Ring
AB Shimmering Snowflake Dangle Belly Button Ring
Rainbow Shimmering Snowflake Dangle Belly Button Ring
Teardrop CZ Bezel Set Dangle Belly Button Ring
CZ Round Solitaire Mini Belly Button Navel Ring
PASSION ETERNITY Reverse Dangle Navel Belly Button Ring
ummer Rose Top & Bottom Surgical Steel Belly Button Ring
Mystical Seahorse Head & Tail Surgical Steel Belly Button Ring
Dragonfly Head & Tail Surgical Steel Belly Ring
Fierce Octopus Head & Tail Surgical Steel Belly Button Ring
Double Navel Piercing Pictures
Enough preparation is important before going for any type of body piercing. Prepare your body both physically and psychologically to avoid any tension that can interfere with the healing process. Ensure you are of the recommended age of 18 years or make consultation with your guardians if you are a minor before visiting a reputable tattoo shop for professional piercing.
Gather more information on the type of navel piercing you prefer. Double navel piercing pictures can help you with a clear image of what you want. Ask the piercer questions and be free to share information that can be relevant for your navel piercing.
As a golden rule, maintain standard hygiene to avoid infections besides enhancing a faster healing process. Washing with sea salt solution is among the most recommendable principle of the navel piercing after care tips.
Recent Content