Upper And Bottom  Belly Button Piercing are one of the rare types of navel piercing. There are many reasons as to why most people admire it though only a few successfully go through and maintain it. Read to explore more on male and celebrity navel piecing such as Priyanka Chopra. Please check this first before getting a belly button piercing.
* As an Amazon Associate I earn from qualifying purchases.
Many people keep asking about the best type of navel piercing to go for. What we can say is that it is not all about the kind of navel piecing you want but how your belly button is suitable and how your body will perceive it. There are many who result with navel piercing rejection due to opting for the type that doesn't work for them.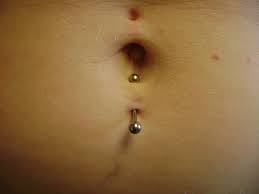 It is also regarded as inverse navel piercing. Considered the most unique as compared to other standard belly button piercings. There are only a few people who are suitable for this piercing due to the rare shape of their belly buttons. Innie buttons are suitable for horizontal navel piercing or vertical piercing.
Finding the perfect navel piercing jewelry for inverse navel is also tricky. Not every ring or bar fits the outie pierced belly button. Most of the people who undergo this piecing still use curved bars instead of the surface bars. However, it may end up with an incorrect angle of positioning.
The level of navel piercing pain is not different from that of any other type though it also depends on your pain tolerance rate. The major problem is the high rate of inverse navel piercing migration among many beauties who tried it out. Healing also takes a bit longer time as compared to the standard surface piercing.
Aftercare
There is always a high level of care that involves maximum hygiene standards. To make help the lower navel piercing heal fast you will have to apply sea salt soaks frequently.
Remember to used antibacterial soap while taking a shower and avoid bathing and swimming since bathtubs and pools can cause you a navel piercing infection.
During the entire healing process, you will be required to keep of many activities that can lead to stretching of the skin around the belly. Vigorous exercises and heavy daily activities should be out of your schedule for the rest of 6 to 9 months of healing.
Do not irritate your skin with any chemical substance. The type and size of your clothing will have to be loose and fitting since too-tight tops and pants can irritate your navel hence causing swelling and inflammation that is normally painful and also slows down the rate of navel healing process.
GENTLE, DEEP CLEANSING SOAP (3 oz) - Tattoo Goo Antimicrobial Soap for Tattoos & Piercings cleans skin at a deep level by removing dead skin cells and killing bacteria without damaging the skin. Made with moisture-rich olive oil, this fragrance-free soap leaves skin feeling silky with no dryness or residue.
ALCOHOL-FREE CLEANSING SPRAY (2 oz) - An all-natural, sterile disinfecting spray for oral and dermal use. Extra strength aftercare and maintenance spray for piercings prevents infection, moisturizes and aids in healing.
NO MESS ANTISEPTIC SWABS (24 swabs) - Single-use swabs for easy, on-the-go use. Just snap the end of the swab to let medication flow down the resevoir tube for easy cleaning of your piercing. Good for oral and dermal use, these medicated swabs speed healing, prevent infection, inflammation and scarring. No alcohol or sea salt.
TESTED AND APPROVED PRODUCTS - All of the products included in this kit are handcrafted and packaged in the USA, PETA approved, dermatologist tested and petroleum jelly and lanolin-free.
SUPERIOR SKIN CARE - We've worked with artists and dermatologists to develop high-quality products for every phase of the tattooing and piercing process, including stuff that makes the job easier.
* As an Amazon Associate I earn from qualifying purchases.
Top Belly Button Piercing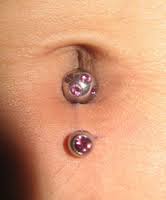 Both bottom and top navel piercing can be made as long as you use the best metal for accenting the belly button appearance. What is important is to conduct the best care for your piercing. When you adhere to the aftercare navel piercing guidelines, healing will take place within the shortest time possible and you will only be left amazed at how to look hot.
Go for your best belly button rings for your lower navel piercing. Remember that the initial metal jewelry has to remain in the belly button piercings until complete healing so as to avoid complications like rejections and infections.
Male navel piercing is still finding a hard time penetrating through the hard rocks of perceptions and believes regardless of other body piercings being proliferated across both genders. Belly button piercing is exclusively perceived as feminine and it is a rare thing ever seen in men.
No one minds when a man is seen with a nose, ear, eyebrow, or lip piercing. There are only a few men who can withstand the stigma after undergoing the male navel piercing. Even if you ask the professional piercers they have a story to tell about this. Among the history of piercing, as much as there are uncountable women with navel piercings, men are few and countable.
Chris Beierschmitt a piercer at Pure Body Arts, has a different opinion about this. According to him, "It's not as rare as you would think," he claims that approximately in every 20 belly button piercings conducted there is always a man who is either straight or gay.
It fascinates when he says, "If you saw these people on the street, and you'd never know what's under their clothes." But traditionally this art is still a pure punch line among many societies in this modern world. Funny enough, there are some men who have done navel piercing but it is not according to their conscious will as they said.
Peer Influence
Some claimed to have done it as a punishment for a bet and others due to pressure from their loved ones and peer influence. There are some women who see it as sexy though they insist on placing masculine navel jewelry that is not conspicuous and attractive like the feminine ones.
There is also a problem in finding masculine jewelry for male navel piercing. It doesn't matter whether for lower navel piercing or horizontal belly button piercing. But if you have to then go for the stainless steel option. There are famous men and celebrities who have decided to go hard by going for male belly button piercing. Australian tennis players Stefan Koubek and Adam Devine did it with intention of meeting a new drug dealer in a tattoo parlor.
Belly button piercing has become a celebrity art since it erupted two decades ago when John Paul Gaultier did it on Christy Turlington's belly button. From there many celebrities followed suit, we are talking about Naomi Campbell, Keira Knightley, and Christina Aguilera among others.
Navel piercing is no longer a cultural and barbaric art. It is popular and trendy and many female celebrities have justified it among the women. Every teenager girl wants to hear of what is navel piercing and is ever dreaming of rocking with one as some of their celebrity role models do.
Other celebrity navel piercing hottest women in the holly wood includes Jessica Alba, Gemma Atkinson, Adriana Lima, Alessandra Ambrosio, Laura Vandervoort, Hayden Panettiere, Audrina Patridge, Shannon Elizabeth, Leighton Meester, Britney Spears, Vanessa Hudgens, Lindsay Lohan, Joss Stone, P!nk, Kelly Clarkson, Beyoncé Knowles, Kim Kardashian, Kourtney Kardashian, Janet Jackson, and  Miley Cyrus among others.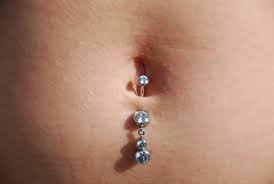 Priyanka Chopra is an inspiring actress in the beauty industry. The multi-talented singer and actress is one of the sexiest and attractive women in the world. She has hit the publicity for gorgeous things by decorating the cover pages of many magazines besides rocking in the music acting industry.
It is not only her attractive body shape and skin tone complexion but also her efforts in ensuring that she remains at the top. Her navel piercing news spread like bush fire and she had a story to tell behind it. According to an interview with one of the magazines about Priyanka Chopra's navel piercing, this is what she managed to say.
"There's a secret behind my belly button piercing. Some time ago, I was going through this rebellious phase. And in one moment of madness, I went ahead and got my belly button pierced. I was shi**ing bricks later. So, I got hold of a friend and went over and told my mother about it. I knew she would freak out. But once things cooled down, my father even got me the diamond I wear. And I'm happy to show it off. The piercing has been getting me a lot of compliments."
Style: One Piece 316L Stainless Steel Skull Hand with Gem Ball Fixed Navel Rings.
Gauge: Bar Thickness:14G=1.6mm; Bar Length :3/8"=10mm; Common Size for Belly Piercing
Material:316l Surgical Steel Bar ,Nickel&Lead Free,Safe to Your Piercing!
Unique Claw with Opalite Center Design,Give More Charming Look on You!
High Polished Surface,Safety and Convenient to Wear!
* As an Amazon Associate I earn from qualifying purchases.