Does Lemon Juice Lighten Hair Permanently Without Sun? Lemon is one of the robust ingredients used in lightening hair naturally. Using chemicals to get your hair highlighted can not only be expensive but can also negatively impact the health of your hair. Lemon juice lightens hair permanently, although it may fade gradually as the roots grow out.
* As an Amazon Associate I earn from qualifying purchases.
Does Lemon Juice Lighten Hair Permanently?
How does lemon juice lighten hair? When this natural ingredient is applied to your hair, it activates and speeds up the sun's ability to naturally lighten the hair. The subtle highlights created are totally natural and look fantastic for naturally light hair color.
Lemon contains citric acid that is chemically a mild oxidizer. The bleaching effect of citric acid is like that of hydrogen peroxide but much weaker. Therefore you will need plenty amount of lemon juice and expose your hair to the sun for the complete bleaching process to be activated.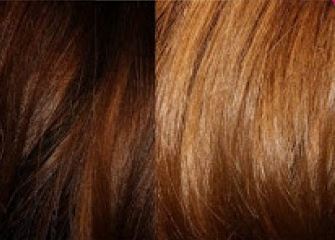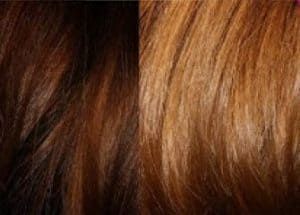 Natural hair treatments require time and consistency to be effective. This is why lemon juice application on your hair for one session can only give you half a shade. For a permanent and long-lasting outcome, you can bleach your hair with lemon five times in a month but do not exceed.
Does Lemon Juice Damage Hair?
Lemon juice is a natural bleach, and it lightens hair with minimal damage compared to other chemical dyes and bleaches used in the salon. It is possible to experience hair dryness after the application of the juice. But this can easily be controlled using hair conditioner ingredients.
Black or dark hair is likely to turn orangey and brassy with any hair dye or bleach. You are likely to experience the same, especially if you bleach with lemon several times. Most people who have used this hair treatment method attest that more than five times a month can give you an orangey appearance.
There are also other underlying side effects of using lemon juice lighten. When this ingredient gets into your eyes, it causes a burning effect and irritation. Lemon can also cause a stinging effect on the scalp and therefore do not place it into contact. Be careful while using this juice to avoid such complications.
Light hair such as blonde and red may not show much effect on bleaching with lemon juice. If you prefer only highlights, it would be best to spritz the lemon mixture on selected areas that will be hit by sunlight naturally.
It would help if you tried it out several times to get the subtle effect but remember not to exceed the black hair limit. Naturally, colored hair and dark hair perfectly works for this hair lightening treatment. Let us take you through the process of how does lemon juice lightens the hair.
[Related Article:
10 Best Flat Iron For Damaged Hair And Buying Guide
]
How to Lighten Your Hair with Lemon Juice?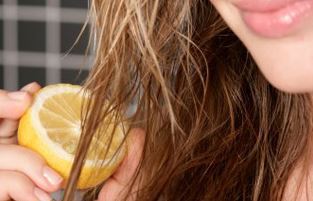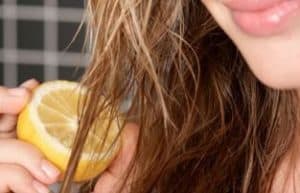 Here are steps on how to bleach your hair with lemon juice.
Obtain a lemon fruit. One might be enough for medium length hair, but take two if your hair is super long.
Cut the fruit into two halves and squeeze the juice into a clean container like a cup.
You can opt to apply the juice directly to your hair using a brush, or you can mix it with warm water and spray using a spritz bottle.
Spray the solution on your hair until it is a dump. Note that for better results, do not wash your hair before spraying, and you will be amazed at how lemon juice lightens hair fast.
Find the sun to activate the bleaching and sit for about one hour. You should start observing the changes after the first 30 minutes.
After the changes now take a shower to wash off the juice from the hair. Your hair will appear dry due to the effect of citric acid.
Dry your hair and apply a conditioner to rejuvenate it from the dryness effect of lemon juice.
Remember, one session of application is not sufficient enough to give you the desired outcome.
Repeat approximately four to five times to realize what does lemon juice does to your hair.
You can also combine a mixture of lemon juice and conditioner and apply directly on your hair before sitting in the sun for bleaching.
Note that you will be required to apply sunscreen to protect your skin against sunburn and from the effects of UV and UVB radiations from the sun.  Take care to avoid direct contact of the ingredients to your eyes and the scalp.
As said earlier, do not expect instant results. The hair changing process can take time, and you will observe color changing in stages. Dark brown hair is likely to turn to light brown hair than golden blonde. The dark blonde hair will change to light blonde and light red hair to brown or blonde respectively.
Does lemon juice lighten black hair? Black hair is quite tough and may change very slowly after several treatments. For some people, it doesn't change at all. Too much application can result in an orangey appearance.
Does Lemon Juice Lighten Hair without Sun?
The sun is also a key element in this natural hair bleaching process. Naturally, the sun is capable of lightening dark hair, but it becomes catalyzed under the action of lemon juice. Therefore you can hardly bleach your hair with lemon in the absence of sunlight.
Lemon juice may help you to get lighter hair without sun if other enhancers are added. Chamomile tea, hydrogen peroxide, cinnamon, or honey can be added to make a strong natural lightener.
* As an Amazon Associate I earn from qualifying purchases.
Antiseptic hydrogen peroxide is ideal for use on minor cuts and abrasions (do not use on deep wounds, animal bites or serious burns)
3% hydrogen peroxide solution; hydrogen peroxide releases oxygen when applied to the affected area
The release of oxygen causes foaming which helps to remove dead skin and clean the area
Mixed with water, hydrogen peroxide is suitable as a gargle or mouth rinse; it may freshen breath
A bottle contains 16 oz of hydrogen peroxide
* As an Amazon Associate I earn from qualifying purchases.
How to Lighten Hair Naturally with Honey?
It is also interesting to lighten hair with honey. Here are simple steps on how you can use honey to lighten hair at home.
Mix honey and distilled water in a ratio of 4:1. This helps to dilute honey since it is always too sticky. Add some apple cider vinegar to act as a conditioner. Alternatively, you can mix with your favorite hair conditioner.
To boost the honey bleaching effect, add a little amount of hydrogen peroxide, an effective hair lightening agent.
Give the mixture some time to settle and apply to your hair. With your shoulders protected with a piece of cloth, pour the mixture on your hair as you use your fingers to distribute it evenly.
When your hair is completely covered with honey, cover it with a plastic wrap or cap, and allow the reaction to take some time. The best time to do this is overnight for a more effective outcome but to protect your beddings from the staining effect of honey.
Using some warm water, wash honey out of hair and pat it dry with a towel. It is good to let it dry at room temperature with no need for a blow-dry.
Use shampoo and hair conditioner as normal and your hair will not only attain golden hues of honey but look soft, shiny, and bright.
You can alter the appearance by adding specific ingredients. For reddish blonde color, hues add cinnamon, henna, or ground coffee.
[Related Article:
10 Best Hair Dryer Brush for Afro Hair and Shopping Guide
]
How to Lighten Hair with Hydrogen Peroxide?
You can lighten your hair at home using hydrogen peroxide. Besides knowing how does lemon juice lighten hair, peroxide treatment is also a good alternative. Here are procedures on how to lighten hair with hydrogen peroxide.
Wash your hair as normal and condition it, part it dries with a towel and not necessarily blow-drying. Allow it to dry naturally for 30 minutes and gently comb it. This helps in the removal of oils and dust that can interfere with the bleaching process.
Find where to buy hydrogen peroxide 3% solution and mix with an equal amount of water. A more concentrated solution than this can damage your hair. Put the solution in a clean spray bottle. Go through the steps on how to lighten dark hair with hydrogen peroxide before you begin the process.
Perform a strand test as explained above. This will help you to determine the intensity of the outcome. Apply hydrogen peroxide on a small lock of hair using a cotton ball and give it time to make a change.
Use hair clips to make your hair into sections. This will enable you to apply the hydrogen peroxide solution effectively on every strand of your hair. Doing the whole head at once may leave some sections or strands unaffected.
If you intend to bleach the entire hair, use the spray bottle to apply the solution. Make it thorough and ensure you are combing the sections you have clipped to distribute the compound.
If you want to create natural highlights, use a cotton ball wet with hydrogen peroxide to apply the solution to the hair strands that are intended to be highlighted. For a more natural silky appearance, start the application at the roots as you stroke down to the hair tips.
For bringing ombre hues, apply from the tips as you stroke down the roots for your desired sections. At the end of the treatment, the tips will appear brighter as it fades towards the dark roots.
You can also involve a hair specialist despite having vast ideas on lemon juice lighten hair, hydrogen peroxide, and honey. These methods on how to naturally lighten hair require patience and persistence for an effective outcome
Related Articles: