Recently, we have gotten a question from a reader on how to dye eyebrows with hair dye  Changing the color of your eyebrows can really impact your look. Contrasting brows can give you a bold, mysterious feel while darker brows makes it look fuller and thicker.  Brows that are similar to your hair color can give you a natural, balanced look.
While dyeing your brows is a fairly simple process, using dye on the sensitive skin around your eyes, and so close to your eyes, can be somewhat dangerous. The following are some insights on how to dye eyebrows safely, naturally and at home.
How to dye eyebrows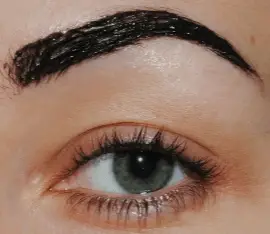 Make sure you follow all instructions very carefully and, when in doubt, visit a professional. The steps involved may include:
Choosing the right dye
Avoid using hair dye. The dye that is formulated for use on your scalp is going to be way too harsh on the skin around your eyes. You may damage the fragile skin around your eyes or even singe your brows off.
Go a shade darker to add definition and make brows appear fuller.Darkening the hair will refine the shape of your brow and can make your brows look thicker and fuller perfect for anyone with sparse or very light eyebrows. You can try dyeing two shades darker if you want to up the drama of your look.
Lighten your brows one or two shades if you've gone from dark to blonde hair.If you've made a big colour change with your hair, your dark brows might look a little harsh. If your brows are black, try dyeing them a dark brown. Also, try not to stray too far from your natural shade so it won't look strange when your roots grow in.
Keep in mind that contrasting brows are on-trend right now, so you may want to keep your bold, dark eyebrows for the moment.
Preparing on how to dye eyebrows
be aware of the risks.No dye, even products marketed as eyebrow dye is FDA approved for use on your eyebrows or eyelashes. You can have an allergic reaction or damage the sensitive skin around your eye. The dyes can cause irritation and, if they get in your eye, can potentially cause blindness.
Apply the dye in small amounts so there is less chance it will drop off the applicator and into your eye.
Keep two bottles of sterile eye irrigation solution on-hand to flush out your eye, should you get any dye in it. Irrigate your eye with the entire bottle and, if burning continues, use the entire second bottle.
Be sure to spot test the dye on your skin. If your skin doesn't react in the two days following the treatment, then you can dye your brows without worrying about a reaction.
Wash your face with facial cleanser or soap.Eyebrow dye should be applied to a clean area. Gently scrub your eyebrows to remove oil and dirt. If your skin or eyebrows are oily, the dye may not work as well.
Make sure you remove any makeup as well so you can clearly see the colour change.
Outline your brow with a generous amount of petroleum jelly or balm.Use a cotton swab to spread the petroleum on the skin around your eyebrow. This will act as a barrier to make sure you don't dye the skin around your brow and help keep the dye out of your eye.
Prepare the eyebrow dye according to the directions on the package. The mixed eyebrow dye should have the consistency of a thick paste. If the dye is runny or watery, it is not mixed correctly. The pasty composition keeps the dye on your eyebrows without running into your eyes.
Dying your eyebrows procedures
Apply the eyebrow dye by spreading a thick layer over your brow.Eyebrow dye kits come with an applicator, but you also can use a cotton swab or a clean spooled wand. Try building up the dye from the inside half of your eyebrow and working out toward the thinner end when it comes on how to dye eyebrow.
Make sure you cover the roots of your eyebrows and cover the entire eyebrow evenly.
Cover one eyebrow completely, then do the other eyebrow.
Wait for three minutes, cleaning up the dye with a pointed cotton swab.Brands usually suggest between 10-15 minutes to dye, but dyeing in three minute increments gives you more control over the final colour.
Use a cotton swab dipped in warm water to wipe off any cream that ended up on your skin and not your hair. If warm water doesn't work, you can use a little facial tonic to clean it up.
Wipe the dye from your eyebrows with a dry cotton pad.Close your eyes to avoid getting any dye in them. If the dye didn't take, repeat the dye process for another three minutes.
Don't use the dye more than two or three times, as you may dry out or damage your skin.
When you reach the desired shade, remove the dye with a dry cotton pad. Then go over your eyebrow with cotton pad wet with dye stain remover to stop the dyeing process.
Rinse or wipe your brow with warm water.
Check your eyebrows in the mirror to see if you missed any spots.You can use a cotton swab to spot-treat anywhere you may have missed.[1
Tweeze or wax your eyebrows into a desired shape.It is important you don't tweeze before dying your eyebrows, as this can lead to irritation and infection.
How to Dye Eyebrows with Hair Dye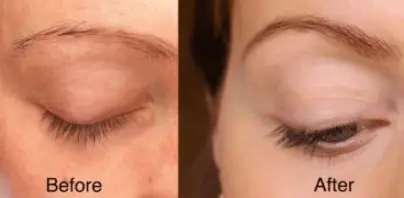 You can as well dye your eyebrows with hair dye, although it is not recommended as it can leave you with side effects. You can do this at home with a rich brown dye or black.
I prefer to get something in the ashes family when doing brows because ashes combats warmth and keeps your brows from going too golden/red. I also prefer to use something with a lower volume since your goal is not to lift, but to deposit. You can select a whole range of ash dyes here.
When it comes on how to dye eyebrows with hair dye, try a non-permanent dye like the ones that wash out in 28 washes. That regular dye gets too intense and looks a bit fake when darkening brows. This is not the same process as lightening eyebrows so keep in mind these steps are only for darkening.
Start with clean dry brows. You don't want to do this on brows that have been filled in with makeup because you won't see the colour change as well.
Using a spoolie or an old mascara wand that has been shampooed and dried, comb out your brows.
Apply colour first to the inside half of the brow as you see Hannah doing above. I prefer doing this part first because I always find that it needs a little more time to process than the outsides. The hairs are usually thicker and denser on the inside half.
Wait a minute or two and go over it one more time with a little more colour to make sure you didn't miss any little spots– the inside halves of the brow can be really dense!
Clean up the edges with a pointed tip. Use professional colour remover, but you can also just use warm water to remove the spot. But the whole reason you clean up as you go is to avoid staining. You should see the colour start changing/oxidizing.
Next, apply the colour to the outer halves.
Clean up the edges again with a pointed tip and wait another 5-10 minutes. The colour will probably appear darker than it really is and it can look a little scary. You can always remove a little dye with a q-tip to see where they're at. If they're not done, just put a little more colour over that spot with your spoolie.
Once it's to your desired shade, use a dark towel with warm water to remove the rest of the colour. You shouldn't have much staining since you cleaned up as you go.
Check your work in the mirror to make sure you didn't miss any spots. If you did, just go back in and spot-treat it.
How to Dye Eyebrows Lightener
Brows have a major moment right now, and as with any major beauty trend comes an avalanche of different and unique ways to style them. Here is everything you need to know about is on how to dye eyebrows lightener.
Remember bleach is a permanent way to lighten your brows and the hair won't go back to your natural colour until your hair grows out. Also, using bleach very close to your eyes is super risky. The chemicals can severely damage your eyesight if any were to get in your eyes. Additionally, your skin could have an allergic reaction.
However, it is still possible to achieve if everything is done slowly, carefully, and with lots of care and attention. Follow the following:
Test the bleach
Make sure the bleach you are going to use is fine on your skin. It would be horrible to apply the bleach all over your eyebrows only to find that your skin has a crazy reaction to it.  A good way to make sure the bleach is suitable for your skin is to test it on a small patch on your face somewhere not very visible. [You can get a bleach used for hair here]
Prep your eyebrows
After testing the bleach, clean your eyebrows and the area around them. Then, using the spoolie, brush the hairs upward to make sure you will coat them when you apply the bleach. This is also a good time to apply some Vaseline to the skin around your eyebrow to avoid the bleach from touching it.
Apply the bleach
Use a spoolie or cotton swab to apply the bleach onto one eyebrow. Use just enough bleach to cover the hairs in order to avoid any of the excess from falling into your eye or from touching your skin too much.
Wait for the bleach to work
Leave the bleach on for about a minute, then gently remove the bleach with a damp washcloth and see how it looks. If you still want them lighter, repeat step 3 until you're happy with the results. Then, do the same to the other eyebrow for however many minutes you've bleached the first eyebrow.
Clean off and prep for the dye or purple shampoo
After you've reached your desired lightness, you can clean off your brows and prep to dye them. If you have lighter hair, you may be satisfied with the colour they are at after the bleach and can totally skip dying them.
Apply the dye or purple shampoo
Just as you've done with the bleach, apply some of the dye or purple shampoo to your brows with the hairs combed upward. You can leave the dye on for a few minutes since hair dye isn't as harsh as the chemicals in bleach.
Style
After bleaching and dying, your eyebrows may need a bit of fiddling with, as the lighter hair could change the way your original shape looked on your face.
How to Dye Eyebrows Darker Naturally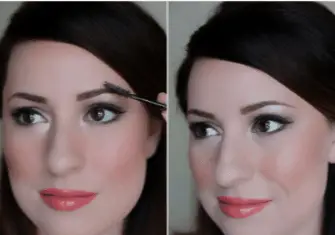 Many people accidently make eyebrows thinner due to waxing, threading, or plucking. Sometimes, eyebrow look can reveal your aging and poor nutrition. With the purpose to help people get thicker eyebrows at home, here are tips and tricks on how to make your eyebrows thicker and darker naturally.
How to dye eyebrows naturally
Hibiscus
Hibiscus flower extract is also proven to enhance thick hair growth quickly. Firstly, take a pestle and mortar and later add in some hibiscus flower. Then, grind the flower to make one fine paste like consistency and apply the hibiscus flower paste on your eyebrows. After this, wash off the paste with warm water after 25-30 minutes and pat your skin dry. Repeat the process daily one time for thicker eyebrows.
Jojoba Oil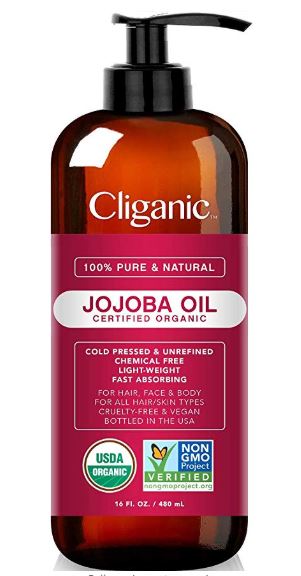 This will make your eyebrows grow fast. All you must do is take a couple of drops of jojoba oil and massage it into the eyebrows. Keep it on entire night and in the morning, wash your face as it is. This procedure must be repeated daily for best results. We highly recommend using organic jojoba oil which have less toxic and chemicals
Extra Virgin Olive Oil and Onion Juice
Olive oil will nourish and condition your eyebrows, promoting faster growth while onion juice comes with sulphur, which helps your body to release the collagen required for healthy eyebrow growth. Once again we recommend using organic olive oil with no preservatives and chemicals
Firstly, you take an onion and extract its juice. Later mix it with a little olive oil and then, rub it into the eyebrows. Wash out with water after 10-15 minutes. This process will promote new hair growth and boost the hair follicles.
Milk, Rose Hip Seed Oil, and Honey
As you know, the mixture of honey and milk makes an awesome refreshing facial mask. But did you know it is a great nourishing, natural remedy for thinning eyebrows too? Simply, you just massage some honey and milk mixture onto the brows; allow it to work its wonders for around 15 minutes. Finally, wash off and follow up with applying a little rose hip seed oil to the brows prior to going to bed. It will nourish your hairs and promote thicker growth.
Egg Yolk and Avocado Oil
The presence of monounsaturated fats, vitamins, proteins, potassium, as well as other minerals in avocado make it a super food for skin and hair as well. Hair is mostly made up of one protein known as keratin and the egg yolks are a powerhouse of protein. So, this is an excellent treatment on how to make your eyebrows thicker.
For this, you beat the yolk of an egg and add 1 tsp. of avocado oil to it. Thereafter apply it to the eyebrows. Finally, wash it off after fifteen minutes. Later reapply avocado oil and keep overnight. This method must be repeated every other day during a month. This will help the eyebrows grow back, strong and thick.
How to Make Eyebrow Tint at Home
Natural, denser and fuller eyebrows add to the beauty of any regular face. Dull, light, scanty and misshaped eyebrows fetch negative points to an otherwise impressive appearance. Be it by oneself at home or by a professional in a salon, creating that perfect and natural look for the eyebrows is a challenging task. Certain ways by which one can render a darker and denser appearance to the brows are:
Godefroy Instant Eyebrow Tint Permanent Color Kit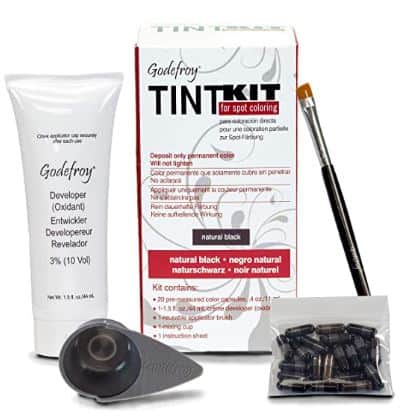 Godefroy instant eyebrow tint permanent eyebrow colour kit is well manufactured specifically for eyebrow tinting. It is specially made for 6 weeks of rich, vibrant eyebrow colour.
It enhance your eyebrow colour for 6 weeks eliminating the need for eyebrow makeup.
Tinting the eyebrows:
Preparation
Prepare brows by washing them with soap and water, pat dry. Apply a thin layer of petroleum jelly or Vaseline up to but not directly on the brows. This will prevent accidental staining of the skin.
Mix your Brow Tint
Open capsule by separating ends and pour entire contents of one colour capsule into the enclosed mixing cup. Press out any lumps that may have form.
Pour an equal amount of developer into mixing cup (about half a cap full).
Using slanted end of applicator stick, mix powder and developer until a creamy consistency is reached.
Apply the Colour
Dip the slant end of the applicator stick into the solution and slowly twist until solution adheres to end of stick.
Close the eye below the brow that you will be applying the colour to. Carefully apply the colour in the directions of the hair growth, than apply colour in opposite direction of hair growth until brow is completely saturated.
Processing the Colour
Processing time may vary. Please allow the colour to process as follows:
Jet Black = 3-4 minutes
Dark Brown = 1-2 minutes
Medium Brown = 1-2 minutes
Light Brown = 1-2 minutes
Natural Black = 2-3 minutes
For darker results or if brows are a resistant grey you may want to process 1-2 minutes longer than noted.
Once processing time is complete, remove colour from brow area with a damp paper towel. This will stop the colour process.
This Product is NOT intended for use on the eyelashes. To do so could cause blindness.
Prior to using this kit, read all instructions carefully.
Perform an allergy test. It is possible that some individual may have skin irritation. Therefore, it is important to take an allergy test 24 hours before applying brow tint.
Wash with warm water and soap an area the size of a quarter on the inside of your arm. Pat Dry.
Prepare a small test solution using a small amount of colour and equal part developer. Mix in enclosed mixing cup or use any plastic or glass bowl. Remember to wash out mixing cup for future use when done.
Apply a light coating to the prepared area of your arm. Let the area dry naturally. Do not wash for 24 hours. If redness, itching, or any other irritation occurs, immediately wash the area with mild soap and water and do not use this product.
Dying Eyebrows Before and After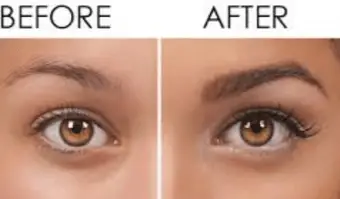 There are numerous reasons that may lead one, mostly women to dye their eyebrows. Dying eyebrows has to do with the beauty of the face or restoring the lost eyebrows due to many conditions.
You may dye your eyebrows to make them darker or to restore the appearance after losing them. The appearance before and after dying will depend on the method used and the kind of products used.
I am sure if the corrective means is applied, the appearance will be fantastic as you may see on the pictures involved here in this article.
You May Also Like:
Recent Content